Have you ever imagined playing the heaviest games around while lying down or even while in the toilet? Well, it's not that impossible because Steam has entered the world of handheld with a bombshell announcement – the Steam Deck. Believed to be the most powerful gaming handheld to date, the Steam Deck is designed to synergize with your existing Steam Account, which means theoretically, you could play the best PC games around without the need for a high-tier, gaming PC.
Even though it was just recently announced, a lot of information about Steam Deck has already been circulating online. Read on to answer the curiosities you might be having regarding the handheld. The Steam Deck might not be for everyone, but there's an audience who is already itching to get a hold of it.
Steam Deck – Release Date
Sources say that it's scheduled for a December release. However, it won't be that easy this holiday season. Only those who made reservations for a Steam Deck will most likely have one.
Preorders will start at five bucks. Steam will start rolling out invitations in December, so watch out for it. Those five bucks you dropped will more or less act as a down payment, so if you cancel at any time the fee will just be returned to your Steam Wallet.
For now, reservations are only exclusive to the U.S., U.K, E.U., and Canada. The account you used to order one needs to have made a purchase on Steam, at least prior to June 2021. This verification is done to ward off bots that have been plaguing console sales as of late.
Steam Deck – Specs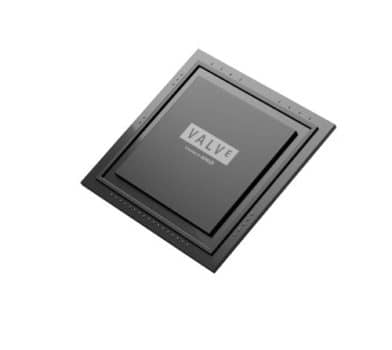 The Steam Deck runs on an AMD APU, which is the first of its kind. The chip is built around two AMD architectures. The first one, called Zen 2 architecture, is capable of eight threads to keep up with your portable gaming needs.
Meanwhile, the RDNA 2 architecture, will take most of the graphical demands. The 8 Compute Units (CUs) give a total of 512 cores. It may not be that much but is enough to provide you a 720p experience without too much hassle.
If you wanna know more about Steam Deck's specs, click here.
Steam Deck – Design
Steam Deck resembles Nintendo Switch in a way. The 1280 x 800 display is flanked by buttons on the left and right sides. Unlike the Joy-Con on the Switch, you won't be able to remove the controllers for Steam Deck. It is equipped with a number of buttons for playing, such as navigation buttons, two analogs, a "similar" ABXY button layout, as well as View, Options, and Quick Access buttons.
There are also 10 shoulder trigger buttons (five buttons/side), as well as two trackpads on the left and right of the screen for moving the cursor.
In addition to the input buttons, there's also a gyro sensor for games that support motion control. You can expect the Steam Deck's dimensions to be a couple of inches wider, half an inch taller, and a bit chonkier than the Switch.
SteamOS
With Steam OS, players can have access to Steam Chat, notifications, and other features from Steam. The operating system also supports Remote Play, so that you can stream your games in real-time for the world to see. Steam ensures you that there will be no unnecessary payments before playing it on your Steam Deck because it will be a smooth experience. Cloud Saves also mean that you can continue your PC game progress in Steam Deck, as long as the game supports Cloud Saves as a feature.
More Questions About Steam Deck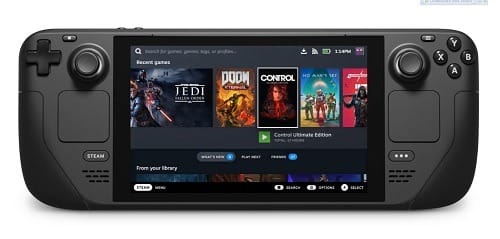 What's Steam Deck's Dock?
Valve is currently producing a first-party dock for its handheld console. It enables the user to plug their device into a monitor or smart TV. It provides more flexibility so you can enjoy your Steam library on a larger screen.
Here's what we currently know about the Deck's dedicated Dock:
Peripherals
USB-A 3.1 x 1
USB-A 2.0 x 2
External Display
Ethernet supported?
Power Input
Dimensions
Weight
To date, Valve hasn't released information regarding price and release date, so we're still unsure if the dock will be available at the same time as the handheld itself. However, Valve mentioned that third-party docks meeting the said specifications above should be fine.
Can Steam Deck Run All The Games In My Library?
Thanks to latest SteamOS inside, the Linux-based Proton can make the Windows version of games run on Linux. With that in mind, it's still uncertain if most games are already compatible. Regardless, Valve assures us that any games that run on SteamOS will run on Steam Deck as well.
With the latest version of Steam Deck, Valve seems confident that the device will now be smoother and will be able to run anything you'll throw at it. However, the console is only targeting a 30 FPS threshold. This has caught the eye of some competitive performance junkies, who worried that it might struggle running games above 30 FPS, effectively losing to one of the advantages of PC gaming: high framerates.
How Much Is The Steam Deck, Anyway?
Steam Deck will be available in three variants depending on the storage capacity. The 64GB variant goes for $400. The 256GB variant on an SSD goes for $530. While the top variant, which has a 512GB SSD, will be roughly $650.
Every model has a slot for SD cards. So, you don't need to worry about storing only a fraction of the heaviest games. We'll let you know about the reserved space for the OS and other system-essential files as soon as it gets out.
Lastly, How About The Batteries?
One of the vital components that define the longevity and reliability of a device is battery life. It's kinda concerning with this particularly beefy machine. But Valve assured us that the device can last for up to eight hours.
To be frank, that's not a helluva long time from gaming without the console needing to be recharged, and heavier games will certainly take a bigger demand on the battery than 2011's Portal 2. That could be a major turnoff if you play with it while traveling. That's why the device might not be ideal for long train rides or plane trips, yet.
Personal Say
People have been waiting for a more powerful Switch for quite some time now. it's a great system, but it's already struggling with the newer indies like Boomerang X and Hyrule Warriors. People will most likely consider trying out the Deck soon. Many of us have been using our Switches as a Youtube device and it's really annoying because we can't stream Prime or Netflix to it. If this allows people to play games, even when traveling, and they don't have to buy anything specifically for it, then it makes the Steam Deck a real game-changer.
Still have questions, or want to know more about the latest tech news and console wares? Contact us at techsngames.com today!