How cool and thrilling will it be when planning an assault at an enemy outpost with just an improvised weapon? Will you even succeed against their tanks and high-powered guns? How about meeting a charismatic antagonist that follows the footsteps of Vaas or Pagan Min? If you're up into some tactical, action-packed, adrenaline-filled open-world, first-person shooter, Far Cry 6 is definitely for you.
After four years of development, Ubisoft finally announced that it will be released on February 18, 2021. You take the role of a certain Danny Rojas who joined the revolutionaries in order to topple the present government using guerilla tactics. Unlike the previous franchise, this time the character is now able to speak with his/her own sets of dialogs.
Nevertheless, very little is still known about the new changes and mechanics of the game. But what we know is that the game takes place in a Caribbean country, and ruled with an iron-first by a ruthless El Presidente. There are also new things that will be included in the game, like an improved ability to hire Amigos as "Fangs for Hire," new weapons, the possibility of planes, and a cute companion who will help take the fight to your enemy. Lastly, the game will be available in multiple platforms, such as PlayStation4, PlayStation 5, Xbox Series, and Windows 10.
Setting
The game takes place in a fictional place of Yara – an oppressed island stuck in time – which is located somewhere in the Caribbean. From the trailer you can already see that it resembles something like Cuba due to its inhabitants, the surroundings, and the cars. The setting is very different from the previous ones, because we usually expect Far Cry to happen in some exotic locations or tropical islands. However, it takes place in a modern time, although the oppressive fascist regime keeps it stuck in the 1960s. At that time Diego can be seen listening from his smartphone on the first parts of the trailer.
Ubisoft described the game as the largest Far Cry to date, so it is expected to have multiple biomes like forests, serene beaches, and some cityscapes. Far Cry is well-known for its tropical jungles and wild animals that's why it definitely won't disappear in the game. Due to its amazing terrain, expect lots of parkour and takedowns.
Characters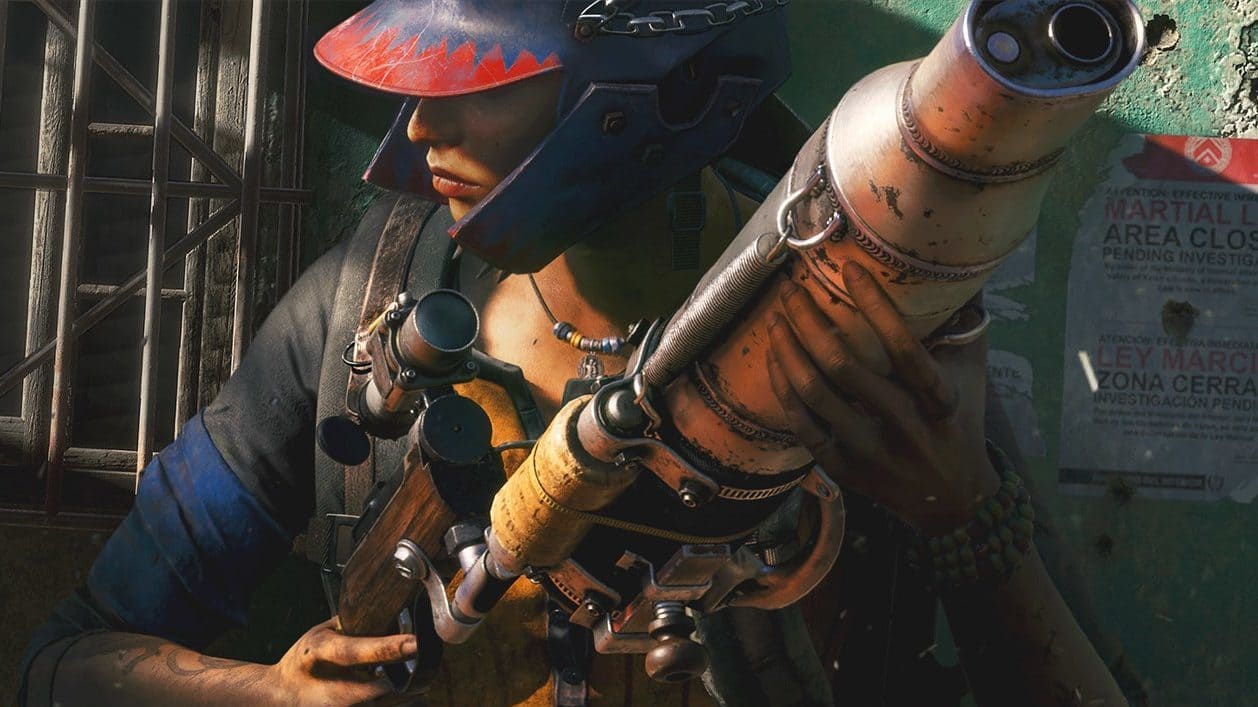 Dani Rojas – The main protagonist is an ex-military personnel who decided to join the revolutionaries towards the main cause – that is to bring down El Presidente's dictator-like ruling. Together with his Amigos, they go through different missions. It is not yet known whether the game will still continue the skill system, just like in Far Cry 3,4, and 5. But what's known is that you can either play as a male or female. After all, the name 'Danny Rojas' can fit both genders. Moreover, the character can speak this time.
Diego – According to the sources, the game will show you Diego's perspective based on what he's seeing about his father and the current state of the country. Although it's not yet confirmed whether you'll be able to control Diego (voiced by Anthony Gonzalez), the game said that you will definitely feel the presence of the Castillos all throughout the gameplay. In the trailer, you can see Diego being taught by his father in a very unusual way – while holding a grenade. Did he drop it? Did he even hesitate on dropping it? Only time will tell. What's important is that Diego's relationship with his father will play a huge part in the game.
Anton (voiced by Giancarlo Esposito) is the current president of Yara. He claims he had witnessed Yara to be a prosperous land during his childhood days and intends on doing it once again, under his reign. Although his rule is relentless due to his iron-fist style, his love for Diego is immeasurable. In the first moments of the trailer, you can see him talking to his son because he believes that his son will one day rule Yara.
Moreover, he believes that ruling the people is like a grenade. They need to be controlled, because if not they will "go boom" and make them uncontrollable. That's why he gave his son some very important lessons to make him fit for ruling in the future. He even added some visual aids by giving Diego a live grenade and pulling the pin in the end. It's yet to be discovered whether Diego dropped it or not.
Chorizo is a cute dog which has some wheels behind him. According to sources, the dog survived a devastating accident that rendered his hind limbs immobile. Some arts and some in-game pictures show the dog containing some rifle scopes and ammunition. Maybe the dog will be your undying companion as you take the fight to the enemy? Perhaps the dog will be able to resupply you with ammo? Can it still bite and kill? Soon we shall find out!
Far Cry 6 Graphics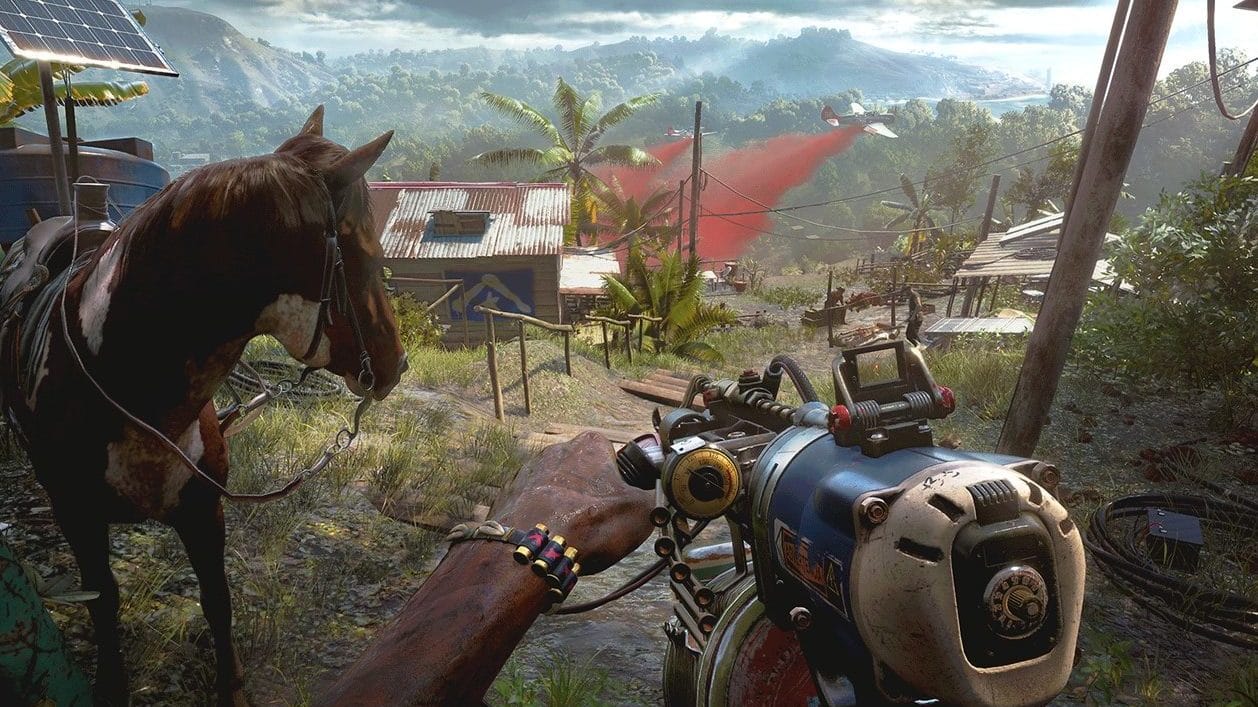 Like its predecessor, Far Cry games cannot be Far Cry without its amazing landscapes, shrubberies, and stunning view. Aside from that, Far Cry games are known for their spectacular graphics and textures to be a truly immersive gameplay experience. According to various sources, the soon-to-be-released game's predicted minimum requirements may require a capable computer rig of Windows 10 and at least 50 gigabytes of space. So, it's better to save up while there's still time!
Weapons
What we currently know aside from the Tostador, is that having the pre-order bonus will grant you the Discos Locos. It's basically a disc launcher that's effective at close quarters. However, leaked in-game photos reveal that improvised weapons will make up most of your weapons when battling enemies, just like in Far Cry Red Dawn. Additionally, Molotov cocktails are also present as throwables.
All About The Collector's Edition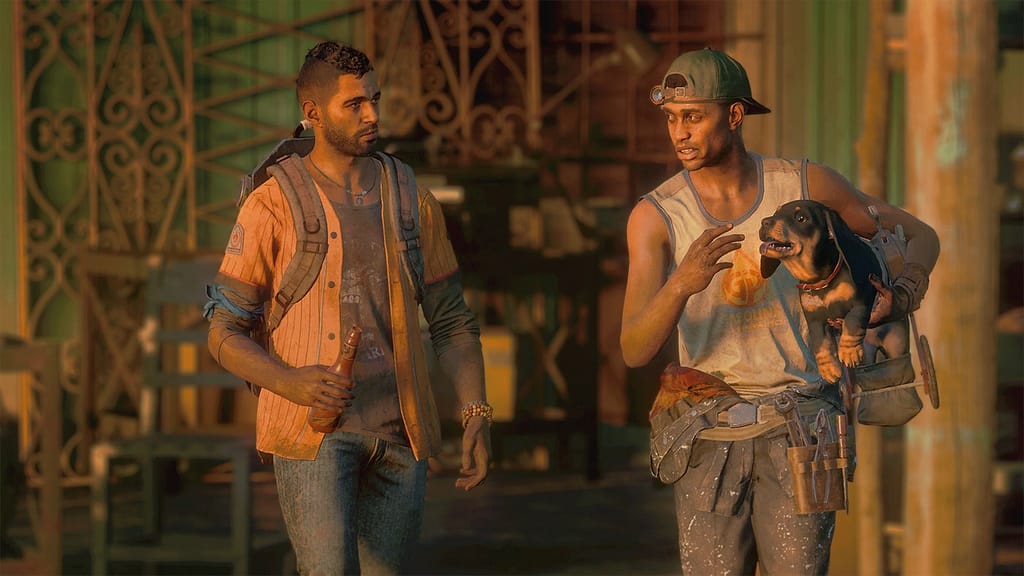 Join the common cause by purchasing the Far Cry 6 Collector's Edition in the Store. It has a complete set of high-quality collectibles, the Ultimate Edition and secures you of any more future bonus content. This edition includes the "Tostador," a kind of improvised flamethrower from the game. Additionally, an artwork called "How To Assemble" will help you craft the parts together. Moreover, you'll also receive more goodies like the Steelbook, collector's case, Chorizo keyring, world map and some of the game's best soundtracks.
Far Cry 6's Unconfirmed Rumors
There are speculations that the timeline of both Far Cry 3 and Far Cry 5 intersect at some point in time. Fans are trying to put some puzzle pieces together because they found some strong evidence that proves their claim. Firstly, is the recent statement of Michael Mando in reddit that stirs more commotion. Secondly, the main actor's scar in his right eyebrow resembles some similarity to Diego's eyebrow. This might imply that Far Cry 6 might be a prequel to the events of Far Cry 3.
However, it won't be possible in the first place if there's no time machine involved, but let's not stick to that. Far Cry fans already know that Vaas already has an official story stating that he has been a Rook Island native all his life. Also, Diego's smartphone in the trailer clearly shows that the events of Far Cry 6 are more in the modern setting than the third franchise. Whatever the truth is, as Far Cry fans all we can do is speculate for now.
Personal Thoughts
I've been a fan of the Far Cry franchise ever since I tried playing Far Cry 2. Aside from that, it makes me happy whenever I talk to other people about the Vaas and Pagan Min. Indeed, they are one of the most loved antagonists of all time.
However, Far Cry 4 and 5's usual pattern only lets antagonists show up in the beginning of the game, disappear in the middle, then show up again in the end part to remind you that they're still there pulling the strings. Also, activities like liberating outposts and climbing towers similar to Assassin's Creed, has been in the game since Far Cry 3. I hope that as we go near the release, they announce the newest things that make it stand from the rest. After all, the hype within the community is strong to not notice it. Overall, I'd say that the Far Cry series are included in my list of top games of all time.