After years of waiting, Cyberpunk 2077's release is finally within reach! Meanwhile, Yuletide season is fast approaching, so why not consider giving your friends the best game gift for Cyberpunk 2077 Frame Art? What caught our attention is the ton of features and styles the game has.
After all, the game stated that, "It doesn't matter if you're dead, as long as you do it with style." Below are some of our custom Framed arts that you might want to give your friends, or just keep for yourself as part of your game collection.
CyberPunk 2077 Frame Art: V Got That Deuce Deuce Custom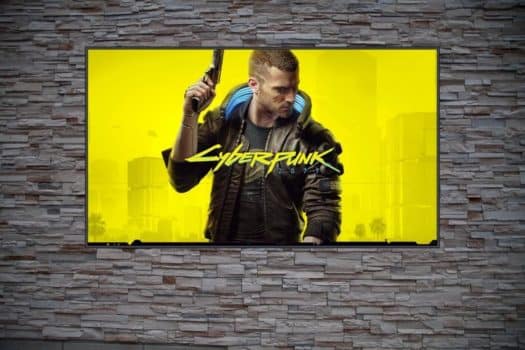 Use Code TECHGAMES For 10% Discount
Ah, yes! The official game poster! If you love the color yellow or a yellow-themed room, this might be for you. This custom paint art features the main protagonist, V. Nevertheless, character customization and gender will be highly up to you.
This handmade paint art can also be a nice present for your loved ones, especially those who have the same fandom as yours. It's highly printed using Ultrachrome HD, so poster quality is topnotch. This will not be the only poster where the main character is holding a gun, so stay tuned for more products to come!
Tech Girl w/ Cyberpunk 2077 Text Custom Frame Art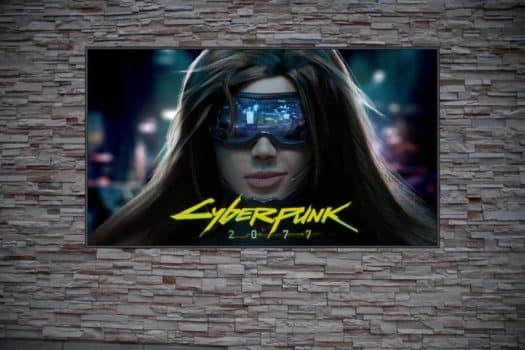 Use Code TECHGAMES For 10% Discount
Show off to your friends how much you like the game! Where style is the main aspect of living in Night City, this custom poster shows it all. This is perfect for those 2077 fans who have a dedicated gaming space at home. You'll have the option to pick whether it's framed or unframed.
This Neokitsch style is also ideal if you have a pure Cyberpunk-themed room. The dark background complements the dark room, so the center of attention will still be on your rig. And if you're having trouble with the size, then don't worry because this paint art comes with different sizes to choose from!
Spec Ops Custom Frame Art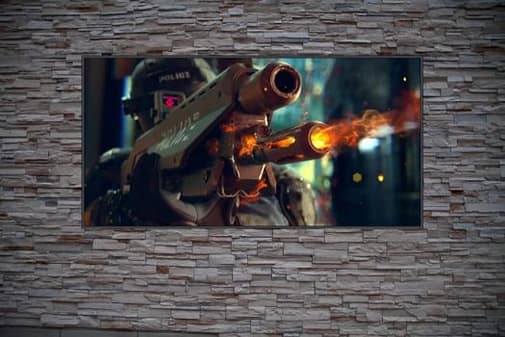 Use Code TECHGAMES For 10% Discount
This high-quality Cyberpunk 2077 wall paint art will definitely immerse you while playing the long-awaited game! It shows a police spec ops soldier probably holding a military tech rifle. As a first-person shooter gamer, looking at this on the wall will surely keep you playing Cyberpunk 2077 for long hours of nonstop action!
There are many more weapons featured in their official Cyberpunk 2077 video. This includes awesome tools of destruction such as the Carnage, Tsunami Nekomata, TKI-20 Shingen. So, if you want those guns featured on our next set of posters, always stay tuned!
CyberPunk 2077 Frame Art: Cig Break Cyberpunk 2077 Custom Art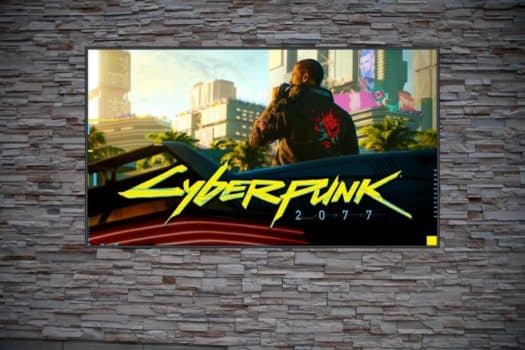 Use Code TECHGAMES For 10% Discount
We're not yet sure if that's a car he's leaning on. But it's sure that there are tons of epic cars in Cyberpunk 2077! You can choose your fancy among economy, executive, sport, and hypercars, to name a few. The paint art's depiction of V's badass pose even adds more into the epicness!
Check Out More Of Our Options!
These are just some of our Cyberpunk 2077 Framed Art custom posters that you might like having. However, as soon as the game hits worldwide screens, more fandom products are sure to come!
Don't forget! All frames and products on our partner's store KHArtAndFraming are offered with a 10% Discount with our Code: TECHGAMES
If you have some other techs n gaming high-quality pictures that you would love to have custom framed and sent to you. Contact us at [email protected] and we'll make it for you. We also offer other themes like The Witcher, Assassin's Creed, and Pokemon.
Still have questions, or want to know more about the latest gaming news and console wars? Contact us at techsngames.com today!