If you're already done with the latest Assassin's Creed Valhalla and still can't get enough of it, why not add more into your personal collection in the meantime? While we, the Assassins Creed fans, are still on the blurred side on whether another installment will come out sooner or later, now is the right time to check our valued custom frame posters. Who knows, you might even fancy yourself a Christmas present with these offers!
Leap Of Death Custom Poster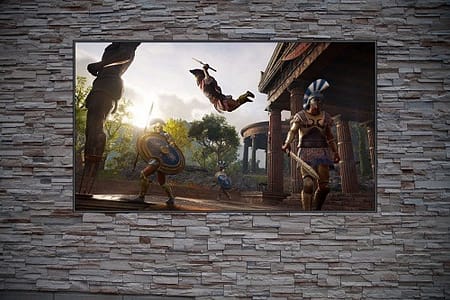 Use Code TECHGAMES For 10% Discount
Odyssey is one of the best games Assassin's Creed has to offer. This poster shows a perfect scene moments before you jump to your prey. Become the assassin you've always longed for with this wonderful paint art.
This custom frame poster is guaranteed to last for many years due to its high-quality materials. Aside from that, its printing was done by only the best printers around, so expect some HD quality when you get your hands on it. It also comes in two size options to fit your gaming room.
Custom Frame Posters For The Assassins Creed Fans – Hunter Poster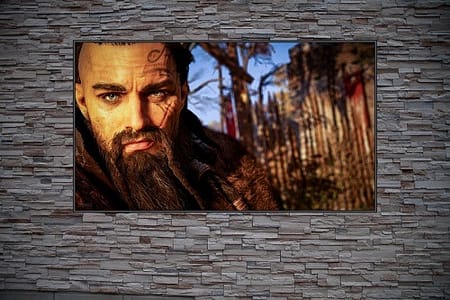 Use Code TECHGAMES For 10% Discount
This poster art is perfect for every Assassins Creed fans out there. If you're playing Valhalla, try having this one as well. Just looking at this one by the wall will surely make your gaming hours more enjoyable than usual.
Moreover, the painted art captures the character in highly-exquisite detail. It will fit on every gamer's wall to add more life to your gaming room. This is the perfect accessory to show off that you've been playing Valhalla for quite some time now.
A Thief In The Night Poster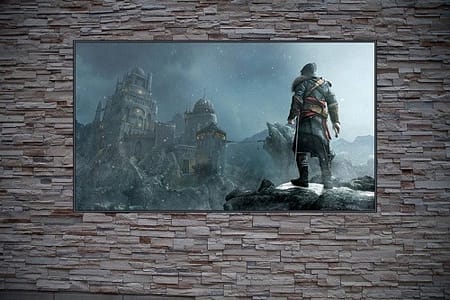 Use Code TECHGAMES For 10% Discount
Ah yes, going back to the early installments of the game! This one shows the legendary Altair as he looks upon Masyaf Castle. Its dramatic vibe will surely give you some nostalgia on your early days of playing Assassin's Creed. So, why not dedicate a full week to playing the first Assassin's Creed again, just to relive the moments?
This custom poster works best when hung by the wall, or somewhere in your living room. It will definitely get the attention of every visitor to your home. You can even have this framed if you truly want something special. If you're having trouble determining the size, we still got it since we have options for that as well. Show your taste in games by adding this poster to your personal collection!
Ezio Gazes Into The Sunset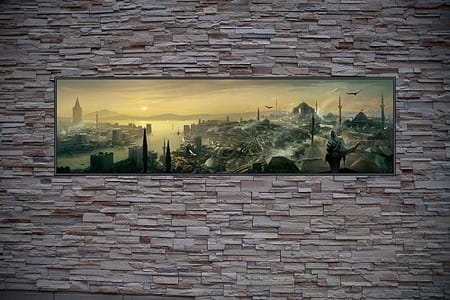 Use Code TECHGAMES For 10% Discount
How about some dramatic scene of Ezio gazing at the sunset? Show what you're truly made of by mounting this on your wall. Plus, the balanced mode and tone will definitely blend on every room motif.
Meanwhile, you can also have this as a memento for your loved ones that share a similar fandom. After all, most gamer groups must have heard about Assassin's Creed, yes? You can give this to your friends to help them appreciate the game or even make them try it. Truly, you can be confident in adding this to your personal collection.
Retaliation! – Frame Art Poster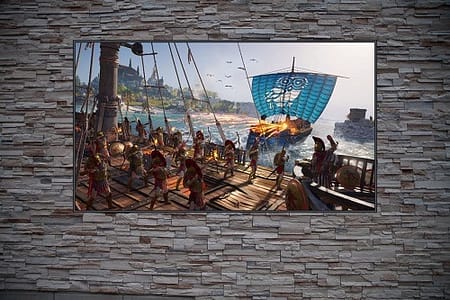 Use Code TECHGAMES For 10% Discount
If you still haven't played Odyssey, now is the right time! This custom frame poster depicts one of those battle scenes in a dramatic way. After all, it's highly advisable not to skip the Assassin's Creed installments, since they're all interconnected.
This custom frame poster emulates the feeling of playing the game in actuality due to its high-definition printing. It ensures that what you're seeing is what you'll get, just like the game's awesome graphics. It works best when hung in your living room to incite some questions or serve as a conversation-starter to guests. Moreover, there's no other way better than showing how much you like Assassin's Creed.
The Odyssey Poster Frame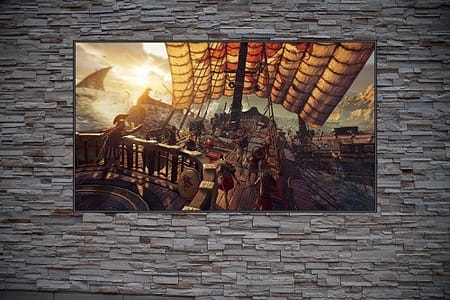 Use Code TECHGAMES For 10% Discount
This custom poster depicts another one of those action-packed scenes from Odyssey. It also demonstrates how beautiful the game is, due to the exquisite details it contains. If you're into action-packed scenes, then this is the real deal! This is highly recommended to have, especially if you've also finished the previous installment called Black Flag.
As previously mentioned, this custom frame art is a must-have collection for Assassin's Creed fans. You can even make this as a present for those who share your fandom. It complements every room theme and helps in setting up your mood for gaming.
Assassin Brotherhood Custom Frame Art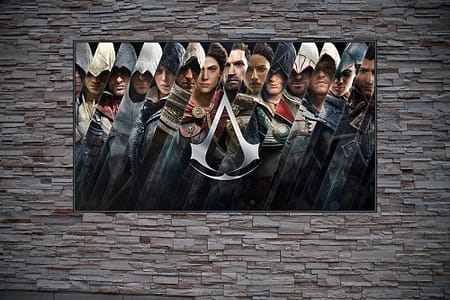 Use Code TECHGAMES For 10% Discount
Show everyone how much you love the game by having this Assassin's Creed poster right now. What's good about this frame poster is that it shows every single main character of the franchise. This is definitely a must-have for the Assassins Creed fans like you.
Aside from that, it's made with the utmost dedication to satisfy each gamer's preferences. The character compilation, plus the logo, is perfect for those having a minimalist-themed gaming room. Unleash the inner assassin within you by grabbing one of these stocks right now!
Ezio Auditore Da Firenze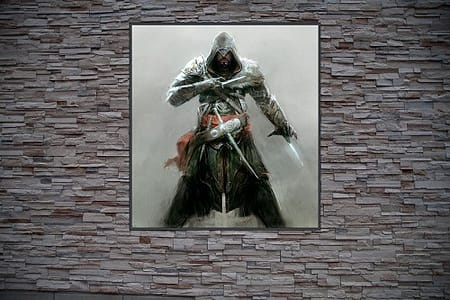 Use Code TECHGAMES For 10% Discount
Who could ever know that one of the most-loved characters is also included in our poster collection? This one might just be perfect if you're looking for something smaller and portrait-oriented art. It depicts the legendary Ezio, most likely approaching some prey (due to his stance and the hidden blade). Ezio Auditore has been in our hearts ever since we're played Assassin's Creed 2, that's why this custom frame poster is worth adding to your game collection.
If ever you're wondering about quality, this frame poster is carefully handmade with only the best materials around. Plus, it was printed using topnotch printers to guarantee an HD quality. It fits best for your living room, aside from your gaming headquarters. However, this is just a part of our collection so be sure to check out more of our stock!
Alexios The Great Poster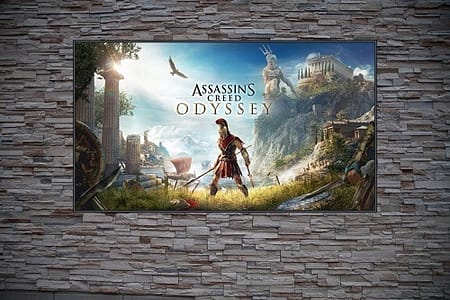 Use Code TECHGAMES For 10% Discount
If you're having a boring room and would want to add more interesting decors, why not have this Odyssey custom poster featuring Alexios? Aside from our existing stocks, you can even send us something specific if you truly want a 100% personalized paint art. Our company guarantees that we have the best collection of HD posters out there, which you can get your hands on. Just be sure to follow our sites for more details.
Don't forget! All frames and products on our partner's store KHArtAndFraming are offered with a 10% Discount with our Code: TECHGAMES
If you have some other techs n gaming high-quality pictures that you would love to have custom framed and sent to you. Contact us at [email protected] and we'll make it for you. We offer other themes like CyberPunk 2077, The Witcher, and Pokemon.
Still have questions, or want to know more about the latest gaming news and console wars? Contact us at techsngames.com today!