It's one of our favourite ways to pass the time, looking through the tens of thousands of pictures and photographs that we've stored on our computers. However, many of us prefer to utilize the default Windows Photo Viewer software. You can use this application to view images, play a slideshow of a folder, and even do some rudimentary editing with it.
"Windows Photo Viewer cannot open this picture because the file appears to be damaged" is a common error that many people get when trying to open an image.
There are several reasons why a Windows photo viewer will not open pictures, and one of them is because the file format is incompatible. For those of you who are troubled by the issue "Windows photo viewer cannot open this picture because the file appears to be damaged". You're in for a treat! There are possible solutions to this error, and you will be able to access the data in a very short amount of time.
Possible Causes of the "Windows Photo Viewer Cannot Open This Picture Because The File Appears To Be Damaged" Error
Common problems such as file corruption or damage, format errors, and renaming errors are now much easier to fix. If you're having problems with photographs not opening in Windows 10, you'll need to have all the information you need, such as possible reasons and workarounds. Some of the many possible explanations for why jpg files won't open in Windows Photo Viewer include:
1. The image is corrupted
One possible explanation for why pictures won't open in Windows photo viewer is a corrupted file. When a file is saved, renamed or infected by a virus, it might become corrupted. It's a bug that prevents you from using the file. Even though it could be difficult for you, several straightforward solutions can assist you in resolving this issue in a matter of minutes. You can use image repair software like Repairit JPEG Repair to fix such files.
2. Windows photo viewer is not updated
Windows Photo Viewer is the default picture viewer that is pre-installed on Windows computers. To open a picture, the photo viewer must first process the image. Cropping and rotating are two of the more basic editing functions that are available. Using this tool, you can also run a slideshow of pictures. If your Windows 10 photo viewer isn't functioning, it's likely because you haven't updated it recently. All you need to do is update the program immediately.
3. The format might not be supported
The fact that the format is not supported is one of the key factors contributing to this issue. If this is the case, you may have problems such as photos not opening in Windows photo viewer. This is a frequent problem since not all picture formats are supported by image viewing programs. You may simply fix this problem by converting the file to a format supported by your device. You won't need a lot of time or experience to accomplish this, since there are several approaches you may take to do it.
4. A problem with the software version
Some software, such as Windows Photo Viewer, may be unable to open specific photographs due to faults and errors in its present version. This may be a huge problem since most users will not realize that the fault was in the photo viewer. If the photo viewer tool you normally use cannot open the photographs, it is best to test out a different program that may get the job done quickly.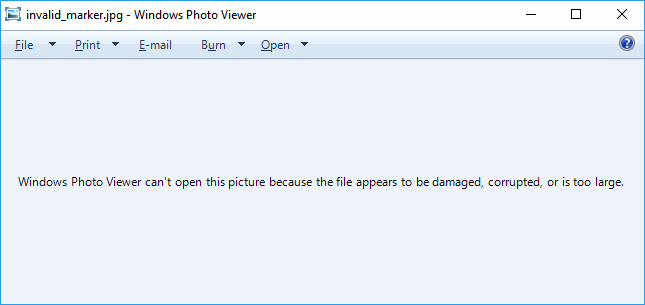 How To Fix the "Windows Photo Viewer Cannot Open This Picture Because The File Appears To Be Damaged" Error
1. Change Another Photo View to Open Pictures
No matter how many times you try, certain programs just don't function. For such days, we recommend opening the photo in any other photo viewer program, such as Adobe Photoshop, MS Paint or Photos, Raw Image Viewer or Photo Retouch.
If the photographs open in another app, the issue is with Windows Photo Viewer itself. Either it needs to be updated or a new installation is required. To see whether this fixes the issue, restart your computer and see if it does the trick.
2. Check if the Pictures Are Corrupted
Images that are damaged or corrupted will not open on Windows 10. Errors in downloading, saving, creating, or renaming files might cause the picture to become corrupted or damaged. Such images need to be repaired to function properly again.
Solving this problem is now a lot simpler thanks to advanced image recovery applications like Repairit JPEG recovery and EaseUS file repair. We propose using one of these to fix the damaged photographs. In just a few seconds, you may download the programs from their official website and recover any lost, damaged, or corrupted file from your computer.
Many experts turn to this highly recommended toolkit because of its advanced repair capabilities. These recovery tools can swiftly restore corrupted or damaged pictures.
3. Change File Format
GIF, BMP, DIB, JPEG, TIFF, PNG, and WDP file formats are often supported by Windows Photo Viewers. However, it is very uncommon for users to attempt to open files in a format that is not compatible with the Windows Photo viewer. Check the file format if you can't open a picture in Windows Photo Viewer.
Open another program and choose "Save as new file" from the menu. This will create a new image that is compatible with the photo viewer. There are various tools available online that you may utilize to achieve this aim.
Another fascinating method for converting file formats is to first pick the file, then hit the F2 key, and then rename the file to another image format, such as PNG, GIF, or BMP. After then, you may attempt to open it to see whether it still functions properly. Since common file formats include headers that are comparable, the picture may open.
4. Update Windows Photo Viewer
Updates for the Windows operating system are released often to resolve bugs and address other problems. If any of the built-in Microsoft applications are giving you problems, you should consider updating them.
Using Windows Update to update Windows Photo Viewer is the only way to get the latest version. Windows Photo Viewer can be updated using these instructions.
Navigate to Windows Update in Windows Settings. Select Check for Updates and then sit tight while it loads up.
Take a look at the list and see if there is an update for Windows Photo Views. If there is, then you can go ahead and update.
Once the update is complete, you can close the app. After this, a pop-up window will ask you to restart your computer. It will immediately restart your computer and finish the operation.
Once that's done, view the photo in the Photo Viewer to see whether everything seems to be in order.
Conclusion
If you've read this far, you should have a good grasp of all the techniques we've presented. Regardless of the underlying cause of the error ("Windows photo viewer cannot open this picture because the file appears to be damaged"), the solutions listed above should help you fix the problem. Repairing corrupted or damaged images will need the use of data recovery software such as EaseUS Data Recovery or Repairit.
See which one works best for you by experimenting with all of them. We'd be happy to address any questions you may have in the comments area below.