With the release of great gaming consoles such as PS5 and Xbox Series X/S, the gaming industry is taking the gameplay experience to the next level. So, it's no wonder that many people are eager to get their hands on them. But, no matter how exceptional these gaming consoles are, they are still no match for the gaming PC when it comes to power, performance, and sheer control over the gameplay.
And if you're a hardcore gamer, then you wouldn't want to sacrifice the power and control the gaming PCs provide just to play games with a gaming console.
So, what is the solution? How can you play games like consoles without sacrificing the performance?
The solution: turn your PC into a gaming console.
In this article, we're going to talk about the tips to turn your PC into a gaming console and the best products to achieve this goal.
So, without further ado, let's dive in…
Setting Up Your PC For Gaming
In this section, we will discuss some important tips and points you need to remember to successfully setup your PC like a gaming console.
Make Sure Your Hardware Isn't Outdated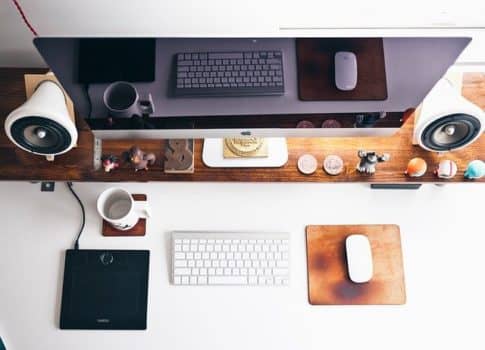 Yes, we know you're excited to just connect your big and wide TV screen with your desktops and other gaming set up and get right into gaming. But before that, you need to make sure that your hardware can take the load of all the heavy gaming.
Of course, you can play game with pretty much any computer. But if you're planning to play a hardcore game like Assassin's Creed: Valhalla or Call Of Duty, then your regular computer is not going to work out. Standard PC configurations such as sub per CPU, GPU, and old HDD will make playing game a real pain with a tons of glitches.
So, before you hit the play button and immerse yourself into the virtual world, make sure you have the right hardware.
Choose The Right Operating System And User Interface
If you want to play games using your TV monitor with ease, then you would obviously need an operating system. And if you're happy with standard gaming experience, then no matter whether your choose Linux, Windows, or Mac OS, everything will be fine.
But if you're a hardcore gamer who likes a controller-friendly interface, you might want to consider something more. And that's why you would like to use some of the best digital gaming distribution service, such as Steam. This will give you more control over your game and provide a better gaming experience.
So now, whether you're fine with standard interface or a more dedicated one, like steam, is totally up to you.
Find The Best Gaming Keyboards
You have an powerful desktop and an amazing operating system to crush any game. But to play an actual game, you will definitely need some device to play it with. And when we're talking about the gaming PCs, what you need to control the game is a great keyboard.
Of course, if you're more into the shooter games such as Doom, you might prefer a game controller over keyboards. However, if you're a fan of action RPG and games such as Civilization VI, you must definitely have a keyboard.
Connecting Your HD TV Monitor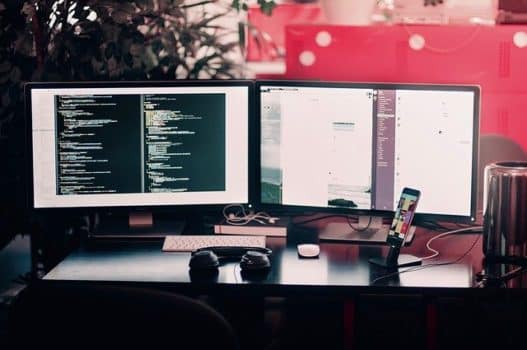 Now, you have created a brilliant gaming setup and have all the necessary hardware. But you still can't enjoy your game without connecting your PC with a good HD TV monitor.
And while you can connect your monitor with your PC setup in any numbers of way, using a HDMI cable is the best option. Nowadays, majority of the HD TV monitors have an option(If not the only option) to connect your PC through HDMI. And HDMI cables are far cheaper today than they were a few years ago.
All you have to do is connect your TV monitor with the PC through the HDMI cable and you're all set to enjoy your favorite games.
Best Products To Turn Your PC Into A Gaming Console
Well, now you know the important points to setup your PC just like a gaming console to play the most demanding games. But just as we have mentioned earlier, to get the best gaming experience, you must have the best hardware to support you.
So, in this section, we're going to show you some of the best hardware you could possibly buy to turn your PC into a full-fledged gaming beast.
Here we go…
Best Gaming Desktops And Its CPU Configurations
If your CPU or desktop don't pack enough power, then you simply cannot play the modern games without constant lags, glitches, and worse, crash. And that's why the desktop is essentially the most important hardware for any gamer.
In this section, we're going to show you the top three gaming desktop you can buy to have the best gaming experience.
Alienware Aurora R10 – Ryzen Edition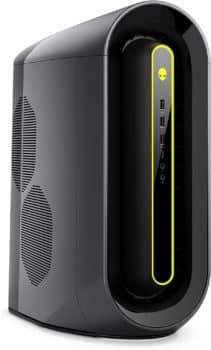 With constant improvement in CPU and graphics technology and solid marketing, AMD has successfully made several big name gaming PC manufacturer join the red march. And Alienware is no different.
The new Alienware Aurora R10 comes with AMD Ryzen CPU that is both powerful and quite affordable. Aurora R10 desktops pack a solid punch of sheer processing power at an affordable price that will help you play even the most demanding games without breaking the bank.
The base model comes with AMD Radeon GPU which is enough to play most modern game at highest settings. However, you can also upgrade the GPU to Nvidia RTX for extra-smooth gaming experience, even in 8K resolution.
Specs:
CPU: AMD Ryzen 5 3500 – 9 3950
GPU: AMD Radeon RX 5600 – Nvidia GeForce RTX 2080 Ti
RAM: 8 GB – 64 GB DDR4 RAM
Storage: 1 TB 7200 SATA HDD – 2 TB PCLe NVMe SSD
MSI Trident 3 10th
Do you want to setup a gaming PC build but you don't have enough space for it? Maybe you just want to play games in your living room but don't want to sacrifice the gameplay performance with a laptop. If this sounds like you, then the new MSI Trident 3 is the best gaming desktop you can get for your money.
Its size and footprint is so small that you can easily compare it to the best gaming laptops. But don't fall for its size as when it comes to actual performance, this desktop is an absolute beast. Plus, compared to the hardware it offers, MSI Trident 3 is a lot more affordable than the PCs with similar specs.
So, if you don't care much about upgradeability and want a powerful yet space-saving PC build at an affordable price, you can't get a better deal than this.
Specs:
CPU: Up to 10th Gen Intel Core i7-10700
GPU: Nvidia GeForce RTX 2060
RAM: Up to 64 GB
Storage: 2 TB SSD
Dell G5 Gaming Desktop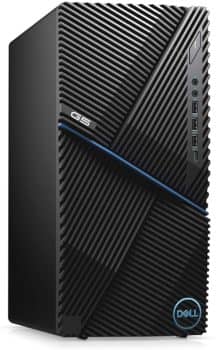 With a unique design, modest performance, and a hard-to-beat price, the new Dell G5 gaming desktop is one of the top contender to the gaming PCs in the market. It comes with powerful 9th Gen Intel i-series CPU and Nvidia GTX and RTX graphics card that can easily handle most of the demanding games with ease. And thanks to its highly affordable price, you can enjoy some solid gaming without making a hole in your pocket.
And in case you have more cash to spend, it can offer you a desktop with a VR-ready configuration that will let you enjoy the gaming world even more closely. So, if you're looking to enjoy console-like experience with your PC build and VR gaming, Dell G5 is absolutely ready to serve you.
Specs:
CPU: 9th Gen Intel Core i3-9100 – i9 9900K processor.
GPU: Nvidia GeForce GTX 1650 – RTX 2070
RAM: 8 GB – 64 GB
Storage: 512 GB SSD – 1 TB SSD + 2 TB HDD
Best Gaming Keyboards
In this section, we will review the best gaming keyboards you can buy to have the complete control over the game.
HyperX Alloy Elite 2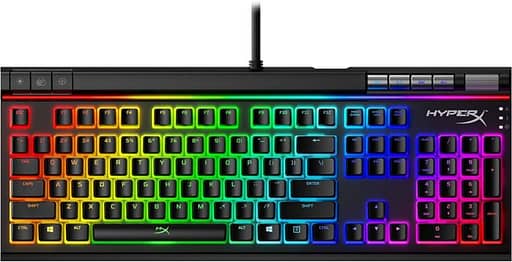 Following the footsteps of HyperX Alloy FPS, the brand new HyperX Alloy Elite 2 proved to be one of the best gaming keyboard in the industry. This gaming keyboard comes with a handful of subtle changes that made it almost every PC building gamer's favorite.
This amazing gaming keyboard have media keys, palm rest, and a light bar which its predecessors didn't possess. With a beautiful design, great functionality, and ease of operation, this keyboard is one of the must-haves if you're looking to get console like gaming experience with a PC.
Interface: Wired
Keyboard Backlight: Yes
Logitech G413 Carbon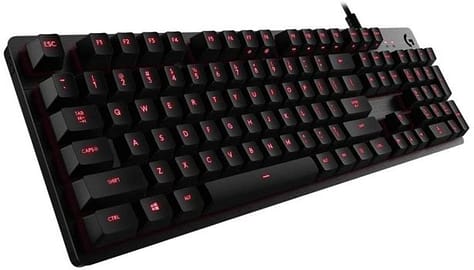 If you're not concerned about the price and all you want is a high-performing, cutting-edge keyboard that takes the gaming experience to the next level, then look no further than the Logitech G413 gaming keyboard. With the G413 Carbon, Logitech went all out to create the best gaming keyboard possible with mind-boggling backlighting and customizable macro keys.
While it might have a low-profile appearance, this keyboard is built with magnesium alloy covering its whole skeleton. And thanks to interior accessory advancements, this keyboard is almost silent, quite responsive, and has almost 70 million actuations.
Interface: Wired
Backlighting: Yes
Razer Blackwidow Chroma V2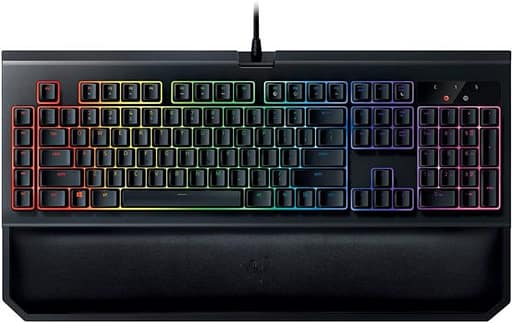 Are you looking for a high-performance gaming keyboard that will match with your other Chroma accessories? If yes, then look no further than Razer Blackwidow Chroma V2 gaming keyboard. This gaming keyboard not only maintains a perfect balance between comfort and performance but it also went a few step away to make your gaming experience a true pleasure.
This keyboard from Razer comes with 5 programmable keys that you can use for almost any specific gaming action. So, if you want comfort and top-notch performance, this keyboard from Razor is a must-have.
Interface: Wired
Backlight: Yes
Programmable keys: 5
Best Gaming PC Mouses
Sure, keyboards are important. But sometimes, all you need to win the game is an extra edge and instant movement. And to do that, you need to have the best gaming mouse to accompany your keyboard. So, in this section, we will review the best gaming mouses you can buy to take your gaming experience to the next level.
Razer Viper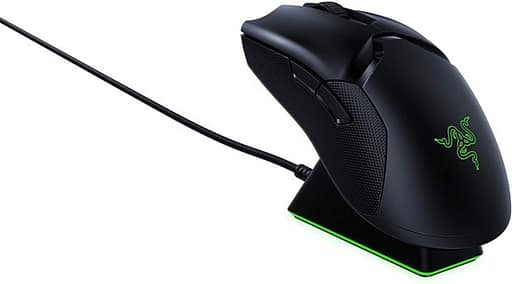 Whether it's the 5G optical sensor or the 5 custom DPI stages, there are a lot of reasons why gamers trust and love Razer Viper. This amazing mouse comes with a smooth yet blood-pumping design, 16,000 DPI, and 1,000 Hz Ultrapolling which gives you an competitive edge over the other gaming mouses.
Moreover, it also features independently programmable hyper-response buttons and a beautiful Chroma lighting that will make your gaming experience smooth and delightful. So, if you're looking to dominate every game with class, this wireless gaming mouse from Razer is the perfect partner for you.
SteelSeries Sensei Ten
With its nice matte finish and incredible profile customization, the new SteelSeries Sensei Ten is quickly becoming one of the top choice for the pro PC gamers. This gaming mouse comes with top-of-the-line sensors and an impressive DPI of up to 18,000 in 50 increments. And thanks to its TrueMove Pro sensors and 50G acceleration, this gaming mouse will make your gaming experience butter-smooth.
And on top of that, Sensei Ten also comes with tilt tracking which will help you play games with no disturbance even if you constantly lift your mouse and then put it back in tilted angles. So, if you're a rough gamer and want a lot of freedom, this is the perfect mouse for you.
Razer Basilisk X Hyperspeed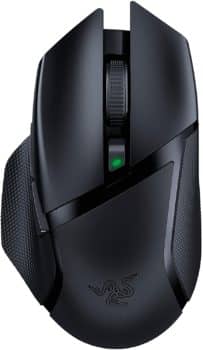 Do you like to play games for long hours but couldn't find any mouse that will serve you for long hours without having to stop? If that's the case, then look no further than Razer Basilisk X Hyperspeed. Known as the longest lasting wireless gaming mouse in the industry, this mouse is capable of stay active for up to 450 hours in Bluetooth mode on.
But this mouse is a lot more than just mere longevity. It features 450 IPS tracking speed and 40G acceleration that makes the gaming experience a lot smoother. And thanks to its Hyperspeed wireless technology, it transfers data from your mouse to PC up to 25% faster than any other wireless technology. This alone provides you with an edge among other gamers and will help you secure a victory.
Best PC Gaming Monitors
You might have the best hardware for your gaming set up. But if your monitor sucks and have sub per display, the whole gaming experience will be ruined.
That's why, in this section, we're going to review some of the best gaming monitors so you can pick what's right for you and immerse yourself in the gaming world.
Razer Raptor 27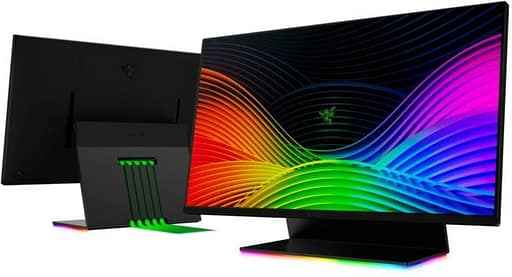 This new monitor from Razer comes with a 2560×1400 panel and a delightful 27″ screen with a 162.1% sRGB color gamut and 295 nits of brightness. Moreover, it has an incredible 144 Hz refresh rate and 1 ms response time which will help you achieve a vivid gaming experience.
The IPS panel of this gaming monitor supports HDR400 and comes with display presets for different kinds of game such as racing, MMO, FPS, default, etc.
And on top of that, it comes with a sleek and modern design with RGB flair that will take your gaming experience to the next level. Surely, this is one of the best-looking gaming monitors you can get in the market.
ViewSonic Elite XG270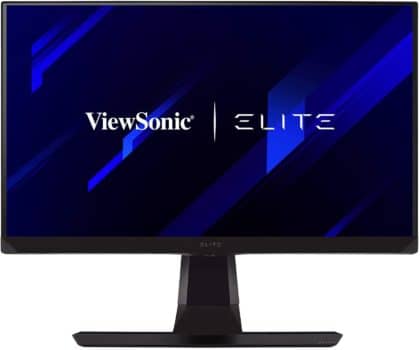 If you're looking for excellent monitors to play the most demanding online games and immerse yourself into the gaming world, then ViewSonic Elite XG270 monitor with 27″ and 1080p display with wide viewing angle is a perfect fit for you.
This monitor comes with HDR10, unbeatable 99% color rating, 132% sRGB color gamut, and a mesmerizing 277 nit brightness. As a result, the display is so crisp and clear and you can even notice the slightest details of the game.
So, if you are looking for a monitor that will help you immerse inside the gaming world, the new ViewSonic Elite XG270 is where your search ends.
The Best Gaming Pads For PC
You can't turn your PC into one of the best gaming consoles if you don't even have a gaming pad that is suitable for most of the PC and console games. So, in this section, we're going to talk about the top game controllers you can buy right now.
Microsoft Xbox Wireless Controller
The Xbox game controllers from Microsoft has been the king of PC game pads since the Xbox 360 days. And it's not without a reason. The Xbox wireless controller is comfortable and has a even weight distribution that's just right to hold the controller and be in total control of the game you're playing.
Not only it has an advanced in-build Bluetooth that connects with any PC setup effortlessly, but it also comes with an affordable price that made it famous among gamers. And what more, you can even customize your game controller for absolute control using Xbox Design Lab.
So, if you're looking for an affordable yet powerful game controller that packs the most value for your buck, then Microsoft's Xbox Wireless Controller is the perfect fit for you.
Sony DualShock 4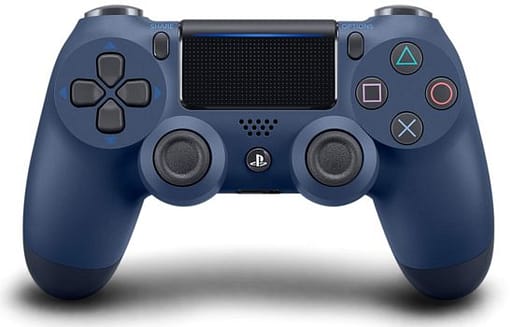 This game controller is still the best controller ever made by Sony and it's compatible with entire game library available on Steam. This game controller comes with just the right amount of friction which is extremely comfortable in hand.
Plus, thanks to its motion control technology that is compatible with a surprising number of modern games, you can play games such as racing games just by moving around your controller. So, if you're looking for the best gaming controller with the highest degree of control, then DualShock 4 might just be the right product for you.
Still have questions? Contact us at www.techsngames.com today!