Do you get an error message saying that Safari can't find the server when you try to browse? In this article, we'll look at how to fix Safari can't find server problem on the iPhone. Let's get started.
Even if there are better alternatives to Safari, owners of iOS devices keep coming back to it for several reasons. It's small, doesn't use as much RAM, and gets better with each new IOS update. Safari is not without its flaws, even though it provides users with solutions for speed, customization, and security.
The failure of Safari to find servers, which results in the browser being unable to load websites, is one of the most prevalent issues. This behaviour may be rather unpleasant since it disrupts your productivity and leaves you puzzled about what just happened. You should be aware, however, that such errors are caused by very small network faults that are present on your devices. It's possible to avoid making these mistakes by doing several checks on your systems.
You can't possibly be aware of all that has to be checked to correct the issue. In light of this, below you will discover various potential solutions to the problem of "Safari can't find the server". You will get an in-depth tutorial that walks you through each of the fixes that are listed below.
There are a few different things that might be causing the issue where Safari can't find a server. Let's talk about those things and figure out what the problem is.
Reasons Why Safari Can't Find Server
If Safari can't find a server, the most likely reason is a problem with your internet connection. This does not necessarily imply that your internet connection is substandard. This mistake might also be caused by several other factors that are connected to networks. The following is a list of possible reasons for the "Safari can't find server" error, which should help you get to the bottom of the matter:
Weak Internet Connection Or Low Bandwidth
Outdated System Software
Wrong DNS Server
Damaged Wifi Router
Incorrect URL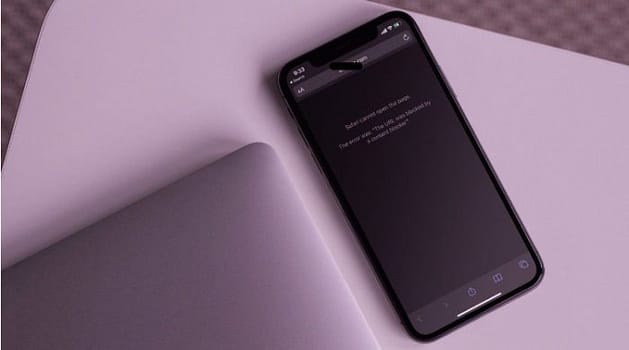 Solutions For Safari Can't Find Server
1. Check The Connectivity
As a first step, let's establish a connection. Maintain a solid connection between the devices you are utilizing. Verify in the settings that either the data or the wifi option is switched on. Make sure your iPhone isn't set to "Airplane Mode".
Make sure you have enough bandwidth and internet access. A shaky internet connection is almost often the blame for the (Safari can't find server) error.
2. Please double-check the URL and reload the page
Typing the incorrect website URL is the most frequent and most ignored error. Mistyping an address bar word and thinking it's because of a bad internet connection is a common occurrence. The whole website address may be altered by even a little modification in the URL. Make sure your URL is right before going on to more time-consuming procedures.
In certain cases, refreshing the page may assist. There may be a hiccup with the Safari web browser at that moment. Reload your phone by pressing the reload button.
3. Clear The Cache
Clearing your cache may help you if Safari crashes and you cannot locate a server error. There's a good probability that the data you've already seen will conflict with what you're now looking at. Even if it doesn't, maintaining a clean cache is always preferable for optimizing performance. Follow these steps to remove the cache in Safari:
Scroll down to Safari in the Settings app on your iPhone.
tap Clear History and Website Data after that. Then, open Safari and access a web page to see whether the issue has been resolved.
4. Modify Your DNS Configuration
The (Safari can't find server) error can occur if the DNS server is set incorrectly, which is common. When a website on the internet loads, the DNS system kicks in. Using the incorrect DNS server delays the process of converting a URL to an IP address. Using Google's DNS server may help solve this issue. Please follow these instructions if you want to change the server:
Open the iPhone's Settings app.
Next, choose the Wi-Fi symbol by clicking on the corresponding icon.
After that, just click on the Configure DNS button. The manual mode should be used if it's an automatic mode. Add either 8.8.8.8 or 8.8.4.4 as a Google DNS server from the Add Server menu.
Remember to tap the Save button to save the changes you made.
5. Reset The Network Settings To Default
If you've tried all of the other methods and they didn't work, try a network reset. There will be no Wi-Fi passwords or DNS settings when you reset your network settings. The router's network settings will be restored to their default state. It is thus necessary to get rid of those responsible for the error (Safari can't find server). Following these methods, you can reinstate the network settings:
Head to Settings > General > Reset.
Select Reset Network Settings from the drop-down menu that appears. You will see a confirmation dialogue box. Please hit "Reset Network Settings" once again.
6. Restarting the iPhone can help.
When connection or other settings are OK, you may try this method. It's exclusively available to iPhone users, as well. Technical problems can be eliminated by restarting the device. This is a common method for resolving issues.
If you're using an iPhone 8 or before, hold down the side or top button until you see a slider appear on the screen.
To access the slider on an iPhone X or later model, press and hold the side button as well as either volume button until the slider emerges.
Open the browser on your iPhone and try browsing the page again when it has been turned on.
7. Update Your iPhone's Software
A recent iOS software flaw may be to blame for Safari's inability to discover the server error. Apple, on the other hand, responds quickly to serious concerns. Exactly how long ago did you last upgrade your iOS software? If it's been a long since you've done anything, you may face a variety of issues, including the one you're now experiencing.
In recent weeks, if you've been using an older version of your operating system, you've received a notification asking you to upgrade.
Your gadget may need a new version of the software. More recent software is typically better since it is bug-free. Make sure you have the most recent version of iOS installed by going to Settings > General > Software Update.
8. Disable The Content Blocker Option
Every day, we see new developments in technology. Previously, you could turn on an ad blocker without informing the website you were doing so. However, if you activate it, the websites you visit will be able to recognize it in a matter of seconds.
This might be the explanation for the limitations you encounter on certain websites. In the end, advertising is the only way these organizations can make money.
Why would they share their material with you if you block the advertisements? Disabling the ad blocker is the only way to get around it. In this way, you may be able to get entry to the website you want. To deactivate iPhone's Content Blocker, follow these steps:
Open the iPhone's Settings app.
Turn off Safari's content blocker service under Safari > Content Blocker.
Conclusion
Therefore, the aforementioned error can be fixed using some of the solutions that have been shown here. Following the preceding methods will help you quickly resolve the "Safari can't find server" problem. However, if the problem persists, you may take your gadget to a repair facility and have it examined by an expert.
Is there a particular method that worked best for you? Let us know what you think in the comments area below, please.