A video game, just like any other media, will one day run its course. The day that specific media is dead, is the day that something else will take its place. That is why it is important to note when a game can actually stand the test of time. This is something that is not done as often as one might think. You have classic all-time favorite games including Super Mario and Legend of Zelda. However, those are games that have been around since the very beginning of video game popularity. Instead, this review would be focused on one of the 2000s best selling video game series, Assassin's Creed. Or more so specifically, the upcoming game Assassin's Creed Valhalla.
This beloved video game series had managed to stand the test of time despite the increasing complexity in games. Unlike classic games, however, they cannot rely on their sheet nostalgia factor to bring in buyers. Instead, the Assassin's Creed franchise is constantly coming up with new and exciting games every single time to keep things fresh. And that can be seen with the newest entry in their long-running series, the upcoming Assassin's Creed Valhalla.
This upcoming game is the 14th main entry into this extremely long series anthological series involving the story of the Assassins. The game is scheduled to be released very soon on November 10, 2020. But before you mark your calendars, make sure to read this early access review of the game. We will dive deep into the game's story, graphics, and general feel of the gameplay during its demo times.
Assassin's Creed Valhalla Premise
The game, just like the rest of the series, would involve around the order of the Assassins. These are a group of, well you guessed it, assassins that are designated to ensure the safety of humankind. Each of the various games has its own story. This means that although the games are all in the same universe, they are on different timelines in the world. That would mean that some of the characters that you have played previously would either be long dead or have yet to be born. This would all depend on the current timeline that you are playing.
The Assassin's Creed Valhalla entry is focused on the warring states of the 873 CE era. You will play as a warrior named Eivor, a member of your faction's Clan Raven. That would mean that the game is entirely made up of the early Anglo-Saxon period of time and map. You are tasked to destroy this cruel Viking overlord who took over the rule of the benevolent King Oswald. Thus, you will amass a small army that you would order to bring about justice and invade against the tyrannical rule of Rued.
You can expect that this game will find a way to tie in the long-standing history of the Assassins nicely with the story. Unfortunately, the demo did not showcase how the two will come together. That is something that we have to wait and see to truly understand.
Gameplay
The game is largely based on the newer rendition of the Assassin's Creed franchise. This means that if you are not familiar with the Origins or Odyssey games then you would be in for quite a shock. The game is now more combat-focused as opposed to the classic one-press dodge move that you do. Instead, you would need to gain some powerful weapons and armor that could earn either through looting or crafting. There is no longer a single weapon for the entirety of the game. This makes the game feel more brutal in terms of combat but is still fair enough for all people to enjoy.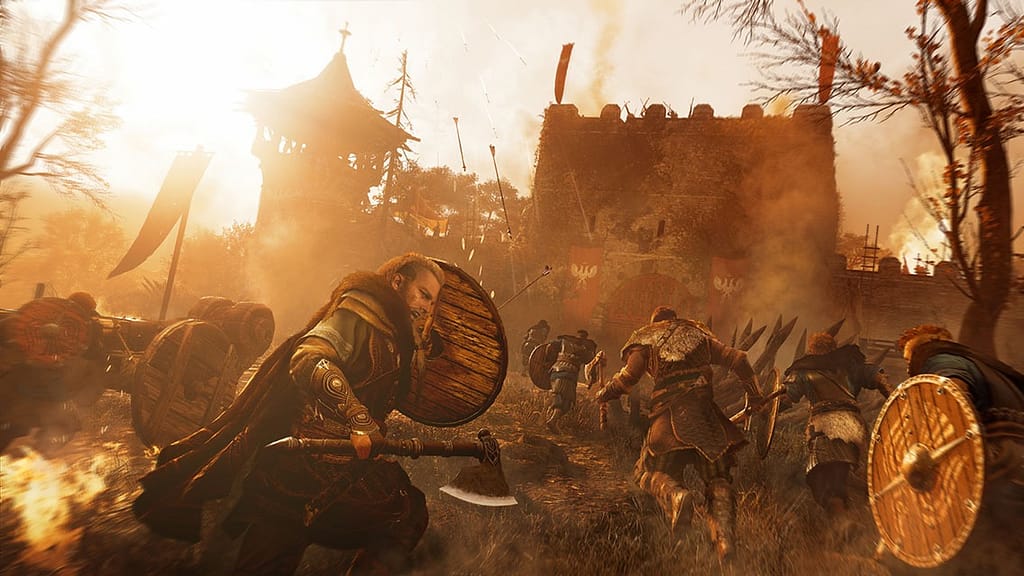 The game would not be called the same Assassin's Creed without some level of parkour. Fortunately, the game still delivers an incredible open-world system that just showcases the breathtaking skill that is placed in making their worlds feel more alive than ever. The iconic eagle dive is still set in this game, just like any other Assassin's Creed game. Instead of taking away stuff that worked in the past, they only seek to add more to flesh out the gameplay further.
One of the most requested features that were once a big part of the franchise, specifically Assassin's Creed Black Flag was the excellent boat management and combat mechanics. Thankfully, Assassin's Creed Valhalla managed to incorporate the system back on their game with an added twist. The developers at Ubisoft made sure that it would still be as accurate as possible given their time period of origin. You can also expect this level of detail and commitment when it comes to the character's design and dialogue.
Storyline
The thing that truly captivates the audience when they play these games, apart from their fun parkour free roam, is the impeccable storytelling. That is something that the developers have yet to fail in regards of striking a strong connection between the player and their character's journey.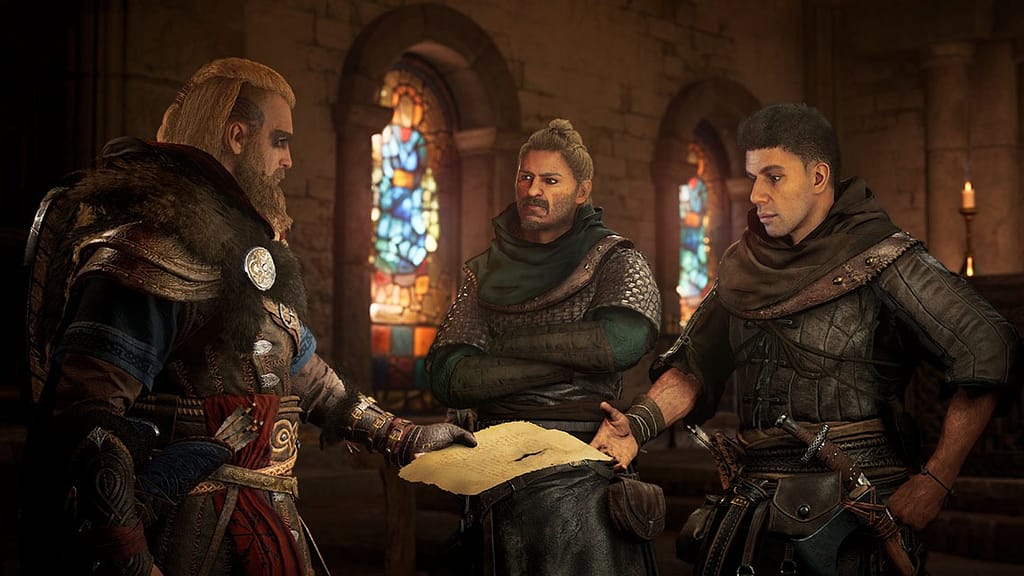 This journey takes place as your character tries to amass a small army of your own to take down the tyrannous Rued. However, there are a lot of trials that you must overcome before reaching your goal. One of which is your character, Eivor's, personal story of abandoning his home of Norway due to the ongoing war and chaos. As such, your main goal turned into amassing your own settlement along the coast of a ninth-century England. This will begin the long journey of learning what it takes to save your people.
East Anglia Exploration
The overall scope of the map in Assassin's Creed Valhalla is smaller compared to their previous iterations. But the game more than makes up for it by being jam-packed with various activities you can partake. These can range from doing simple minigames such as a good old-fashioned drink off. You can even participate in a rap battle of sorts while playing the game. Overall, the game is designed to make the world feel more fleshed out than ever.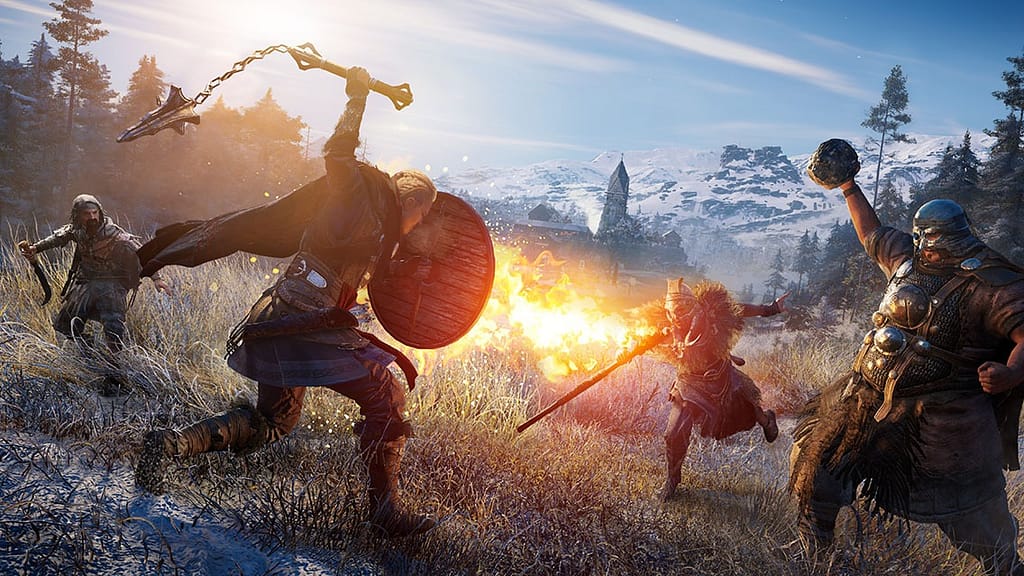 This, however, is not just simply relegated to the baseless activities you can do. Your character can still climb up on pretty much any surface to explore to your heart's content. This brings back the tradition of finding rare items in exchange for some quality loot or gear. Those items can be used to craft things that for your character or your settlement.
Assassin's Creed Progression Evolution
One of the first few issues of the series when it first launched back in 2007 was its lack of upgradability. This would mean that you can finish the entirety of the game without having to put effort on strengthening your character. That whole ordeal made the game feel like a slog at times.
However, the new Assassin's Creed Valhalla game made the progression feel more organic. There is no real depth when it comes to how you improve your character. You are not just strengthening your character's weapons, you are also giving them new skills to use. These skills can make or break your next combat encounter as you get farther and farther through the game.
The game would have you level and spec your character through the use of constellations. Each constellation holds a specific discipline that could impact the way you handle certain situations. These range from combat, snake, movement, and plenty more. All of these disciplines can be mixed and match to make your ideal Viking warrior.
Post-Game Content
Most games are usually simple ones and done scenarios. You play through the story, maybe do some side quests here and there, and finally, beat the boss to get the end credits rolling. That can leave a lot of players feeling like the game had an abrupt end.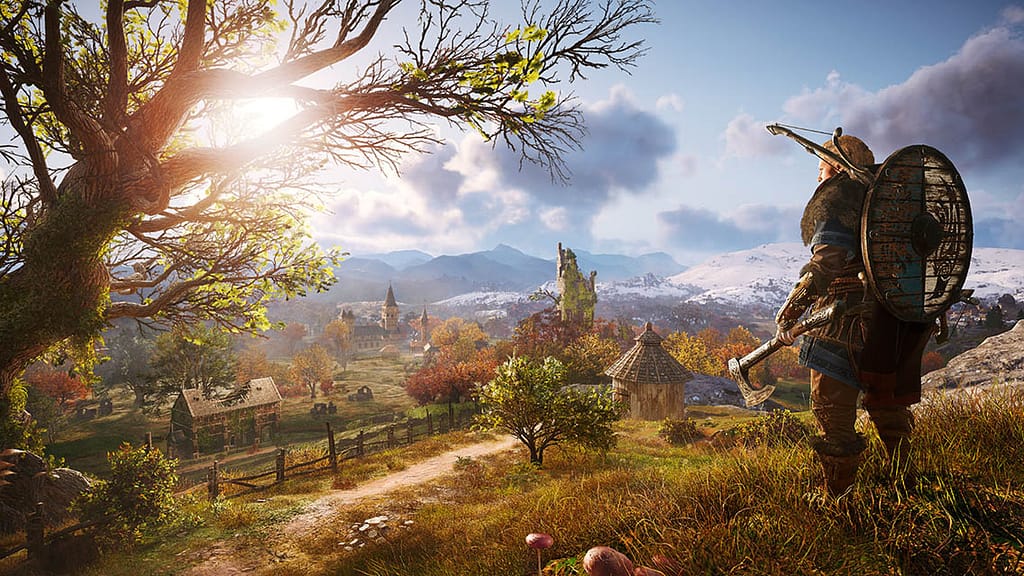 The good news about the Assassin's Creed Valhalla game took inspiration from the likes of Breath of The Wild and Skyrim. It was said that the game had a ton of post-game content to discover that can extend the game time even further. This is one of the most requested features on an Assassin's Creed game and finally, they have delivered on their promise. Some of the extra quests themselves are even hidden until you discover some puzzles. That adds a strong layer of exploration in this massively jam-packed world.
Assassin's Creed Valhalla System Requirements
The game is based on the brand new engine that was made during the Origin and Odyssey era. That would mean that you can expect some of the most breathtaking visuals ever produced in a video game. However, that brings it to a point where you would need a particularly powerful rig to run on ultra settings.
That being said, the minimum required specs to run this game would be an NVIDIA GeForce GTX 960 2GB. Or you can use an AMD Radeon R9 380 if you are on the red brand. An Intel Core i5-2500K 3.3GHz or an AMD FX-8320 CPU is required to run.
The recommended settings, on the other hand, would be an AMD Radeon RX Vega 56 8GB or NVIDIA GeForce GTX 1070. This should be coupled with a processor of Intel Core i7-6700K 4-Core 4.0GHz or an AMD Ryzen R5 1600. A 16GB RAM is also recommended to prevent stuttering alongside a 6GB VRAM.
What is your take on this game? Does it worth playing or not? Feel free to make your opinion know via the comment section.
Still have questions? Contact us on www.techsngames.com today!