Having a lame room not only affects productivity but also your competitive gaming performance. So, why not add some wall accessories by checking out some of our custom gaming frame art offers? Now is the right time to give your room some wall accessories in order to add more meaningfulness to it, and perk up your gaming experience.
You might even want to have this as a present to give to your friends and loved ones this upcoming Yuletide season. These are just part of our gaming custom art collection, so let's dive in!
V Got That Deuce Deuce Custom Frame Art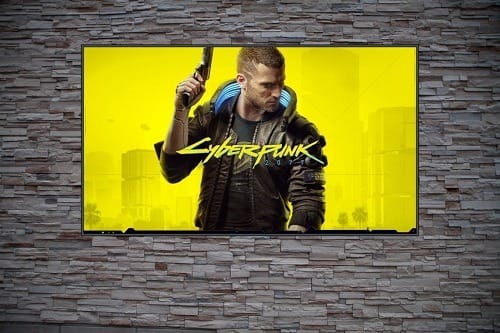 Use Code TECHGAMES For 10% Discount
Since it's Cyberpunk season already, now is the perfect time to have this V custom art. Show your friends how much you've been longing for this game by hanging this on your wall. This one shows V (the protagonist) in a badass pose (though it's up to you on what gender you'll pick in-game).
This Gaming frame art is perfect for large spaces, where it can stand out. It's also good in your living room if that's what you prefer. Plus, it's entirely handmade, so it will definitely last for long periods of time.
Tech Girl w/ Cyberpunk 2077 Text Custom Gaming Poster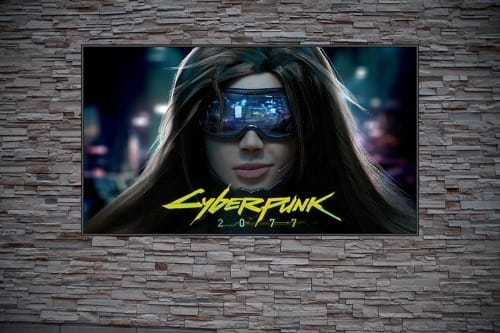 Use Code TECHGAMES For 10% Discount
In Cyberpunk 2077, the primary aspect of life is more on style. So, it doesn't matter if you're dead, as long as you have it. This custom frame art reflects the typical Cyberpunk fashion. You must definitely have it hanging on your wall.
It shows a pretty girl wearing some futuristic eye gizmo. After eight years of development, you finally what you're made of with this poster. It will fit on every gamer's room to add some fandom eye candy. This is a must-have if you're a true Cyberpunk fanatic.
Spec Ops Custom Poster Gaming Frame Art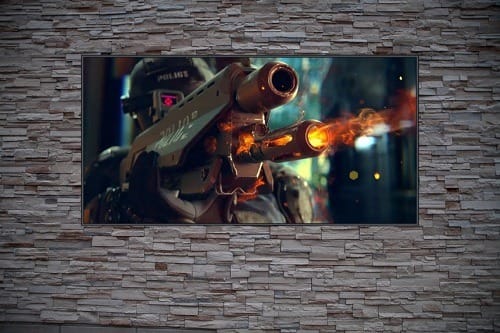 Use Code TECHGAMES For 10% Discount
This mood-inciting gaming frame art will definitely keep you all fired up while playing your favorite fast-paced games. It features a military tech soldier holding a military-grade rifle. Just looking at the gun might even improve your mood and gameplay overall. Who knows?
Moreover, it is only made of the finest materials so any form of wearing is the last thing that will ever happen. Since it's handmade, it ensures a carefully-crafted product. Whether you're a casual gamer or a Cyberpunk 2077 fan, this one is for you!
Cig Break Custom Gaming Frame Art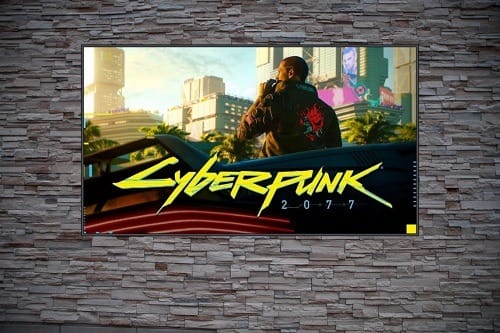 Use Code TECHGAMES For 10% Discount
Want some badass-looking custom poster? This Cig Break Cyberpunk 2077 poster might fancy you and your friends. It shows V (in male form) in a cool pose, smoking a cigar on a Night City horizon. Have a glimpse of the emblematic Night City when you have this poster art for your game collection.
This is perfect for every Cyberpunk die-hard who wants some legit custom posters in their gaming or living room. It signifies how much you support and love the game, now that it finally got released (at long last!). You can also give this to your longtime friends to let them know you're sharing similar interests regarding the game.
Pokémon Art Custom Frame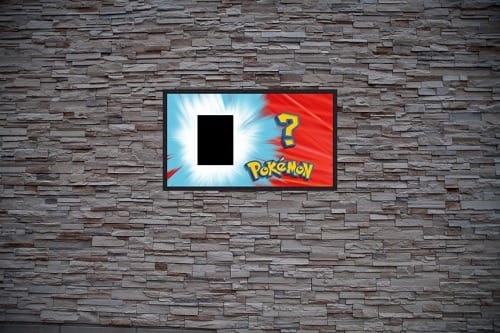 Use Code TECHGAMES For 10% Discount
Sometimes, we reach a point when we decide to take a break from playing card games for a while. But instead of keeping your decks in the closet, why not display your favorite cards by hanging them on your wall? Here, we also offer Pokémon framing services for a random card or any card of your choice.
So, add more interesting house decors by placing some Pokémon's in your rooms. We recommend going for the museum-grade glass upgrade in order to make your Pokémon last for more generations to come. This is the best choice if you're up for some serious Pokémon preservation and personalization.
Geralt The Head Collector Gaming Frame Poster
Use Code TECHGAMES For 10% Discount
Ah yes, some good old Witcher custom posters! This one features Geralt of Rivia holding some slain enemies' heads. Add this poster frame to your game collection to show others your passion for the Witcher series!
Like most of our products, this one is only made from the finest materials that guarantee many years of display. You might even turn this game art as a memento for your generations! This is a limited collection product, so have your reservations now!
Wild Hunt Wolf Logo Poster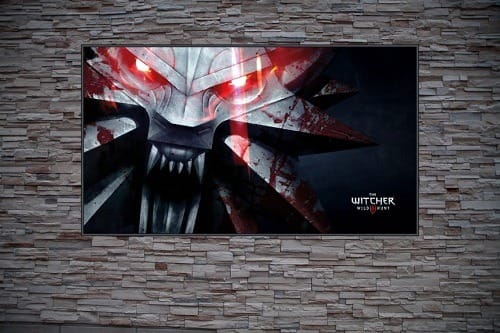 Use Code TECHGAMES For 10% Discount
Sometimes, having a logo display is good enough to express your implications. This poster art shows the Witcher Wild Hunt logo. It may not contain any action or dramatic poses, but it already implies your love for the Witcher Series.
However, don't be troubled since our company offers more than that. Provided that you give us your preferred game screenshots, we'll have them printed for you in ultra-HD quality. So, as a gamer you must have at least one "banner" to show your particular fandom, right?
Girl w/ Greatsword on Horseback Custom Poster
Use Code TECHGAMES For 10% Discount
This one shows a dramatic scene of Ciri on a horseback. If you managed to finish some Witcher games, Ciri would already have a place in your heart. Show your love for the Witcher series by adding this on inside your gaming room right now!
This custom gaming frame art was only printed using top-notch printers to provide an A+ finish. Aside from that, even the frame is carefully crafted because it's purely handmade. The poster's dark tone blends well in a dimly-lit gaming room – perfect for every gamer who hasn't seen the sun for days already.
Foggy Landscape Custom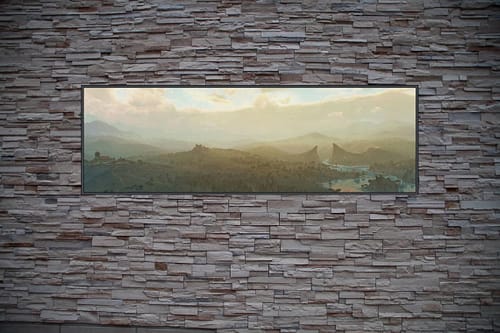 Use Code TECHGAMES For 10% Discount
Maybe this dramatic landscape from one of the Witcher games will add more eye candy to your room. This poster frame art blends well on every living quarter because of its aura and color tone. Even just by looking at it gives you different sets of feelings.
This is perfect for a gamer who is deeply in love with the game series. This is one of our bestsellers, so expect more fresh sets of custom arts like this one. Unleash your Geralt by adding this to your game art collection today! You can even send us a particular Witcher landscape so we can print it out for you!
Leap Of Death Custom Gaming Art Poster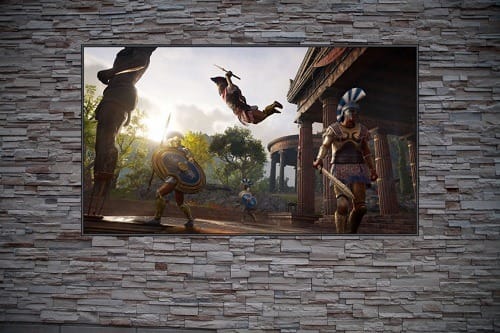 Use Code TECHGAMES For 10% Discount
It is said that the Assassins work in darkness to serve the light. Well, if you want some visual representation of it, this poster art is for you! Having this in your favorite room will definitely stir some good conversation among your guests and friends.
This one is perfect for bright gaming rooms. However, we can grant you some minor tweaks just by contacting us. If you're still not satisfied, we can even other forms of Assassin's Creed Leap of Death custom arts for you!
Ezio Auditore Da Firenze Custom Frame Art
Use Code TECHGAMES For 10% Discount
Every Assassin's Creed gamer has Ezio in their hearts, right? He's the character you're using while playing the Assassin's Creed 2 trilogy. You can show your love for Ezio by having this in your bedroom or gaming room right now!
This custom art shows Ezio and his hidden blade. Probably, he's sneaking his way towards the next victim. The white background will definitely complement your room a lot more than usual.
Alexios The Great Poster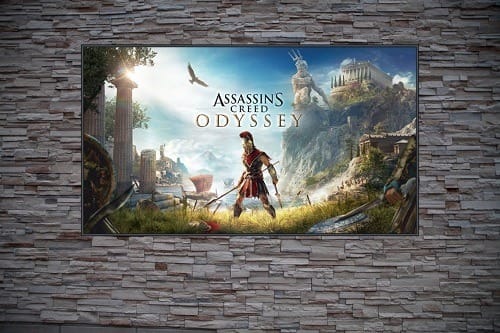 Use Code TECHGAMES For 10% Discount
This is another one of our posters that feature the game's main cover. However, this is enough to show off your fandom to guests. This custom poster art blends best in a bright room because of its striking colors and pose.
Moreover, this one shows Alexios the Great – the main protagonist of Odyssey. Whether you're a random gamer who's looking for interesting things to brighten one's room or a dedicated Assassin's Creed fan, this custom gaming frame art deserves to be a part of your collection. This is a limited-edition poster frame art, so contact us right now!
Assassin Brotherhood Custom Art Poster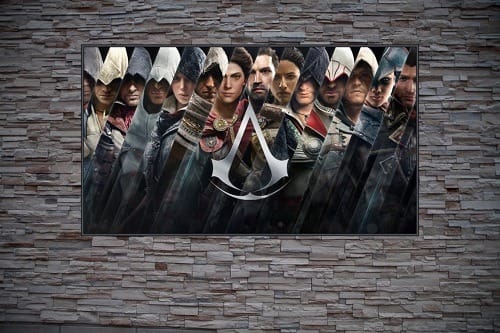 Use Code TECHGAMES For 10% Discount
Show your support for the good side by ordering this Assassin's Creed Brotherhood poster right now. This one shows multiple Assassins that have some major role in the game. The stunning detail of a top-notch printing can clearly be shown if you order one of these, right now!
Casual gamers might like this Assassin's Creed poster art as well. You might even get drawn into the game just by having this. However, it's highly recommended to start from the first installment since Assassin's Creed games are interconnected to each other.
Ezio Gazes Into The Sunset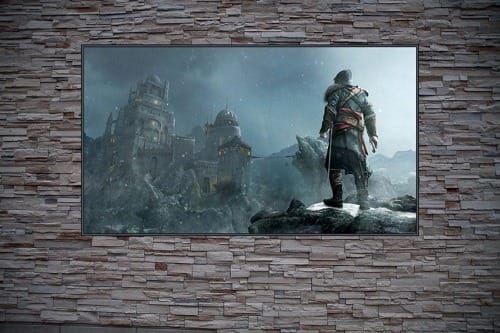 Use Code TECHGAMES For 10% Discount
Another one of our Assassin's Creed custom art bestsellers! It depicts Altair as he gazes upon the Masyaf Castle. But this one is not just your typical depiction since the custom is perfectly caught in the best dramatic way possible.
You should definitely have this one if you're an all-time Assassin's Creed lover! What's more, Altair was the first Assassin you'll ever play (if you decided to start from the first installment). There's nothing better than having this custom art in your home to signify your strong fandom of the game.
Retaliation! – Frame Poster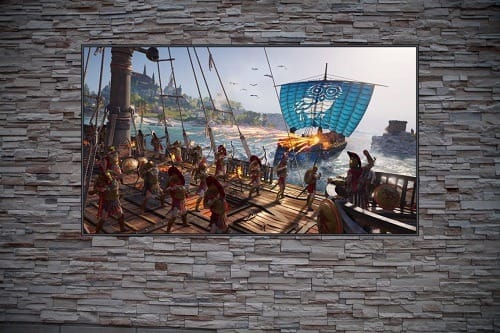 Use Code TECHGAMES For 10% Discount
This is perfect if you love action-packed scenes from the Odyssey. It depicts a fierce naval battle in a perfectly captured manner. You can almost see what the game's graphics are made of, due to our top-notch HD printing services. In other words, you're almost like playing Assassin's Creed Odyssey because what you see is what you get.
So before starting Valhalla, why not reward yourself by ordering this particular one right away? Just think of this custom frame as a trophy to signify that you already finished the game. Be the true gamer you always wanted to be, by adding this to your fandom collection.
Don't forget! All frames and products on our partner's store KHArtAndFraming are offered with a 10% Discount with our Code: TECHGAMES
If you have some other techs n gaming high-quality pictures that you would love to have custom framed and sent to you. Contact us at [email protected] and we'll make it for you. We offer more themes on CyberPunk 2077, Assassin's Creed, Witcher, and Pokemon.
Still have questions, or want to know more about the latest gaming news and console wars? Contact us at techsngames.com today!