It seems that many people leave behind more than just sandcastles and bonfires when they visit the beach. Beach litter is a recurring issue, and it's damaging our coastal waters and wildlife beyond repair.
And there's this problem with cigarette butts. They may be small, but they're jampacked with microplastics and harmful chemicals that harm marine life. These most common type of litter takes years to decompose, and once they come in contact with water, more harmful chemicals leak out.
That's exactly the case for Martijn Lukaart and Edwin Bos, two Dutch engineers behind the BeachBot (BB) project. With the help from Microsoft's A.I. systems, the BeachBot is on a mission to clean up our shores, one litter at a time.
Microsoft mentioned the startup on Monday, showing off the prototype that's still learning the ropes via the Trove A.I. system, which provides image sets provided by various sources. After all, a robot doesn't know what a piece of litter looks like. So, the startup is asking for the public to send photos to the Trove A.I. system. From there, the images are fed to the BB to enhance its image recognition.
It All Started With The Kids…
It all started when Bos and his kids were visiting Scheveningen Beach and his son found a cigarette butt lying on the sand. Bos thought of a solution about how people should be more mindful and responsible for keeping the area clean and came up with a solution. From then on, Bos and Lukaart co-founded TechTics a consultancy that uses technology to deal with social issues. The team decided to go for cigarette butts since you can find them almost everywhere, as far as there's civilization. But in the future, they plan on adding more kinds of litter to it.
The BeachBot's Hunt For Coastal Trash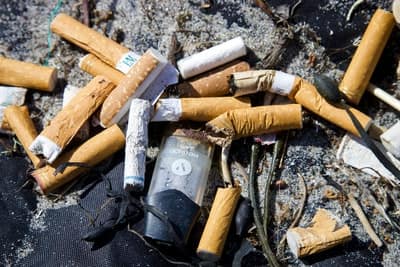 According to the startup, which is based in The Hague, Netherlands, BB needs at least 2,000 images to help the bot fully master its intended targets. So far, the startup has already gathered around 200, but the BeachBot is already able to seek out waste using onboard cameras, plus robotic arms to put them into an onboard bin, before the team gets rid of it. This way, the BeachBot collects data and helps us understand the problem at the same time.
The bot is already out on some beaches in Holland, helping with the coastal cleanup efforts.
BeachBot Future Plans
TechTics said that BeachBot is only the beginning. Currently, they are working on a new project called the MAPP detection bot to supplement BeachBot in its mission. These smaller bots will be BeachBot's buddies for scouting the beachheads for cigarette butts and will notify BB when they find one. The company wants the machines to form a trio for the coastal cleanup efforts. An even bigger plan for BeachBots and other similar machines is to run autonomously and be powered using solar energy.
The Never-Ending Plastic Problem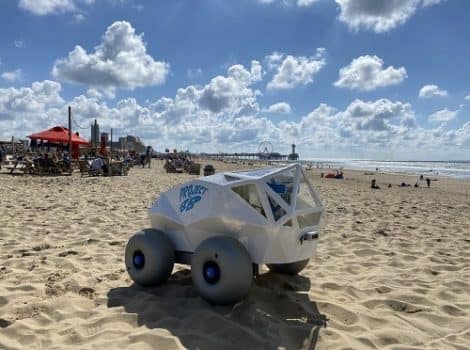 Many types of litter endanger marine wildlife, which can cause drowning, injury, or suffocation. It's also a major turnoff for tourism and recreation.
As well as the trash being left behind and scattered along the beach, the pollution being caused by plastics and other non-biodegradable waste make their way in rivers and streams, until they end up in the oceans.
Still Far From Being Perfect
Indeed, the BeachBot is still far from being perfect. But during the last demo, the small autonomous robot was able to pick but 10 cig butts within 30 minutes. That's why the bot needs our help to improve it bit by bit. Of course, we can just try not to litter in the first place. We can be an example to the current generation and instill in them the value and importance of cleanliness for the sake of the environment's future.
BeachBot – Conclusion
Could A.I. robot technology be a valuable tool for cleaner beaches and environments? With continued refinements, could these machines be a game-changer? Could BeachBot's presence poke at our consciences and help us be more responsible Earthlings? Maybe someday, we'll need to teach BeachBot and its buddies how to do other simple things for our benefit.
Still have questions, or want to know more about the latest tech news and console wares? Contact us at techsngames.com today!