Graphics cards are the pulsating heart of every PC as their balancing performance, price, features, and efficiency directly impact your gaming experience. That's why choosing the best unit for you might take some time. Indeed, there's no right or wrong for everyone here: some want the fastest graphics card, others the most affordable, and many aiming for the best at a given price.
We're going to give you some of our picks that are theoretically available right now. If you're desperate for a new GPU, you might forgive yourself for paying 25% more than its initial price, but beyond that, we recommend looking at the latest gaming laptops instead. Or just wait, but it might take you at least six months to get near the 'normal' price.
Our current list reflects the ever-changing graphics cards market so we ordered them mostly by performance. But the price, efficiency, and features are also factors in some cases, so a slightly slower card can be higher in rank. And while there's been a major shuffle of the GPU rankings already, these are the best ones out there, provided you know where to find them,
TechsnGames Awards Best Graphics Cards 2021
Fastest Graphics Cards – NVIDIA GeForce RTX 3090 Founders Edition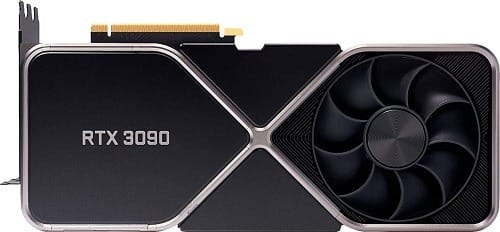 For many gamers, the best one is the fastest graphics card. This GeForce RTX 3090 Founders Edition caters to this category of users. At twice the price of the GeForce RTX 3080, it's 10-15 percent better in most workloads.
Grab this if you can afford it and you have a godly gaming setup. Also, having this graphics card will surely futureproof you for many years to come. That's perfect especially when you want to eliminate the trouble of constantly keeping up with the trend whenever something new has gone up. So, to restate, if you only aim for a 'godly' GPU at the moment, this is the best one at the moment, period.
Specs:
GPU Cores: 10496 | Boost Clock: 1.7 GHz | VRAM: 24GB GDDR6X | TDP: 350 watts
Pros:
The fastest one, period
8K gaming
24GB is great for content workloads
30% faster than RTX3080
Cons:
Twice the cost for 10%-15% performance boost
High power requirements
Extremely limited at the moment
Best Bang for the Buck – GIGABYTE GeForce RTX 3060 Gaming OC 12G Graphics Card, 12GB 192-bit GDDR6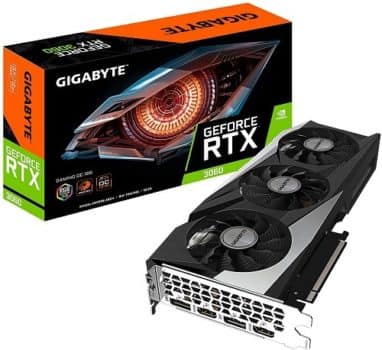 This graphics card is the most recent addition to Nvidia's Ampere lineup. This RTX 3060 graphics card ends up beating up the 2080 Super in performance, winning every benchmark test conducted. It may be kinda slower than the 3070 but cheaper. So, if you're still sitting on an RX Vega 56 or GTX 1070, the GeForce RTX 3060 is twice as fast even on the latest games around. However, this one might get sold out just as quickly as all other new GPUs, so grab one while it's still in stock!
Specs:
GPU Cores: 5888 | Boost Clock: 1.7 GHz | VRAM: 12GB GDDR6X | TDP: 170watts
Pros:
12GB GDDR6 memory
Cheaper than RTX 2080
Ampere architecture
Cons
You can be much faster with the RTX 3060Ti
Best AMD GPU, Forget About DLSS – ASUS TUF Radeon RX 6800 XT OC Graphics Card DirectX 12 Ultimate 16GB 256-Bit GDDR6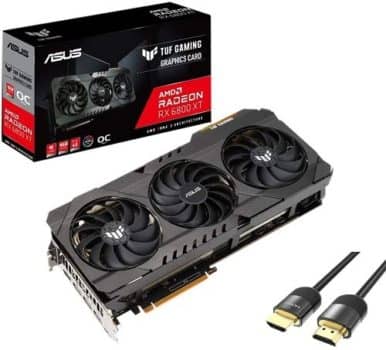 The RX 6800 is the best graphics card for Team Red. It's technically 5% faster but costs 54% more. For us, it's not a great deal since you don't get more video RAM and other extras. This GPU was affectionately dubbed the 'Big Navi' before release because it's over twice the size of Navi 10.
However, its ray tracing support is kinda mediocre. Maybe because most games are optimized for Nvidia's RTX graphics cards. At the moment, AMD is working on FidelityFX Super Resolution to compete with DLSS, but more into that next time. So, if you prefer the Reds, go for this one because it's still worth the money and performance!
Specs:
GPU Cores: 4608 | Boost Clock: 2.6 GHz | VRAM: 16GB GDDR6 16GBPS | TDP: 300watts
Pros:
Ray tracing for AMD
Can handle 4K and 1440p
Has strong DX11 performance
Strong cooler
Some serious challenge to Nvidia
Cons:
Still doesn't dethrone Nvidia
Divisive card design
Disappointing Ray Tracing
Excellent 1440p Performance – ASUS TUF Gaming NVIDIA GeForce RTX 3070 OC Edition Graphics Card PCIe 4.0, 8GB GDDR6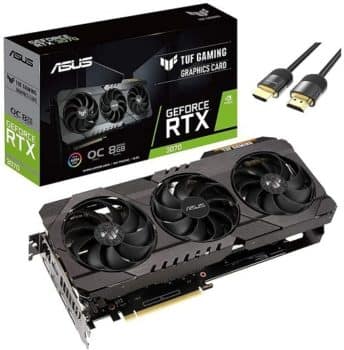 Specs:
GPU Cores: 5888 | Boost Clock: 1.7 GHz | VRAM: 8GB GDDR6 14GBPS | TDP: 220watts
Pros:
All Ampere enhancements
Not power-hungry
2080 Ti performance but half the cost
Cons:
Most probably, sold out right now
Can't do 4K ultra @ 60FPS
This graphics card is the third Nvidia Ampere GPU and continues the legacy of next-generation architectures. It's a reasonable step down from the RTX 3080 and less than half the VRAM of the RX 6800. However, this hardware costs less that's why it's sad to say that all RTX 3070 graphics cards were sold out within minutes.
It's possible to have the latest GPU line for the lowest price possible, and this one is an example. So, if you can just shrug off an extra $100, this card is worth an upgrade. With this, you can experience the 2080Ti performance you've always wanted, with a price entry slashed in half.
A Small Advice Before You Buy
While the CPU is still the brain of every PC, it's the graphics card that matters when it comes to the best gaming experience. Dozens of games keep on coming every year, constantly pushing your graphics card to the limit. It's the component that makes the difference to gaming performance and that's the one you'll want to upgrade from frequently. But if you pick the ideal graphics card carefully, it should last you at least three years.
Interested in Checking More Of Our Techsngames Awards?
https://techsngames.com/index.php/2020/12/29/techsngames-awards-best-rpg-games-2020-selection/
https://techsngames.com/index.php/2020/12/27/techsngames-best-games-2020-selection/
https://techsngames.com/index.php/2020/09/28/the-guide-to-the-best-gaming-laptops-in-2020/
https://techsngames.com/index.php/2020/12/22/our-best-4k-tv-screens-of-2021/
https://techsngames.com/index.php/2020/11/28/become-the-ultimate-gamer-with-these-best-gaming-equipment-2020/
https://techsngames.com/index.php/2020/09/30/the-guide-to-the-best-gaming-pcs-in-2020/
https://techsngames.com/index.php/2020/12/22/feudal-kingdoms-the-indie-grand-strategy-game-weve-all-been-waiting-for/
If you liked this article and love keyboards as much as we do, you might want to keep reading this as well:
TechsnGames Awards Best Keyboards 2021
Still have questions, or want to know more about the latest gaming tech? Contact us at techsngames.com today!