Do you want the absolute gaming experience with high frame rates and stunning graphics that will blow your mind? If yes, then gaming PCs are the way to go. And while the upcoming Xbox Series X and the PlayStation 5 would give you more power and performance than the current gaming consoles, they are still rookies in front of the gaming PCs who are the knights in the shining armour in the gaming world.
So, if you want the best gaming experience with the best hardware available in the market, it's time to dig into gaming computers. But which one would be the best for you? And what specs should you look out for?
In this article, we're going to discuss the top 6 gaming PCs and what you should be looking for before making your final purchase decision.
So, let's get down to it…
Alienware Aurora Ryzen R10
As AMD is playing hard to win over the processor and graphics card market, many famous computer companies have started to join the new party. And Alienware is no different. One of the famous gaming pc lines, Alienware Aurora, now come up with AMD Ryzen processor that packs enough power to satisfy every hardcore gamer's needs with an affordable price tag.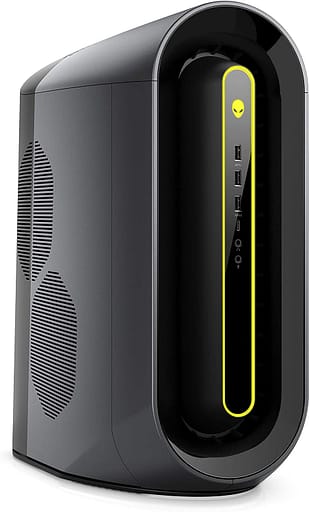 Plus, it also has the new AMD Radeon RX 5700XT GPU that takes the gaming graphics to a new level. As a result, the new gaming pcs of the Alienware Aurora line not only have brute gaming power but also help you avoid breaking the bank. One of the best gaming PCs, you can further upgrade this to Nvidia RTX 2080 Ti for an astounding 8K gaming experience.
PC Specs:
CPU: AMD Ryzen 7 3700X processor.
Graphics: AMD Radeon RX 5700XT.
RAM: 16 GB
Internal Storage: 512GB SSD + 1TB HDD
Pros:
Powerful performance.
Affordability.
Beautiful design.
Cons:
Quite expensive when configured with the highest possible specs.
If you're searching for raw power and ultimate gaming performance, look no further than the new HP Omen Obelisk. With its powerful future-proof specs, this ultimate gaming desktop truly deserves its title as the absolute stunner of gaming PCs. If you have enough budget to get the best configuration, you could get an Intel core i9-9900K processor with Nvidia RTX 2080 super GPU that is the ultimate gaming behemoth.
However, if you have a tight budget and don't mind playing at medium settings for a while, you could buy the lower-tier models of this desktop line. But still, you can always upgrade it in the future to get a huge performance boost to play the games even in Ultra settings thanks to the computer's high upgradability and minimalist design. But again, most of the other desktops with similar specs would cost you a lot higher than HP Omen Obelisk. So, if you're looking for absolute power at a lower price, this desktop is definitely what you need.
PC Specs:
CPU: 9th Gen Intel Core i9-9900K processor.
Graphics: Nvidia GeForce RTX 2080 Super.
RAM: 32 GB.
Internal Storage: 1TB SSD.
VR Ready.
Pros:
Powerful.
Stunning minimalist design.
Easy to upgrade.
Cons:
The lowest-tier model is not future-proof.
If you have an issue with available space in your room and want to be able to keep your gaming desktop just about anywhere, then the new MSI trident 3 is probably one of the best gaming PCs. It's so small in size that you can compare it to some of the best gaming laptops. Moreover, you get the stunning and powerful specifications for a price more affordable than other gaming computers.
Despite its small size, this PC's specs are high enough to help you play most modern games with ease. However, unlike most other computers, MSI Trident 3 isn't that upgrade-friendly. So, if you're happy with the current specs and don't care about any other flashy stuff, this PC is definitely the best one you can get.
PC Specs:
CPU: 10th Gen Intel Core i7-10700F processor.
Graphics: Nvidia GeForce RTX 2060 Super
RAM: 16 GB
Internal Storage: 512GB SSD + 1TB HDD
Pros:
Smaller size.
A lot of ports.
Decent performance.
Cons:
Not easy to upgrade.
The base model doesn't have SSD.
With a unique design and unmatched price tags, the new gaming PCs of the Dell G series is one of the fiercest contenders for gaming computers on a budget. Thanks to its 9th gen Intel CPU and Nvidia GTX and RTX graphics, this gaming computer packs enough punch to sail you through most games smoothly without lag.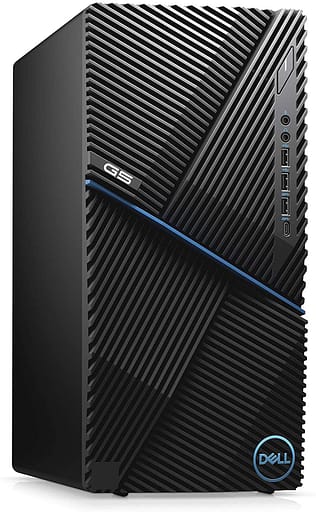 Moreover, if you have enough budget, you can go all the way up to configure the desktop with i9 processors and Nvidia RTX 2070 processors that will help you play just about any game in its highest setting possible. And on top of that, you can also get a VR-ready configuration that will let you dive into the virtual world of gaming. So, if you're looking for a budget gaming computer that is easy to upgrade, then the new Dell G5 is the way to go.
Desktop Specs:
CPU: 9th Gen Intel Core i3-9100K to i9-9900K processors.
Graphics: Nvidia GeForce GTX 1650 to RTX 2070.
RAM: 8GB – 64GB
Internal Storage: 1TB SSD
Pros:
Quite affordable.
You can configure it to be VR-ready.
Cons:
The base model is not quite good to play the latest demanding games.
They say you should never compare the power and performance of a PC to its size. And this cannot be any more true when it comes to Corsair One a100. This stunningly powerful PC comes with an incredible AMD Ryzen 9-3900X processor and the best possible graphics, Nvidia GeForce RTX 2080 Ti, inside a small box which we would have missed if not for its beautiful design.
And what's more. It comes with 32 GB of memory that is make even the most demanding games and professional creative work look like a piece of cake. And this professional machine comes with a pretty hefty price that not just anyone can afford. But if you want a gaming PC that is absolutely the best and able to run the most demanding games with ease, then the Corsair One a100 might just be the gaming PC you're looking for.
PC Specs:
CPU: AMD Ryzen 9-3900X processor.
Graphics: Nvidia GeForce RTX 2080 Ti
RAM: 32 GB
Internal Storage: 1TB NVMe SSD + 2TB HDD
Pros:
Great performance.
Cool looks.
Liquid cooling feature.
Cons:
Quite expensive.
Servicing and maintenance is a tough job.
Yet another one of the top-of-the-line gaming PCs, the new MSI Trident X Plus is yet another powerful gaming beast with a compact build and stunning design. Despite its beautiful design, the new Trident X Plus uses general industry standard parts inside its desktop. As a result, you can easily upgrade the PC as you wish according to your own convenience.
Moreover, it has 9th gen Intel i9 processor and Nvidia GeForce RTX 2080 Ti which would ensure you have the absolute best gaming experience even in the ultra settings for modern AAA games. So, if you want a device that packs great power and yet saves you space, then the new Trident X Plus is one of the best gaming PCs you can choose from.
PC Specs:
CPU: 9th Gen Intel Core i9-9900K processor.
Graphics: Nvidia GeForce RTX 2080 Ti.
RAM: 32GB
Internal Storage: 512GB SSD + 2TB HDD.
Pros:
Brilliant performance.
General industry standard parts.
Space-saving design.
Cons:
A lot of useless bloatware.
What To Look For While Choosing A Gaming PC?
Before you move forward and buy one gaming PC or gaming laptop, you need to understand exactly what you should look out for. This way, you can avoid making obvious mistakes and get the most out of your money. Below are a few things you must consider before buying gaming PCs:
The Price: If one of your biggest concerns is to buy an affordable gaming PC, then you can check out PCs between the range of $700 and $1,000. For this price, you can surely get a modest gaming computer to play most games smoothly. You can easily get an i5 processor and GTX 1660 Ti graphics card for this price. However, once you increase the budget beyond $1,500, you will get to buy some of the absolute powerhouses of gaming.
Consider The Performance: Are you looking for sheer performance over anything else? If that's the case and you want a good 60fps frame rate, you must not go any lower than Intel Core i5 processors. If you want a great gaming experience at a crisp 1440p with 60 fps, then you should get RTX 2080 or AMD Radeon RX 5600 GPU. However, if you want to go 4K, then the RTX 2080 Ti or AMD series VII is what you need.
The Upgrade Potential: The games are evolving with every passing second. And as a result, at some point,l you might need even more advanced hardware to handle the games. That's why your gaming PC should be easy to upgrade over time.
Is The PC VR Ready?: If you are planning to put your VR headset on to dive into the world of virtual gaming, then you have to make sure your gaming PC meets the minimum requirements. To make your PC VR-ready, you would at least need Nvidia GTX 1060 Ti graphics or intel i3 processors. Also, the computer must have at least 8GB of RAM and DisplayPort 1.2 in it. Make sure your PC has all of this if you want to play VR video games.
Still, have questions? Contact us at www.techsngames.com today!