Are you dating another gamer and you are looking for His and Hers Gaming Setup? If yes you are on the right page. Forget romantic picnics or dates in expensive restaurants; Staying indoors and playing video games with the love of your life is the new date night. To help you battle it out (or connect), we've put together this piece of his and hers gaming setup ideas that will have you both playing at home all night.
More couples are becoming interested in gaming, making the lone nerd gamer stereotype a thing of the past. You can't say you really know your partner until you see them perform a 360 no-scope and take a headshot from a considerable distance.
It's important to note that it can be challenging to create a pair of gaming setups for two that work effectively. It's not just about Vertagear gaming chairs and a visit to an RGB light depot; It calls for a space that you feel comfortable in and that is functional. You can achieve just that with a little compromise and planning.
This article will give you some helpful tips and ideas to help you create the couples playroom of your dreams. After this piece, you'll set up an enviable his and hers gaming setup with grace and style.
How To Put Together The Ultimate His And Hers Gaming Setup
A few years ago, gaming setups were usually limited to a single console or two. However, with the increasing popularity of online multiplayer games, couples have started investing in setups that allow them to play together. There are a few different ways to create the ultimate couples gaming setup.
One option is to buy two separate consoles and place them in opposite corners of your living room. This allows everyone to enjoy their own game while communicating with each other via voice chat and cooperative play. Another option is to buy a single console that can be used by both partners at the same time. This allows for more intense cooperative play and more competitive multiplayer options.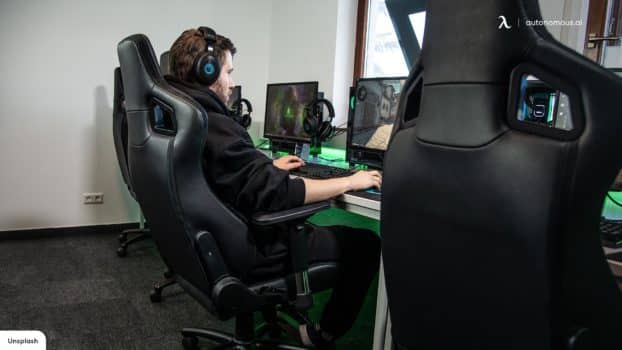 1. Distance
If you're both more comfortable sitting further apart, you should use a gaming setup that allows that. One option is to purchase two separate game systems, with each player using their own controller and screen.
This way you can be as close or far away from the game as you want. You can also use a streaming service like PlayStation Vue or DirecTV Now to watch games together. Either way, it's important to make sure your internet connection is strong enough to handle the extra bandwidth demands of streaming video games.
The conference room has plenty of power outlets for all devices and chargers, as well as a surge protector with USB ports, so anyone can easily plug in their devices without having to crawl under the desk.
Have plenty of outlets for all your devices and chargers, and consider using a surge protector with a USB port so everyone can easily connect their devices.
2. Lights
Some couples play at night to relax, while others prefer a more social experience during the day. The best couples' playrooms usually have lights that can be dimmed or brightened to suit your needs.
The ideal setup is one that can be easily adapted to your preferences. Lighting can also create a welcoming and relaxed atmosphere.
3. Visual appeal
Adding personal photos, artwork and other small details can make a room feel like home decor, and furniture to personalize your space and make it feel like a real couples' play paradise. Add some cozy throws and pillows for extra warmth, and make sure the lights are low so you can enjoy your games in total darkness, or bright if you prefer.
4. Noise–Cancelling
Some people like to play video games quietly so they can listen to music or have a conversation, but if the two of you need total silence to focus on your game, consider investing in noise-canceling headphones or curtains.
Some people also like to play in groups, so consider setting up a few game setups so everyone can hear each other.
5. Budget
Before you start, it is important to think about how much money you are willing to invest. If money is limited, you can try building the couple's gaming setup yourself as a DIY project. This way you can save a significant amount. You can also search for deals on gaming setups or accessories, or seek advice on gaming forums or subreddits.
When it comes to his and hers gaming setup, you want to make sure you have enough space for both people. Consider choosing a dual monitor setup so that everyone has their own space. You can also choose a single monitor setup if one person really likes video games and the other prefers text-based games. What's important is that everyone has a space where they feel comfortable playing video games without feeling crowded or crowded.
Decorating The Playroom – His And Hers Game Room Setup
How do you set up your couple's playroom without too much hassle? The following concepts can support your relationship!
Take stock of the concepts for the best his and hers gaming setup. Separate "WANT IT" from "NEED IT". Think of the best equipment, facility, seat orientation, environment, and many others.
Design the structure of the desks based on room size/constraints. You can sit facet by facet in pairs, walk around each other, parallel again, on the two corners of the room, at 135 levels from each other, or freestyle if you have a very large open house.
Determine the color scheme and ornament theme. Do you both need the same model for the entire space, or do you choose distinctly different model zones to emphasize the uniqueness?
Do you both agree on the brightness of the environment? otherwise, you won't separate mild sources.
Discuss and choose from sourcing records based on finances, home constraints, and best playroom layouts.
Consider ongoing low-cost and Black Friday deals and many others and start sourcing.
Remember this is always an ongoing effort, so make sure to purchase the required MUST-HAVE ITEMS first. You'll get extra inspiration and "feel the room better" once the large furniture and key electronics are in place.
Add additional ornaments and group devices when key planning comes into play.
Mood lighting is indeed necessary for the furnishing of a playroom. The photos below show the good use of ambient light and shadow tones on the screen backgrounds. The mix gives intimacy to the room.
To make the room much more beautiful and comfortable for his and hers gaming setup, use a striped flowing carpet on it.
In addition, the model of the rooms has been expanded with matching shade storage packaging and various furnishings.
To add an extra satisfying view, grab some good wall or street art items to show the difference in taste between the two people.
Conclusion
Having a fantastic experience is more satisfying than a nice playroom for his and her. If you set it up with your needs and those of your partner in mind, you will enjoy the game for years to come.
You never know, but you might have some cute gamer babies running around in your his and hers game setup at some point.
It's important to remember that some gamers love wall art for their playroom and consider it just as important as the games themselves. If you're one of them, then you should look for video game wall art from officially licensed collections of your favorite titles, including The Witcher, World of Tanks, and the Fallout series.
Get started today and create the ultimate his and hers gaming setup that stands out from the crowd and gives you the space you need to win the game and show off your skills