Minecraft updates are always full of surprises, but in many ways, the upcoming 1.18 update might just be the biggest one ever released. The update will bring a ton of new stuff into the game, such as items and mobs, as well as quality-of-life changes extending into every aspect of gameplay.
Things kicked off earlier this year when the first half of Caves and Cliffs went live. A ton of gameplay elements are all being introduced to the game at once that the Mojang split it up into two separate parts for "quality reasons".
Why The Minecraft 1.18 Update Is The Biggest Update Ever
New blocks
We may have already seen a couple of new blocks and ores from the first update. But the second half will contain a game-changing device called a sculk sensor.
Sculk sensors are blocks that detect vibrations from events and actions happening around you. These might just come in handy, especially when building traps or improving your home security.
There's simply no other block like the sculk sensor in the vanilla game, so it's quite interesting to see its uses and abilities once it goes live.
New Items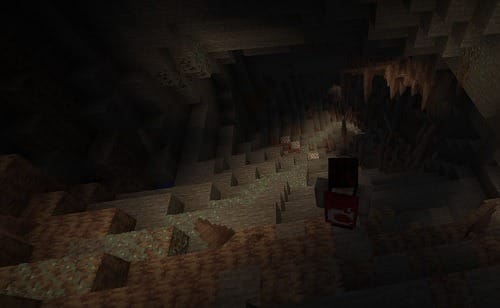 Among many new elements being introduced, players will soon be able to receive another batch of brand-new items. For now, let's talk about the so-called bundle.
Bundles, like shulker boxes, can be used as an extension of one's inventory. Made using six pieces of rabbit hide, they allow the player to store and carry their item while only taking up a single inventory slot.
The 1.18 update will also bring goat horns into the game. Any of their potential use is yet to be known, but we do know that they come from goats, right?
New Biomes
It's been a while since a major update since the last new biomes were added to the game. With Minecraft 1.18 the title "Caves and Cliffs" will really live up to its name because of new biomes that will soon enter the game. Aside from that, underground caves will also be larger than what they used to be. Indeed, the Minecraft 1.18 update will make cave exploration more adventurous and enjoyable for everyone.
World Generation In Minecraft 1.18 Update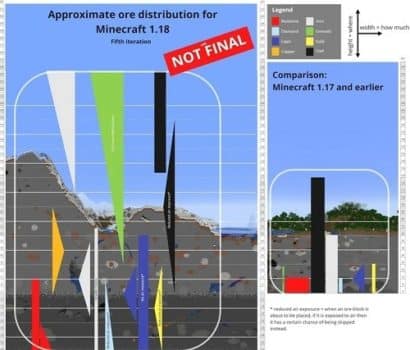 With the Minecraft 1.18 update, worlds will change significantly. The game's Y-axis used to have 0 – 256 limitations. But with the new update, it will now be -64 – 320, where -64 will be as deep as you can get and 320 will be the capped world height. Indeed, this large expansion will make Minecraft's worlds even taller and deeper than ever before.
Warden
One of the scariest changes of the Minecraft 1.18 update is the addition of the warden. Its hit points are estimated to be over 60, while taking damage from it can be a devastating one, even for those with full netherite armor. This led to speculations that wardens might just be the strongest mobs in the game. However, they are blind, meaning they'll only detect you if you're within their vicinity. Plus, the mob can only be spotted inside deep caves so you don't have to worry about meeting them on the fields!
Minecraft 1.18 – The Takeaway
The Minecraft 1.18 is currently only available thru experimental snapshots. The official date is yet to be announced – probably during the next months' live stream – although it's likely to be during Holiday 2021. For now, all we can do is to speculate and anticipate the pending, major changes.
Still have questions, or want to know more about the latest tech news and console wares? Contact us at techsngames.com today!