To meet its decarbonization goals, the British government will introduce legislation that will require newly built homes to include EV chargers in England.
According to the announcement, the law will see new homes equipped with devices to automatically charge vehicles during off-peak hours. Also, new office blocks will be required to install a charging point at least every five parking spaces.
EV Chargers For Every British Household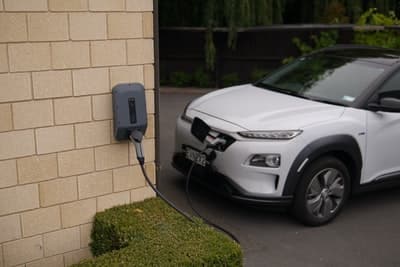 The new law will make England the first country to require its new homes to include EV chargers and become one of the leading nations towards a greener cause.
It will also boost those who are planning to shift from gas to electric or hybrids, as range anxiety is one of the causes of holding many drivers back.
The proposal is part of the movement to boost the number of EV chargers in England before it completely phases out fossil fuel dependency by 2030. The government's plan was first introduced way back in 2019, as Electrek reported.
According to Good Energy CEO Nigel Pocklington, flexible charging will have a crucial role in the future of decarbonization. That is why it should be recognized alongside solar power and electrified heating as part of the plans for making new homes, too.
As such, the home and office EV mandate will be effective in 2022.
Meanwhile, the UK government has announced a free app that lets you calculate and compare the cost between petrol or diesel vehicles and EVs. The app, called EV8 Switch, basically shows in-depth detail about your carbon footprint and how you could do better.
Aside from that, the app can also show which vehicles are the most suitable based on their current lifestyle. But the most important feature is that it shows where the nearest charging points are, and which journeys can be completed with your remaining gas.
Electrek's Take About The EV Charger Proposal
Seeing numerous Tudor, Edwardian, Victorian, and many newly-built homes in the UK, I know the feeling of what it's like to live with both off- and on-road parking and support the cause. New houses are starting to include solar panels already, and if it had come with an EV charger, it definitely would be more attractive for future clients to jump to electric, even three years ago.
The decision will also reassure you that it's better to charge at your office. And the interval of five parking spaces means that there will be fewer fights among your peers over who gets to use them first.
This incentive should help drivers and boost their confidence to readily embrace EVs for a greener tomorrow of humankind.
And hey, it's not like everyone has diesel stations in their homes. Just the idea of powering up your car in the comfort of your home is fantastic!
Still have questions, or want to know more about the latest tech news and console wares? Contact us at techsngames.com today!