An experimental infantry battalion, which was part of the 2nd Marine Division, recently tested a grenade launcher-fired Defendtex drone that can either do surveillance or turn lethal when released in swarms. Other drones were also tested, including the Black Hornet, which is a part of the secretive 'Project Hornet'.
The Marine handlers were shown launching the drone by hand and recovering it with a net system for reuse.
What Is The Defendtex Drone 40 System?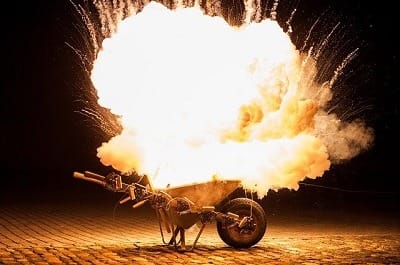 Drone 40 is manufactured by an Australian-based defense company Defendtex to keep up with the needs of the Australian armed forces.
According to a source, the Defendtex Drone 40 was first unveiled at Army Innovation Day 2016, after which it received further R&D and funding.
The company describes their Drone 40 as a loitering munition, deployed either by hand or grenade launcher. Shaped like an oversized canister or bullet, the drone is waterproof, reducing costs and making recovery possible. It has an autonomy of 20 km and can fly over the target for about 60 minutes.
According to the company's fact sheet, the drone's length depends on the payload. It has a bodyweight of 190 grams with a core length of 12 cm. The maximum takeoff weight can be 300 grams.
It's also modular, meaning the unmanned aerial system (AUS) allows for different munitions/payloads, depending on the nature of the mission.
Current payloads include electronic warfare, flash/smoke & laser designator, kinetic and surveillance, according to Defendtex's website.
Similar to Call of Duty's Hunter Killer Drone, the Defendtex Drone 40 possesses swarming capabilities, making it extra lethal. The company claims that such capabilities enable simultaneous hits. This means that a soldier can fire a volley of these Drone 40s simultaneously, for maximum effect to the targets.
Defendtex is also working on a larger munition called Drone 81 – designed to work with mortar tubes. Aside from that, the company also makes the Drone 155, which is launched from a 155 mm artillery tube. Weighing up to 20kg or more, the drone can fly for up to two hours with 80 km autonomy.
The Era Of Drone Warfare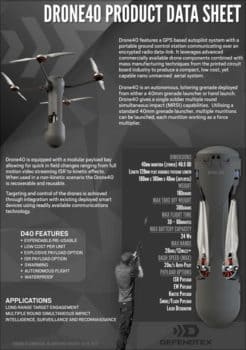 The integration of hand-launched drones shows how nations around the world are prepping up for enhanced surveillance and futuristic warfare.
Apart from the U.S., other countries have also started developing their drone models for dynamic warfare.
Spike Firefly is a loitering munition build by Israel's Rafael Advanced Defense Systems – the company behind the Iron Dome. The GPS-based drone system was designed to be used by maneuverable infantries, such as Special Forces or Marines.
The 350-gram payload is capable of carrying a 360° fragmentation warhead, with a one-kilometer range limit.
Meanwhile, Russia has developed a mini-spy drone called 'Zala', which was recently tested in the extreme conditions of Antarctica. Weighing 1.7 kg, it has a top speed of 150 kph and a range of 15 km in the open.
India is also developing its own drone weaponry systems. Three Mini & Micro Unmanned Aerial Vehicles (UAVs) are currently being developed for the Indian military.
Still have questions, or want to know more about the latest tech news and console wares? Contact us at techsngames.com today!