Ubisoft Singapore is currently being investigated by an employment watchdog over allegations of a toxic environment at the studio. According to a source, the country's Tripartite Alliance for Fair and Progressive Employment Practices (TAFEP) began investigating after receiving an anonymous tip about the real condition "behind the scenes".
The probe follows a recent conversation involving 20 current and former employees about the studio's allegedly toxic and unsafe environment. Sources added that females were sometimes subjected to groping and other acts of harassment and that such violations were often just shrugged off by HR. Aside from that, there were also accounts of racism, with local employees struggling past a so-called "French ceiling" at the Paris-based company.
TAFEP Steps In

TAFEP's goal is to enforce its vision and mission to promote employer-employee solidarity and establish a healthy workplace. That's why the agency is encouraging everyone to report similar cases to help reform them. As a national watchdog, it has the influence to force organizations, in this case, Ubisoft Singapore, to comply with the standard and carry out thorough investigations through interviews with affected parties and witnesses to issue civic or some more serious sanctions when necessary.
However, it is yet to be known whether Ubisoft has breached the Fair Consideration Framework, which covers many things related to workplace discrimination. If found guilty, Ubisoft may face some serious charges. Sanctions may include the studio may not be able to apply and renew work passes for its foreign staff for up to 12 months, up to a more serious one such as criminal investigations.
Meanwhile, Ubisoft said it's aware of the feedback given to the TAFEP, but couldn't comment on the situation while discussions were still ongoing. For now, all it did was to stress that they do not and will not tolerate abuse and discrimination in the workplace and value each and everyone's welfare. Also, since 40% of expert and senior expert roles are filled by Singaporeans, the company said it will increase native leadership through various management training and programs.
Change Will Happen, But When?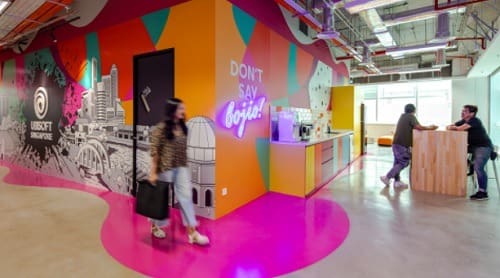 Yesterday, Daryl Long, the studio's managing director, said that a real change must be done as soon as possible to change the way how they are perceived and recognized by the public.
However, despite several high-profile employees already being kicked out, CEO and co-founder Yves Guillemot said that real changes will still take quite some time before being truly felt.
The investigation comes following reports from other Ubisoft studios that have also been found to be rife with workplace harassment.
Ubisoft Singapore Isn't The Only One Facing A Controversy
Meanwhile, competitor Activision Blizzard is also facing similar charges on its own after being sued by California's Department of Fair Employment and Housing for rampant racism, harassment, and abuse. If you're interested to know the current state of the studio, you can visit the article, here.
Still have questions, or want to know more about the latest tech news and console wares? Contact us at techsngames.com today!