None can truly argue that The Witcher series is one of the best and most critically-acclaimed games of the last decade. Both Witcher 2: Assassins of Kings and Wild Hunt were game-changing when it comes to immersive gaming. From gaming experience to complexity, all the way through their improved engine, they were truly groundbreaking and inspired many games that came after them.
No wonder that CD Projekt Red's newest game – Cyberpunk 2077 – had created a strong fanbase hype, likewise, and had overwhelming expectations when it came to it. After all, weighing the eight years in the making will definitely spawn a lot of expectations. But did it help make Cyberpunk 2077 worth of the considerable Witcher game's legacy, or was it just too ambitious?
What We Think About The Witcher Series And Its Legacy
Based on our collective experience, The Witcher series is one of the best RPG games ever made. No wonder its legacy is affectionately acknowledged by every gamer who went through the series. It has so many things to seal the deal, such as alchemy, detailed inventory, glossary, main quests, crafting, side quests, and even "personalizing" Geralt's beard itself.
The game has a very well-written plot. Aside from that, the characters were greatly described. The Witcher was so loved that even other role-playing games took some of their inspiration from it. Even both Assassin's Creed Origins and Odyssey took some huge references to improve their RPG genre title. Aside from that, the outcome also relies heavily on your choices.
Moreover, The Witcher series includes many more features, such as a mind-blowing plot, a badass main character, realistic combat, gorgeous babes, and a lengthy progression system, to name a few. As a result, it is a true AAA game, by all means. Thus, it won't get outdated sooner or later.
What We Think About Cyberpunk 2077
You play as a cybernetically-enhanced V, who's looking to make a name for himself on the vicious streets of Night City. There's nothing new here, though. Most of the game's elements are based on the tabletop game. The writers have taken some ideas from various movies, which have been true for their existential and architectural nature.
Cyberpunk 2077 tries to explain the consequences of choosing to be a slave of technology. Moreover, it also tries to explore unusual themes of gender and sexuality in a transhumanist landscape, but never quite manages.
The game will likely be more optimized in the future, so it won't get outdated sooner or later. Cyberpunk 2077 will once again be ridiculous, sophisticated, silly, and joyous, and hateful. Despite the hefty number of bugs that exist in Cyberpunk 2077, many reviews still praised the game as one of the best RPG masterpieces to date.
This was mostly due to the compelling plot, well-written characters, and ingenuine game mechanics. Even with various graphical quality issues lingering, these great features remain, making the game still worthwhile.
Our Verdict On Cyberpunk 2077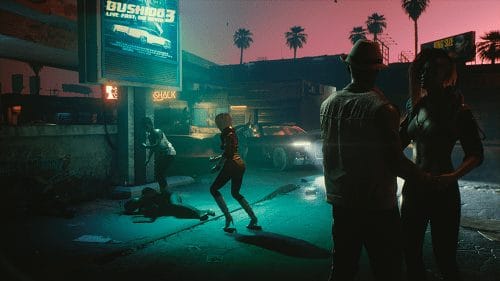 So, is Cyberpunk 2077 worthy of The Witcher series' legacy? Does it contain a deeper significance like those in Yakuza: Like a Dragon or Watch Dogs: Legion? Is it as awesome as GTA V? Well, it's a 'no.' Even though the game features an astounding world and astonishing architectures – all with its set-piece battles and stylistic bravado – they are just a testament to a talented workforce.
However, you have to play by its rules, while at the same time accepting both misogyny and xenophobia the setting offers. Unlike GTA, this is not your typical sandbox game where you're free to create whole new activities unforeseen by the devs. Your objective is on missions and side-missions, thus, making you more like a tourist rather than a citizen.
Still have questions, or want to know more about the latest tech and gaming trends? Contact us at techsngames.com today!