Crossplay capabilities are important for the success and longevity of video games nowadays, but will the upcoming Battlefield 2042 have it?
EA has finally revealed that its next-gen Battlefield won't have a single-player campaign, but will support whopping 128-player matches, which is vital for teaming up with your friends. However, many Battlefield 2042 fans wanna know if the game will feature crossplay and whether that can be turned off so that they can reach out and play with their friends on the game's giant maps, like Irreversible.
Will There Be Battlefield 2042 Crossplay Support?
Fortunately, EA has confirmed Battlefield 2042 crossplay support that it's been looking to "built and test" its functionality in a technical playtest taking place this summer. That could mean the possibility to play with your friends across multiple platforms, after all.
However, skeptics think that the devs aren't prioritizing crossplay enough and that it might not happen at all. For me, this would be fairly odd, because nowadays, most multiplayer shooters support cross-platform gameplay, like Call of Duty: Warzone, Overwatch, and Apex Legends.
Also, take note that the PS4 and Xbox One versions will indeed have crossplay, but will be contained in their own world. That's mainly due to the limitations of their hardware.
Can We Turn The Battlefield 2042 Crossplay Off?
Many competitive online games can turn their crossplays off, but we're not yet sure if that will be the case on Battlefield 2042. And since EA is just only getting ready to test the feature, we'll let you know if something comes up.
How About Cross-Progression?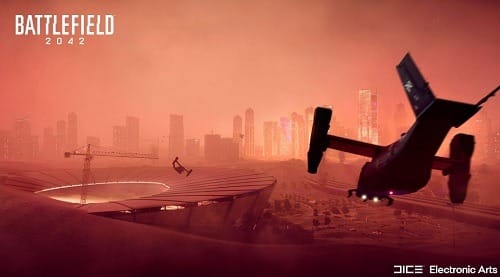 While there might not be a 'full' Battlefield 2042 crossplay, cross-commerce and cross-progression might be Battlefield 2042's alternatives.
That means any achievement, unlocks, progressions, and cosmetics will follow you around, no matter which platform you're playing on. Players who are planning to upgrade their gaming platforms in the near future, won't have to worry any longer. Cheers for that!
One thing that you won't be able to escape are the bots that will help fill up the matchmaking, although presumably, you won't have to worry about encountering them if you've got all the major platforms to match with. Aside from that, AI will get easily replaced with an incoming player, so maybe you'll only have to deal with bots in the first minutes of the match. Bravo!
Next up is EA Play Live, which will be live on July 22. Here, you'll have a chance to witness the new throwback mode from Ripple Effect (formerly DICE LA). Sometime after that, another mystery mode will be introduced, called Hazard Zone – and it was clear that this won't be a battle royale mode.
As for the technical alpha, no more unnecessary BS, because DICE is inviting us to note of the test under "strict NDA."
So far, that's everything we know about Battlefield 2042 crossplay support. While you're here, make sure to check out this link to know more about Battlefield 2042, including the confirmed maps, vehicles, specialists, and many more!
Oh, and don't forget to preorder by visiting here.
Battlefield 2042 Crossplay Feature
Still have questions, or want to know more about the latest tech news and console wares? Contact us at techsngames.com today!