Total War Warhammer 3, shifting the focus to the east, with a major rework at the forces of Chaos.
Large-scale combat has always been a captivating sight for strategy players. Not only will you command a large army and be like a real general you've always dreamed of, but also perform real-time maneuvers with no limitations (due to the vast landscape). But how about a game that features different creatures (aside from humans) plus some really fascinating lore?
This is why the guys in Creative Assemble have finally and officially announced Warhammer 3, the latest Total War turn-based strategy and real-time tactics. Hopefully, this will close the book in the popular Warhammer franchise. So, if you're already itching to know more about this newest Total War game, let's delve right away!
Total War Warhammer 3 Release Date
At the time of writing, all we know is that the game is set for release on PC via Epic Games Store and Steam. However, a rumored leak suggests a September release date, while Reddit users acquired a screenshot from SEGA retail partners suggesting its release date as November 2, 2021. Neither hasn't been confirmed yet. 
Total War: Warhammer 3 Setting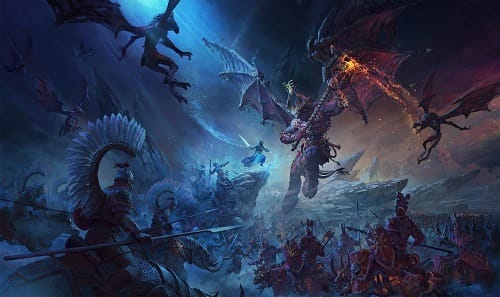 The Realm of Chaos, as well as the Lands of the East, will be the setting this time. The former is a dimension of Chaos and Magic, where the evil Chaos Gods plot their conquests. It's linked to the mortal world, defying the natural laws of reality that are being shaped by thoughts and emotions. It's not yet clear how Creative Assemble is going to present this, given how mutable it is, but we'll soon find out.
Meanwhile, the Lands of the East will resemble a real-world location. You can expect some similarities to China and Russia, but with creatures such as ogres, worshippers or Chaos, hobgoblins, and other fantastical elements.
According to game director Ian Roxburgh, the world's going to be huge, roughly 2x the size of Warhammer's Eye of the Vortex map. So, having some capable hardware is highly recommended to enjoy the full nature of this game.
Total War Warhammer 3 Units
While official announcements haven't been made yet, you can already take a hint just by looking at army lists from the original Warhammer Fantasy. However, the only exception would be Cathay as they never had a full list in the first place. So far, that's everything there is to know, but we're sure to update this guide as soon as new info comes to light.
Total War Warhammer 3 Gameplay
Factions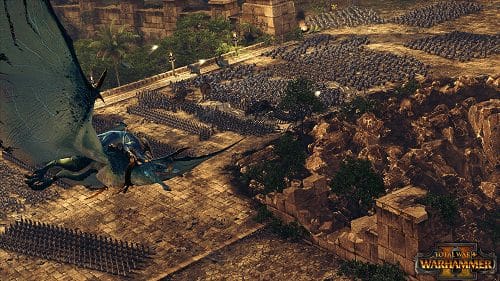 The game will be a standalone title and will feature its own main campaign. The devs have confirmed that they wish to implement all main races of the Warhammer Fantasy tabletop game as playable factions as they end the trilogy. While the previous titles have launched four factions each, the upcoming one will include six. The Chaos faction itself is divided into four iconic "flavors" of chaos to get a full treatment, while the Tzardom of Kislev will now become a kingdom in its right. Aside from them, the mysterious Cathay empire will be the sixth faction for release.
These are the confirmed factions we know so far:
1st Chaos Daemons – Tzeentch
2nd Chaos Daemons – Slaanesh
3rd Chaos Daemons – Nurgle
4th Chaos Daemons – Khorne
Cathay
Kislev
Each of the Chaos Gods embodies a particular evil. Tzeentch is the god of scheming, knowledge, and deceit; Slaanesh is the god of hedonism, lust, and desire; Khorne is the god of war who lusts for skulls and blood; Nurgle embodies evolution, pestilence, and disease.
Overall, there will be a total of 22 different factions when you include all three games with their DLCs. That's because other factions, such as the Tomb Kings further divide down into multiple sub-factions.
Lords
At release, there will be nine Legendary Lords across these factions. It's hinted that one more faction will be available as a DLC, with the devs promising the Race Pack for free to anyone who preordered the game.
The game also hinted that there's another mysterious figure with a significant role that's yet to be revealed. It's more likely to be Nagash, an ancient lord of the dead with connections to Tomb Kings and Vampires.
Total War Warhammer 3 Mechanics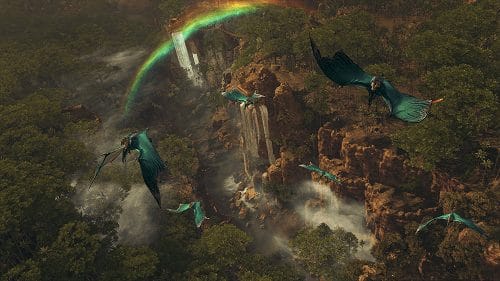 While there are no specifics right now, the devs teased a rework to certain gameplay mechanics such as diplomacy. After all, how can humans barter and trade with the dark gods themselves?
Total War Warhammer 3 Multiplayer
According to Creative Assembly, the game will support cross-store multiplayer so you and your friends can play across different storefronts. Feral Interactive is also working on ports to make the game playable for macOS and Linux platforms, which, according to them, will be as close to the release day as possible. That's a great deal since this game has a lot of expectations. Those who own all three games will be able to play all DLCs of Total War Warhammer 3's multiplayer mode.
Mortal Empires Returns!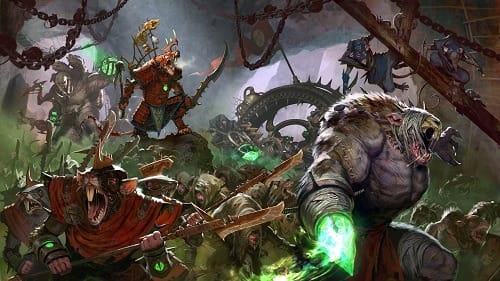 Aside from playing all DLCs including those that came from previous titles, another great deal is coming. The game will support a "Mortal Empires-esque" approach so that those who own all three games will be able to combine them into one "mega-campaign" – but there's no timeframe for when exactly that will happen.
Back in the day, hitting 'End Turn' is enough to make a cup of coffee and read at least one chapter of a book. Since then, the devs tweaked the engine and it's now surprisingly quick – at least when it comes to waiting for a turn.
Still, it takes a million years to finish the campaign. But you can expect a new engine that can deliver more performance improvements this time around.
Will There Be A Total War Warhammer 3 Mod Support?
Yes, the devs have confirmed that there will be mod support at the game's official release. More from this soon!
Game Trailer
Total War Warhammer 3 Pre-Orders
The game is available for pre-order right now on Steam, Humble, Epic Games, and other approved partners which you can read about on their official Total War page. It starts at $59.99 | £49.99. I personally think that this is more beneficial since you'll get the chance to own an incentive in the form of a race pack. But stay tuned as we wait for more details regarding it.
Personal Say & Expectations
As a fan of the Warhammer series, I personally think that a reworked Old World map is a good start for a new game. The devs should make the map reach as far as the Mountains of Mourn and include the Dragon Isles. They should also increase the northern part of the map for a larger Chaos Waste to give both Chaos Daemons and Warriors of Chaos a larger starting area so they don't immediately fight for Wintertooth and Norsca.
Then there's Cathy. Having a third game and separate map means it would be more difficult to combine all three while still being optimal. I think it would be better if it's out of the picture because of existing game design issues. That would make the map larger and reduce loading times.
I also see the potential of Arabi in the future when to game is fully optimized. These are just my thoughts and I think they would make the game way more cooler and enjoyable.
Still have questions about gaming reviews? Contact us on www.techsngames.com today!