While the next Witcher is yet to be announced (yes, it's confirmed already!), we shouldn't expect it anytime soon. In the meantime, why not have some best custom frame art for you Witcher fans out there? After all, Yuletide is is fast approaching so adding something to your personal game collection or giving someone a present might be a good idea. So, if you're one of those who still can't get enough of the game, these fandom posters might interest you.
Geralt The Head Collector Frame Art Poster
Use Code TECHGAMES For 10% Discount
There's nothing better than having this good old Witcher poster. This Geralt paint art shows how badass he is when slaying monsters for a living. Definitely, this framed poster is a must-have for those with similar fandom as we do.
It will truly fit every gaming atmosphere that you have at home. It blends best as well, especially in dimly-lit rooms. If you played the Witcher series, Geralt would have been attached to you by now. So, if you want to show off how much you like the game, then this is for you.
Wild Hunt Wolf Logo Frame Art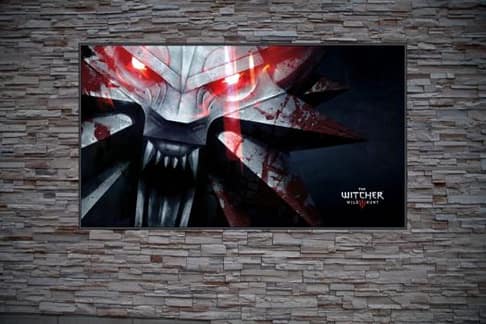 Use Code TECHGAMES For 10% Discount
This Wild Hunt Wolf logo is best for dimly-lit gaming areas as well. Its dark background blends will definitely blend with your vibe when playing other best CD Projekt games, such as Cyberpunk 2077. The simple logo may not be that eye-catching, but it's more than enough to show your support for the game.
This custom frame art is made of top-notch, handmade materials. Even the printing was done with only the best printers to ensure an HD custom poster for a lifetime. Who knows, maybe you can turn this into an heirloom someday?
Ciri on Horseback Custom Frame Art
Use Code TECHGAMES For 10% Discount
This premium poster shows Ciri riding on horseback. If you're one of the princess' followers, then this custom frame art might be for you. Its vibe reflects a gamer who is always up for some adventure.
This paint art shows a huge dedication for the Witcher fans by being purely handmade. The printing quality guarantees that it will last long for many years. You can hang this on your wall, or give it as a present to someone with similar preferences.
Custom Frame Art – Foggy Landscape Custom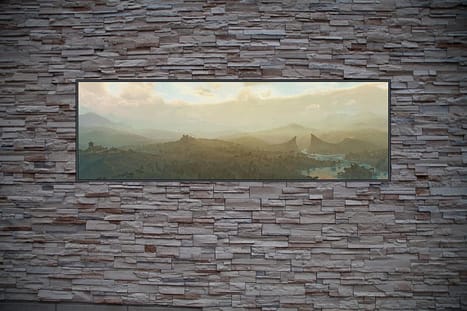 Use Code TECHGAMES For 10% Discount
Landscapes are always cool, especially when they are depicted in a dramatic way. This landscape custom frame art may not be enough to exhibit the stunning views of the Continent, but it shows you just how beautiful the game is. After all, this is just a sample, and more is sure to come.
The Continent has many beautiful places to show, including bodies of water such as the Great Sea, the Gulf of Praxeda, and various rivers. It also has some great landmasses, including large mountain ranges such as Kestrel Mountains, Dragon Mountains, and Tir Tochair, to name a few. However, we have the utmost dedication for Witcher fans, so be sure to send us a screenshot if you want a pure, custom frame art.
Don't forget! All frames and products on our partner's store KHArtAndFraming are offered with a 10% Discount with our Code: TECHGAMES
If you have some other techs n gaming high-quality pictures that you would love to have custom framed and sent to you. Contact us at [email protected] and we'll make it for you. We offer other themes like CyberPunk 2077, Assassin's Creed, and Pokemon.
Still have questions, or want to know more about the latest gaming news and console wars? Contact us at techsngames.com today!