Make your voice crystal clear with our best microphone 2021 to suit your everyday streaming needs. Sure, the built-in mics attached to your headsets are more than enough when you want to scream at some noob teammate. But if you really want your audience to pay attention, having a dedicated microphone is a must.
Grabbing one of our offers here is necessary for having excellent viewing content. You can have the best lighting and camera on Earth, but a slightly off audio can ruin the entire stream. Content viewership is fickle at best, and the slightest flaw will cost you potential viewers.
Best Microphone 2021
Blue Yeti USB Mic for Recording & Streaming on PC And Mac – Blackout

It is essential to only have the best microphone 2021 out there to always deliver crisp sounds with confidence. This Blue Yeti mic will suit your gaming and recording needs perfectly well. However, this streaming mic comes with a price.
You shouldn't worry though, because you'll get more than you deserve. This best microphone 2021 contains a custom three-capsule array that produces clear, broadcast-quality sound for your streaming needs. It also features four pickup patterns to add more flexibility to it. Grab this if you want to be competitive when playing, while still being able to communicate effectively.
Elgato Wave:1 Premium USB Condenser Microphone and Digital Mixing Solution For Streaming And Podcasting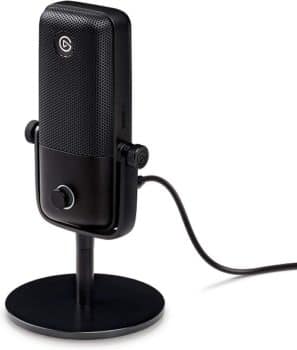 This is another best microphone 2021 that we're proud to offer. Just like the first one, this streaming microphone only gives the crispiest sound recordings available, so you can express and communicate with your fans with ease. This microphone is perfect for every gamer who wants to try living the life of a competitive streamer.
As for its specs, this mic contains a condenser capsule to capture speech with maximum precision. It also features a Proprietary Clipguard technology to eliminate sound/recording distortions in every way. Lastly, it has superior circuitry to ensure seamless audio transmission.
Best Value Microphone 2021
Studio USB Condenser Microphone, Ikedon Professional 192kHz/24bit Cardioid Recording Microphone
We still got you if you want a "balanced" microphone without going all-in. This best value microphone 2021 is your best choice if you want a streamer starter set. It still has the features of the best without sacrificing functionality in every way.
The mic's specs are still topnotch if you ask us. It can filter out unwanted background noises from the sides and rear, minimize ambiance, and even cancel out wind sounds. Aside from that, a top highlight of this mic is that it supports plug-and-play to eliminate the hassle of manual setups.
Best Budget Microphone 2021
USB Microphone, Senli Condenser USB Mic with Tripod Stand for Gaming, Podcast & Chatting
If you really wanted a product that is super straightforward but still topnotch, this Senli microphone can be your companion when it comes to streaming needs. We decided to put this in the budget section of our list, but that doesn't mean it's not competitive enough. That's because sometimes, all we need is just simplicity.
If you're wondering about its features, it's similar to those in the best microphone 2021 when it comes to functionality features. Aside from being plug-and-play, it also contains a small chip to intelligently block background noises. This is a must-have for those who want to practice their streaming vibes and personalities.
USB Microphone, TONOR Condenser Computer PC Mic With Tripod Stand, Pop Filter, & Shock Mount
For best results, we'll offer you our two best budget microphone 2021 to suit your fancy. There are times that you don't have to invest for some good mic when you can still go competitive with something crude and readily available. This TONOR streaming microphone is one such example of it.
This starter pack microphone is also plug-and-play to remove the hassle of manual setups. It contains a cardioid pickup pattern to suppress unwanted sounds and make you sound as natural as possible. The upgraded shock mount can also reduce the unwanted vibrations caused by your mouse and keyboard.
Conclusion
There are many more microphones out there to suit every streaming needs. But here in TechsnGames, we only choose the best ones we can proudly offer. Why not celebrate the new year with our first offer about the best microphone 2021, right?
Interested in Checking More Of Our Techsngames Awards?
https://techsngames.com/index.php/2020/12/29/techsngames-awards-best-rpg-games-2020-selection/
https://techsngames.com/index.php/2020/12/27/techsngames-best-games-2020-selection/
https://techsngames.com/index.php/2020/09/28/the-guide-to-the-best-gaming-laptops-in-2020/
https://techsngames.com/index.php/2020/12/22/our-best-4k-tv-screens-of-2021/
https://techsngames.com/index.php/2020/11/28/become-the-ultimate-gamer-with-these-best-gaming-equipment-2020/
https://techsngames.com/index.php/2020/09/30/the-guide-to-the-best-gaming-pcs-in-2020/
https://techsngames.com/index.php/2020/12/22/feudal-kingdoms-the-indie-grand-strategy-game-weve-all-been-waiting-for/
Still have questions, or want to know more about the latest gaming tech? Contact us at techsngames.com today!