Having only the best gaming keyboards 2021 can make a huge difference between winning and losing a match. They may be pricier than their office counterparts, but they also offer more functionalities that cheap peripherals can't match, such as software suites that let you reprogram keys, mechanical keys, and RGB lighting.
However, it's not just the best gaming mouses and best gaming headsets that are vital for the ultimate gaming experience. With all the benefits these keyboards offer, they're essential for any successful gaming setup. To know more about our picks, read below to find the chosen one for your gaming rig.
High-End
Corsair K100 RGB Mechanical Best Keyboard
It is important to only have a top-notch gaming keyboard, especially when you want to go extremely competitive with every game that you play. That's why having this Corsair gaming keyboard is the smartest choice. Owning this keyboard will let you feel what it's like to be in Esports. So, try picking this one out for the best gaming experience.
This high-end gaming keyboard 2021 offers cutting-edge performance and personalizations that stand above the rest. It should be the centerpiece of any gaming setup because of its sophisticated design and dynamic backlighting. Powered by its AXOM Hyper Processing Technology, you can expect the most advanced gaming experience through faster output and layered lighting effects.
Best
Razer Huntsman Elite Gaming Keyboard With Chroma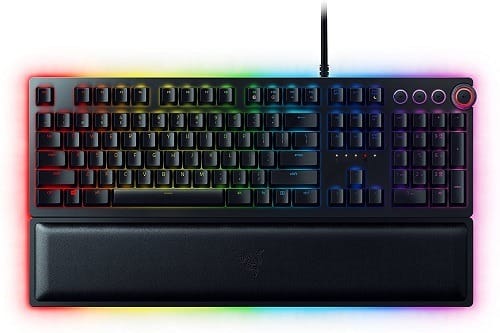 The second in our pick is the Razer Huntsman Elite gaming keyboard. It may not be the best among the rest, but you can still be highly competitive with this gaming hardware. Its price and multifunctional capabilities make it deserving to be a part of your PC master race. Plus, its overall appearance will push you to the limit and stir up your gaming mood.
As for the specs, it's faster than your typical mechanical gaming keyboard because of its Linear Optical switch technology. This feature makes every button extremely responsive – almost at the speed of light. Lastly, with its Razer Chroma, you can fully personalize your keyboard lighting to reflect your mood anytime, anywhere.
Value
GK61 Mechanical Gaming Keyboard 2021
If you're looking for the best value gaming keyboard 2021, this GK61 gaming keyboard is the smartest choice. Its luster is perfect, especially if you're a girl gamer or Twitch streamer. Aside from that, it will complement every girly PC setup in the most stunning way possible.
As for the keyboard's specs, its RGB lighting includes 16.8 million color combinations to prevent color fatigue. It features Gateron Optical Switches that can be hot-swapped at will – which is perfect if you want some more personalization. It can also record macros and personalize function keys to allow you quick commands that might come in handy during intense gaming situations.
Budget
BlueFinger Rainbow Mouse Combo Gaming Keyboard
If you're on a budget and would like to have a gaming setup starter pack, this BlueFinger keyboard is your smartest pick when it comes to daily gaming needs. Another good thing about this best budget gaming keyboard 2021 is that it comes with a mouse and mouse pad. Now, you won't have to worry about buying additional hardware, since the product comes with a combo package.
Aside from the distinct lightings, it also allows you to hold multiple keys simultaneously. This budget keyboard can also withstand the test of time because it's made for durability. Moreover, its backlight includes breathing mode as well. Overall, its durability and ergonomics maximize gamer comfort, especially during the most competitive moments.
Interested in Checking More Of Our Techsngames Awards?
https://techsngames.com/index.php/2020/12/29/techsngames-awards-best-rpg-games-2020-selection/
https://techsngames.com/index.php/2020/12/27/techsngames-best-games-2020-selection/
https://techsngames.com/index.php/2020/09/28/the-guide-to-the-best-gaming-laptops-in-2020/
https://techsngames.com/index.php/2020/12/22/our-best-4k-tv-screens-of-2021/
https://techsngames.com/index.php/2020/11/28/become-the-ultimate-gamer-with-these-best-gaming-equipment-2020/
https://techsngames.com/index.php/2020/09/30/the-guide-to-the-best-gaming-pcs-in-2020/
https://techsngames.com/index.php/2020/12/22/feudal-kingdoms-the-indie-grand-strategy-game-weve-all-been-waiting-for/
If you liked this article and love keyboards as much as we do you might want to keep reading this as well:
TechsnGames Awards Best Keyboards 2021
Still have questions, or want to know more about the latest gaming tech? Contact us at techsngames.com today!