Koenigsegg is always pushing technical boundaries to have an edge in making the best hypercars the world has ever seen. Back in 2017, its Agera RS broke an all-time speed record. The marque is also behind the first-ever Freevalve camless valve actuation and the transmission-less Direct Drive system for its Regera. But do you know the car company's next move?
Currently, researchers at Swedish supercar marque Koenigsegg are developing ultra-high-voltage battery packs using environmentally "benign" volcano fuel, all without sacrificing performance.
One such fuel the carmaker is looking into, is called 'Vulcanol'.
In fact, the 1,700 horsepower Gemera, is fitted with three electric motors in conjunction with a turbocharged 2.0-liter inline-three engine that can run on gasoline, E85, or Vulcanol.
Green Tech & The Future Of The Auto Industry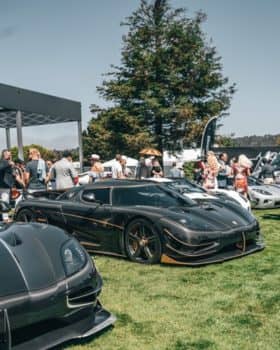 The ambitious move was spearheaded by founder and CEO Christian von Koenigsegg, who recently laid out plans to ramp up production to a few more thousand cars, with a primary focus on environmental impact. That means utilizing green technologies to radicalize the future of the car-making industry.
To achieve that, the Swede has appointed Tesla executive Evan Horetsky to dramatically reduce the company's footprint and incorporate its eco-friendly tech know-hows into a wider range of models and drivetrains. They are currently developing ultra-high-voltage battery packs, which are more powerful than other EV supercars, all without affecting the vehicles' overall weight.
The Hidden Power Of Volcano Fuel
The technology involves capturing CO2 that's emitted from semi-active volcanoes and turning it into methanol. Reports also suggest that this new tech is said to produce 90% fewer carbon emissions, compared to conventional fuel. The automaker also claimed that due to Vulcanol's air cleaning properties, any vehicle using it and equipped with the right after-treatment systems can clean the air at the same time.
Koenigsegg Wants to Use Volcano Fuel As An Energy Source
However, von Koenigsegg is reluctant to go fully electric, since the added weight of the modules might negatively affect the sporty nature of the car. Instead, they will be "propulsion agnostic" and will mix and match whatever they'll see fit for each model and less impacting on the environment.
Personal Say
Hybrid powertrains are usually bulky and usually take up extra weight since many of them were originally designed to only house combustion engines. Since Koenigsegg designs their cars from scratch, it's interesting where they'll be able to take the technology, and also imagine how automakers might be able to learn something from them.
According to von Koenigsegg, making fast, interesting sports cars doesn't necessarily involve polluting the planet in the process.
However, Koenigsegg's rarities don't come cheap. While most of us will never get a chance to drive the cars that will be made, let alone buying something so rare, it's always interesting to see what a group of people can do when they're free from the constraints that traditional automakers face.
Still have questions, or want to know more about the latest tech news and console wares? Contact us at techsngames.com today!