When it comes to the best gamer chairs around, most are centered on how they can comfort you while going for that team carry, but the fact is that most of them are designed to be too large for your bum. After teasing a mini version of the Titan chair as an April Fools' Joke, Secretlab finally decided to go on with full production creating the Titan XXS – for an extra 5,000 IQ clutch games for you.
The Titan XXS gamer chair only comes from the best, matching materials around. Aside from its five-year warranty, it even featured fully adjustable armrests, which makes it flexible for different gamer profiles and heights. It can carry up to 70 kilos, (~154) so it should be safe for pets, kids, and anyone who wants to see the immersive games of your RGB rig.
The chair will only be available in limited stock, so it's best to grab a preorder now. The Frost Blue Fabric or Plush Pink is available for $319 while the black leatherette version costs $299. Remember that XBOX Series X minifridge that used to be a joke but got sold out within a few seconds? Chances are, that this chair will be the next one.
As previously mentioned, the Titan XXS will only be available in limited edition, but if you're in for another decent alternative, you can check out these offers.
Best Alternative Gamer Chair 2021
Razer Iskur Gaming Chair – Ergonomic & Multi-Layered Synthetic Leather Foam Cushions | Engineered to Carry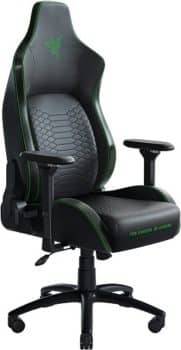 If you're looking for another best product, you can check out this Razer gaming chair. This product has features that are vital for your gaming comfort. Made from high-density materials and multi-layered synthetic leather, it also has adjustable armrests and an ergonomic lumbar support system to align your spine – ensuring maximum comfort during your gaming marathons.
Aside from that, if you're looking for extra peripherals, you can order this product with its bundle. The bundle includes a gaming headset, base station, and mousepad, which is great if you're setting up your gaming mancave for the first time. Lastly, the Iskur has two sizes to accommodate different gamer builds and profiles.
Value Alternative Gamer Chair 2021
X Rocker Pro Series Pedestal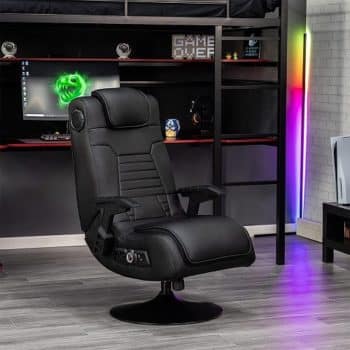 This high-tech gamer chair will take your gaming immersion to the next level with its headrest-mounted speakers and internal subwoofers for an immersive gaming experience. Aside from that, internal vibration motors allow some syncing with your audio's bass tones to keep you entertained for hours. This is suitable if you're into racing and FPS games that require extra effort in listening to your surroundings.
This X Rocker chair has Bluetooth, wireless, and wired connectivity options, offering a wider range of gaming system support. However, this gamer chair isn't fully a mobile one due to the way it was built. But if you can look past it, this product is still worth having for your gaming space.
Still have questions about gaming reviews? Contact us on www.techsngames.com today!