Sea Ganoderma is an ascension material in Genshin Impact that can be found in Inazuma, and in this article, we will go over all you need to know about Sea Ganoderma, including where to find it and how to get it.
What is Sea Ganoderma?
An aquatic plant species known as Sea Ganoderma is found in some places near the coastlines and flourishes in different conditions. In the words of the game's description, "even though it seems to be some form of fungus," the material originates from "a compound released by some soft-bodied creatures."
Sea Ganoderma is not a new resource in terms of gameplay; however, the region where it first appeared, the Golden Apple Archipelago, was a special event region that is no longer available to players. The resource was reintroduced into the game in new locations near Inazuma and, subsequently, in Enkanomiya. At the moment, Inazuma and Enkanomiya are the only places where you can find sea ganoderma.
Numerous character ascension materials, including damage, defense, crit rate, and other attributes, are required to make your characters better in Genshin Impact. These materials are obtained via various means. A good example of this is the sea ganoderma, which serves as a leveling element for Yae Miko and Kazuha.
Players who wish to level up the character Kazuha will need a total of 168 of them if they want to get him to level 90. As of right now, around three complete farming runs should provide enough of them to bring Kazuha up to his maximum ascension levels. Even while it has not been confirmed that the item will be used for any further forthcoming characters, there is a possibility, and thus, it is not a bad idea to start loading up on supplies early.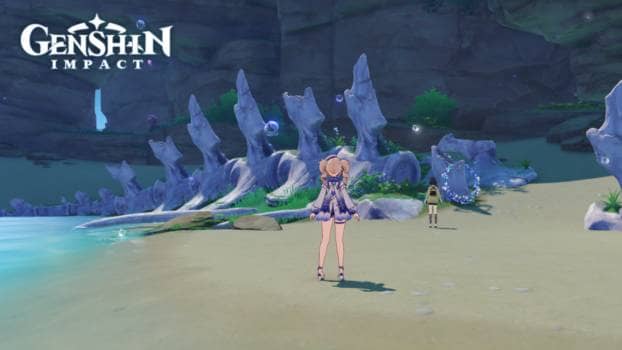 How to Get Sea Ganoderma
Obtaining Sea Ganoderma is a specialty of the Inazuma region; as a result, you can find it by picking it up near the sea in the Inazuma Area. Aside from Inazuma, you may also find a few at Enkanomiya, which is in the city center. It is not available in any other area of Teyvat! However, if you're looking to collect as many as possible, check out the guidelines below.
· Buy Sea Ganoderma from Obata in Ritou
Sea Ganoderma can be purchased from Obata the Fisherman in Inazuma. In the area west of Ritou, close to the Teleport Waypoint, he can be seen on the docks. The standard price for sea Ganoderma is 1000 Mora, and the bonus for Inazuma Reputation will not cut the price.
Take note that there is a buyer restriction of 5 seas Ganoderma every three days, so be sure to visit Obata's store if you want a large quantity.
· Grow Sea Ganoderma in the Teapot
To get Sea Ganoderma Cuttings, you must first equip the Seed Dispensary and then go out and gather sea Ganoderma in the open world. In this case, one sea ganoderma gathered is equivalent to one sea ganoderma cut.
You will be able to harvest sea-ganoderma in your own Serenitea Pot if you plant the seeds you get in A Path of Value: Orderly Meadow. Every 70 hours, this procedure provides eight sea-ganoderma to the user.
· Get From Mirai in Bourou Village
While visiting Bourou Village, you will get four sea-ganodermas just by conversing with a little girl named Mirai.
Where to Find Sea Ganoderma-Exact Locations
To locate Sea Ganoderma, you must first go to the Inazuma area. A total of 57 sea-ganoderma plants may be cultivated on a single farm run on the islands of the Golden Apple Archipelago. In any case, by just exploring the island and picking up items as they go, gamers should be able to accumulate a respectable sum. In shallow water, they are easier to notice since the material is a vivid blue and glows like all other valuable regional specialties, making them easy to identify. The following are the specific areas where sea ganoderma can be gotten.
There are a total of 22 sea ganoderma found on Narukami Island. Players require a waverider to reach the distant islands.
· Seirai Island
After you've unlocked Seirai Island, you'll be able to harvest a total of 38 Sea-Ganoderma from it. Even though certain Sea-Ganoderma in Seirai is located far away from Teleport Waypoints, For players who want to travel to distant islands, they may utilize the Teleport Waypoint located near the Genshin Impact Thunder Manifestation boss.
· Kannazuka
On Kannazuka, you'll discover a total of 48 sea ganoderma. The majority of the sea-ganoderma grows around Takashi's Conch house in Kannazuka, although a few others may be seen surrounding the military encampment in the nearby town of Aomori.
· Yashiori Island
Yashiori Island, which is close to Kannazuka, has six sea ganoderma. Players should not miss out on this opportunity since they are all readily accessible.
· Watatsumi Island
When you get to Watatsumi Island, you will be able to harvest a total of 24 sea-ganoderma. Unlike the sea-ganoderma in Narukami, which is difficult to get, the sea-ganoderma in Watatsumi is widely dispersed across the region. Players can also journey to Fort Mumei to get more materials.
After two days, the sea-ganodermas will respawn, and you can begin cultivating them on the above-mentioned islands.
Several of the Sea Ganoderma farming spots might be difficult to find due to the Golden Apple Archipelago's layout, demanding the player to travel large distances with their Waveriders. Due to this map layout, it is suggested that players who do not want to roll on the Kazuha banner on day one wait until the material is released in the Inazuma update since it is expected that it will be far simpler to farm at that time. Genshin Impact is currently available on mobile, PC, PlayStation 4, and PlayStation 5, with a Switch version in development.