Russian defense manufacturer Rostec announced that it's pushing its futuristic body armor for the year 2035. The new gear will be able to stop .50 caliber rounds at a distance of 1,000 meters. The claim has raised skepticism, but can we dismiss it straight away?
There is no doubt that the .50cal. and 7.62mm rounds are projectiles that armors are built to protect against.
According to Robert Bunker of C/O Futures, LLC, the amount of devastation a bullet carries, lies on the energy transference into the target. Also, the .50cal packs a punch five times as much energy as the 7.62mm round.
Indeed, the next Sotnik combat gear being developed is intended to replace the Ratnik – which has been in development for more than a decade and was already proven "by fire" – by year 2025.
The Ratnik suit, which includes many subsystems and components, includes a modernized body armor design that can withstand 7.62mm bullets and other essential gear needed for the ever-changing battlefield. It also features a water filter, backpack, gas mask, heater, and medkit, according to Army Technology.
For years, more than 300,000 sets of Ratnik have been delivered to the Russian Ministry of Defense – either in stock or currently being used.
While Rostec didn't exactly mention how long it will take for them to develop their next-gen armor, what we know is that the company has a lot to build on, now that generations of Ratnik combat gear have been tested and proven by its armed forces.
Is Futuristic Armor Feasible Enough?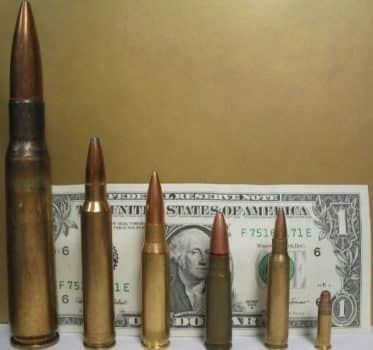 So far, the feasibility of Sotnik is directly related to the historical successes of the Ratnik. Most probably, the combat gear's integrated systems aren't going to be new and will be built on existing tactical systems currently in service.
Indeed, some futuristic capabilities do appear within arms' reach. Last year, Rostec unveiled two combat exoskeletons designed to haul 60 to 80 kg during assault operations.
According to Samuel Bendett of the Russian military's Center for Naval Analyses, certain techs will be realistically developed first, before the conceptual ones.
And while the future next-generation Sotnik system is yet to be seen, Russia certainly appears to be beating the crap out of the U.S. as far as future infantry combat systems are concerned.
Looking Back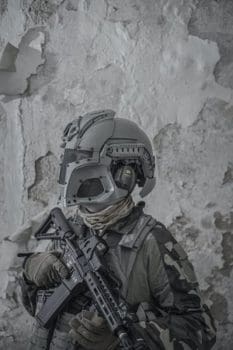 Heavy armor was already used since World War 1. The Germans issued 500,000 sets of 'Sappenpanzer' made from steel plates. However, its weight hinders mobility and makes the wearer an easy target. That's why it was only practical for machine gunners and sentries.
Nowadays, it's possible to create body armor that can even stop a .50 round, as long as mobility is out of the question. Even U.S. heli crews were issued the Survival Armor Recovery Vest, Insert, and Packets (SARVIP) combat gear. It featured a Kevlar vest with pockets of ceramic plates bigger than those in the Interceptor. However, their weight made them unpopular and was seldomly worn.
There's also a secondary issue that stopping bullets isn't enough: the bullet impact is like being kicked by a horse. According to Rostec, the new armor will feature special shock-absorbing elements to prevent blunt trauma injuries.
The Russians have already introduced the second-gen Sotnik "Centurion" which features an unpowered exoskeleton, allowing soldiers to carry loads up to 45 kg with ease. It was used in Syria and was proven to be successful. However, powered exoskeletons are yet to be developed. For instance, the U.S. military initiative to develop power armor tech.
The current third-gen Sotnik combat suit featured protective ammunition and equipment, while still offering superior armor defense, to increase the soldier's armament tenfold. But the next-gen gear will incorporate the latest technology, like robotic equipment and integrated systems for exchanging intel.
What's Behind The Futuristic Armor?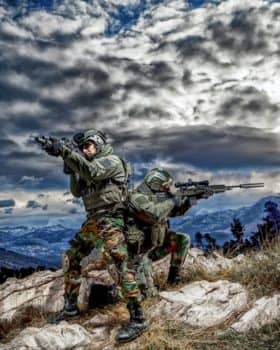 Polyethylene is plastic, and like all plastics, it's everywhere. Chances are, you're a few feet from something made of plastic at this moment.
Polyethylene armor exists. But there's a downside in plastic armor – it melts. As the red-hot bullet pierces armor, it melts the plastic inside. This causes the molten plastic to adhere to the bullet, thus slowing it down. With enough plastic, it can effectively stop the bullet.
Russia's plastic armor is called "Superthread," and it claims that it's lighter than its American and Israeli counterparts
Could a plastic armor/armor plating stop a .50cal round? Well, sure. Enough polyethylene plastic can stop anything, but making them lightweight is a separate thing to consider.
Futuristic Armor – The Takeaway
Perhaps it's all about expectation. Rather than being an Iron Man, the Russians will have something more like an Iron Outlaw in mind – a lightweight, mobile version of the ballistic shield for police sieges. It might be for assaults and urban warfare, but whether the extra layer of protection justifies the added weight is something to think about.
At the moment, the U.S. is catching up by developing its own futuristic body armor that features a brand-new exoskeleton, while reducing soldier weight and fatigue. Whether they'll be able to catch up is something worth looking out for.
Still have questions, or want to know more about the latest tech news and console wares? Contact us at techsngames.com today!