It has been some ways away since we last heard of the game mount and blade bannerlord. In fact, it has been over a decade since the first game came out. The game defied expectations and managed to produce some of the best large scale combat ever. This aspect of the game created a lot of buzz around the gaming community as it struck their curiosity. How much can this game truly handle in terms of large-scale battles? Has the game improved tremendously from their somewhat limited engine a whole decade ago? Most importantly, is this game any good? All the important details are here as we take a look at Mount & Blade II: Bannerlord.
Lead Your Army in Mount and Blade 2 Bannerlord
The best thing that the mount and blade bannerlord franchise has done is their stellar progression from fighter to leader of an army. There is nothing quite like amassing all your recruited troops as you lay siege on an enemy's army. All the important things that were in the original game were kept for the sequel. This makes the game very familiar to those that have previously played the game beforehand. That being said, there are numerous core changes in the gameplay that makes this game stand out when compared to its predecessor.
However, you do not have to simply lead the army from the background if you so desire. You can join the fray firsthand and wreak havoc amongst your enemies with the revised combat mechanic of the game. There is a strong need for you to formulate the perfect strategy in order to beat your opponents. The skill you have when it comes to managing your bannerlord troops can make or break every encounter you would have.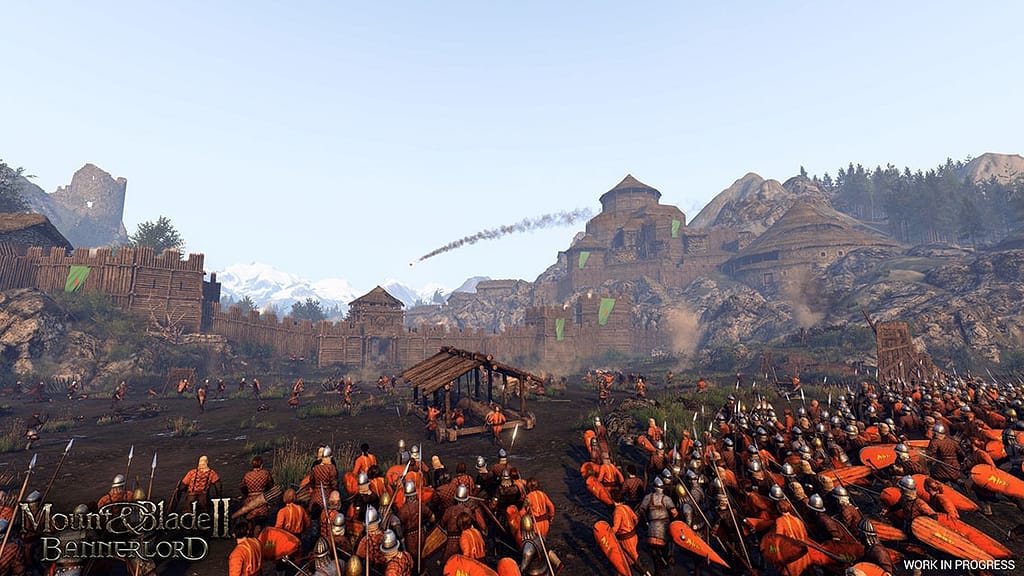 Another aspect of managing your army in mount and blade 2 is how you want to order them around. The game does a great job of ensuring players that they can handle specific situations with the creative freedom that they want. This would mean that you can choose to do various things that are less noble than others. Regardless, your decisions would largely impact the way you and your army would be perceived.
Graphics
Mount & Blade II: Bannerlord is a game that was made due to the massive uproar from fan support. That is why the game received a lot more direction in terms of where they need some improvements. One of the biggest factors that were commonly reviewed as something that needs work is none other than the overall look of the game in terms of graphics. That is to say, the original games were considered to be last-gen even when it first came out.
That had all changed with this sequel. The game had received a massive upgrade in terms of graphic fidelity. This would mean that you would get the opportunity to have some breathtaking shots in-game. Although the graphics may not be considered top-tier, mount and blade 2 is still quite a gorgeous game to look at. But despite some jank in some of the design choices in the game, it is still worth taking a look at.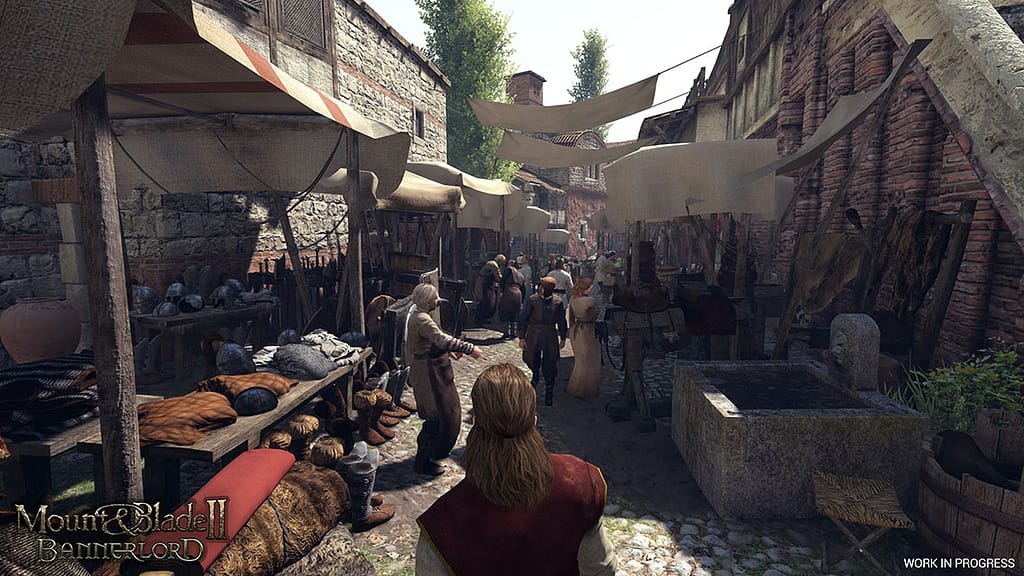 The true beauty of the game is felt during the warring combat stages of the game. This is most noticeably felt when in a massive row with other enemies, and you notice all the little details. Both the lighting and the terrain are working flawlessly to blend perfectly. That makes every fight look and feel better than ever. You can see the strong cinematic aspect on every part of the map that you come across.
Mount and blade 2 graphic is great, but what about the gameplay? Grab your popcorn and let's know about mount and blade bannerlord gameplay.
Mount & Banner II: Bannerlord Gameplay
There are plenty of reasons as to why people should take their time to play this game for themselves. However, this sequel of mount and blade banner lord managed to put the final nail in the coffin for those that are still undecided. Most of the game's final design was taken from strong feedback from their first game. As such, everything from the movement to the feel of each weapon has been vastly improved.
The biggest change in the game is their massive improvement on the upgraded UI. You can truly make some stellar plans on how to utilize your army properly. All of this can be done at any point that you want while you are out battling the enemy yourself. This silenced those that complained about choosing a form of playstyle when running a campaign. Instead, you can now be a fearsome warrior and a cunning strategist without any delay in either style. In addition, the political structure interface of the game has also made significant progress in terms of usability.
Another vast improvement in the core gameplay of the game is its added variety in quests and missions. The game still contains your typical RPG tasks such as escort and hunting missions. However, there would be random occasions where you and your army would be called out for special quests that would require more planning than normal. These would typically range from smaller tasks such as assisting merchants with moving their merchandise. All the way to large open-scale blood feud combats that could prove to be incredibly risky for your army.
Story Direction
The mount and blade bannerlord storyline takes up 200 years before the events of the first game. That would mean that all the decisions that impacted the land on your previous saves would not carry over. This has also affected the way the land with some areas that are not accessible before to be open. Each land that you roam around would contain its own various houses of nobility. That would mean that your interaction would them would shape the way your story would progress.
The game would soon fall with you siding alongside the six different factions. All of six choices would present you with a host of choices that would make each playthrough unique. Thus, you would expect a high degree of replayability. This is further amplified by how each of the factions and important characters in the game would present to you various reasons why one faction should not be trusted over another. The purpose of this is to provide some real weight in every decision you would do in the game.
Progression
The overall feel of the mount and blade 2 bannerlord is to make it feel as realistic as possible during the medieval era. This is felt as soon as you first boot up the game and are tasked with making a character. As far as character progression goes, the choices are decent enough to make your player feel unique. That being said, do not expect some crazy-looking players. You have your standard options for choosing your gender and the look of your character. Although, the game does give you the option to create your own backstory. This not only fleshes out the game, but it also affects some parts of your game. So make sure to choose wisely and go for something that truly showcases who you are as a person.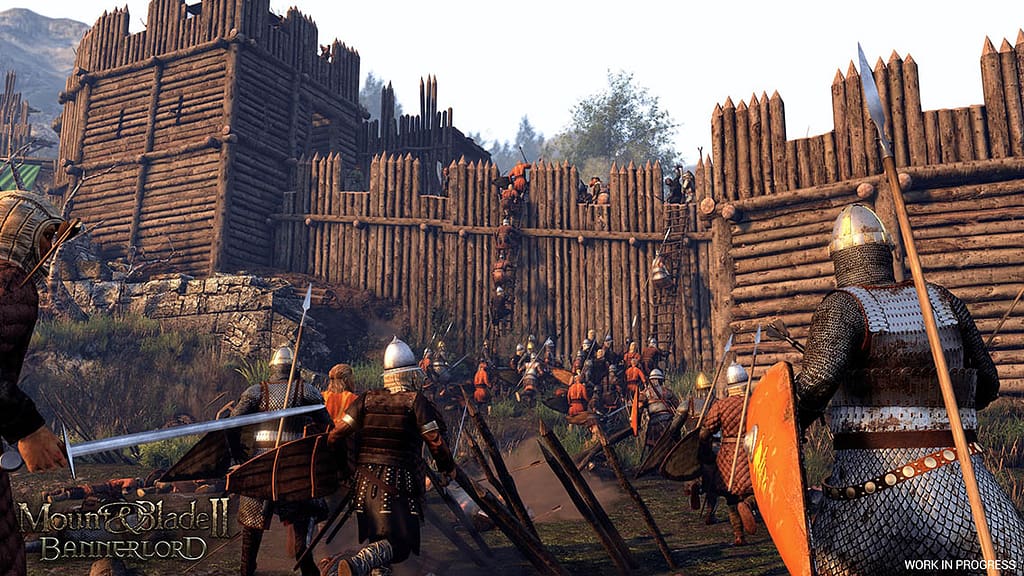 Once your character and backstory are created, you would then jump into the game. There is no real forced direction when it comes to where you need to be in the game. You are pretty much left to handle things at your own discretion in how you would gain renown and amass your army. However, the mount and blade bannerlord would lend you a hand and point you in the direction of some early game quests. This is to ensure that your playthrough would not be too broad in terms of content.
Over time, your character would have enough renown and funds to recruit other players into your employ. These recruited NPCs can be brought along on your journeys to aid you in battle. As more and more battles are won, you would encounter specially named NPCs that can be adjusted in terms of their combat prowess and general skillset. These are much more valuable than the generic locals that you can hire. However, they are a bit harder to entice to join your army.
Mount & Blade II: Bannerlord End Goal
The increase in army size would soon leave you to make a decision of either aiding a faction or conquering each one. These choices are things that you would encounter throughout your play sessions naturally. You can choose to solve things in a more civil manner using your skill in politics. Or you can take a more controlling decree and take control of another faction completely. The choice in this game is entirely left up to you. That is the freedom that you can expect to receive in a gem of a game such as this.
Mount & Blade II: Bannerlord System Requirements
The game by itself is host to plenty of moving parts and actors. This makes the game quite intensive when set on high to ultra graphics. That being said, the game would require an Intel UHD Graphics 630 or an NVIDIA GeForce GTX 660 2GB / AMD Radeon HD 7850 2GB to run minimum specs. This should be paired with an Intel Core i3-8100 / AMD Ryzen 3 1200 CPU.
Recommended settings for this game would require an NVIDIA GeForce GTX 1060 3GB / AMD Radeon RX 580. This should be run with at least 8GB of ram to ensure a steady frame rate. Do note that this game is CPU-intensive. That is why your system should be at least an Intel Core i5-9600K / AMD Ryzen 5 3600X for the recommended specs. You can take a look at our Guide To The Best Gaming PCs In 2023 or The Guide To The Best Gaming Laptops In 2023 as a guide for picking the right PC or laptop for playing mount and blade banner lord.
Final Opinion
There is little to hate about the overall aspect of this game. The game is not something that you can pick up and play without passing through a pretty steep learning curve. Some of which would require you to pick up a guide in order to master. This might put off some players from playing this game. However, take the time to learn the ropes in this realistic war game and you can wind up taking over any challenge you can find.
Do note that the game is still considered to be in early access. That is why the game is still subject to change. There is still a lot of junk that needs to be addressed in the game. This is why it is important that you leave your feedback to the developers to make the necessary changes. All in all, this game shows tremendous potential and has the capacity to become one of the biggest games of its genre quickly over time. I highly recommend the game for all people to try and see their opinions on the game.
What do you think about this game review? Do you have suggestions for us to make it better? Why not let us know your opinion via the comment box?