Take a step back during the golden years of the 1930s. In this gangster filled era littered with organized crime and angry cops, you play as a cab driver named Tommy Angelo. A regular guy trying to make ends meet in this massive recession brought about by The Great Depression. The only problem is that your character gets roped up in some ugly mafia business that leads into a deep turn of events. And the last thing you want to do is make the mafia angry. Thus, the complicated and gruesome of Tommy Angelo and his connection with the mafia begins here in the beloved crime drama shooter, Mafia: Definitive Edition.
This game was originally released back in the year 2002. After almost 2 decades, the game was given a second chance to shine on this new-age of gaming. This game, however, was not made by the original developers of the first Mafia game. Instead, the studio of Hangar 13 now spearheads a faithful retelling of this beloved game. Thus, you can expect that both veterans of the series and complete newbies can find something that would appeal to them.
Story
The concept of Mafia: Definitive Edition was quite spectacular at the time. It was similarly designed to play on the likes of the classic Grand Theft Auto 3. Although, the mafia series had more appeal on the strong essence of its story rather than just meticulously committing crime everywhere you go. The story of the game is something that invoked a strong sense of passion for the players. It is strongly brought about when considering the somewhat dated script of the original story. At the end of it all, the game would still captivate each player to be deeply invested in our protagonist's journey. The journey of how our beloved character, Tommy Angelo, from a regular working-class citizen to a full-time mafia thug is something everyone can appreciate.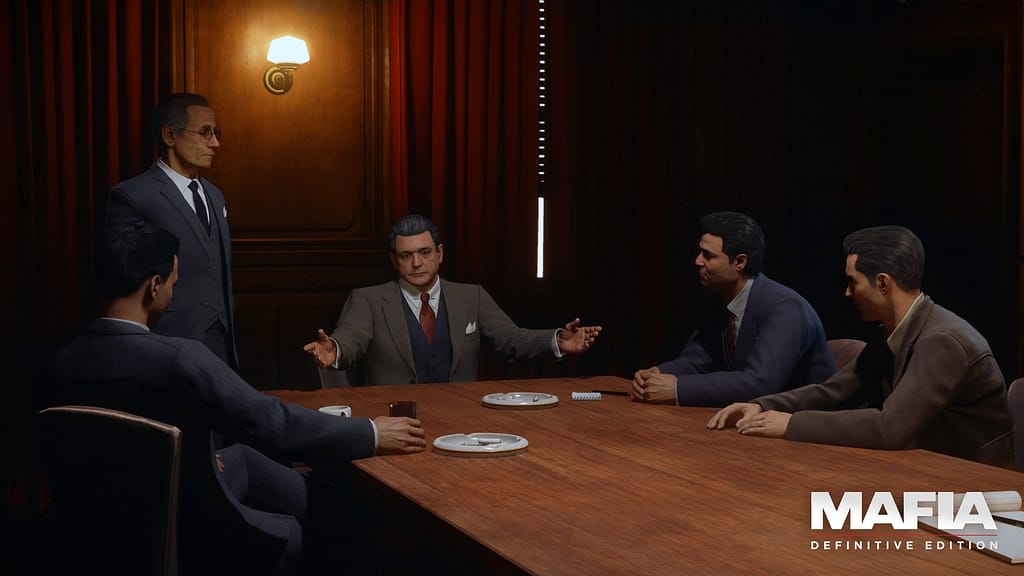 The story is almost on par with how the original script was designed. It is still a classic gem that is considered to be one of the greatest in crime drama storytelling. There is no denying that this game brings forth the best depiction and experience of the prohibition era.
Progression and Exploration
One of the key features of the Mafia games was its skill on combining full sandbox exploration with natural progression. That is something that is still clearly brought forth in this fresh remake. You can spend a good chunk of your time exploring the little details of the map. But the natural progression of the story would see to it that you see all the essential landmarks, anyways. That being said, there is no denying the sheer brilliance of having the game be fully explorable without feeling too empty.
The entire scope of the game takes place in the fictional city of Lost Heaven. This is the game's version of 1930s Chicago but tweaked to make it fit the game's overall landscape. Although, this map is not a faithful remake of its original inspiration. But you can still feel the heart of Chicago and the time period once you get yourself immersed in the game. The Mafia Definitive Edition remake even increases the number of explorable locations. This would mean that there are more hidden details to discover that never made it on the original version.
Definitive Edition Gameplay
Now, the classic 2002 version of Mafia created some of the most interesting gameplay mechanics out there. This the first game of its kind to introduce driving regulations when passing through the system. Traffic laws are still vital even during the early 1930s. This plays perfectly with making the game feel more alive. You are not an indestructible criminal that can do whatever it is you feel like with no repercussions. Instead, the game truly makes you feel your worth as you have to follow the rules or risk being in trouble with Johnny law.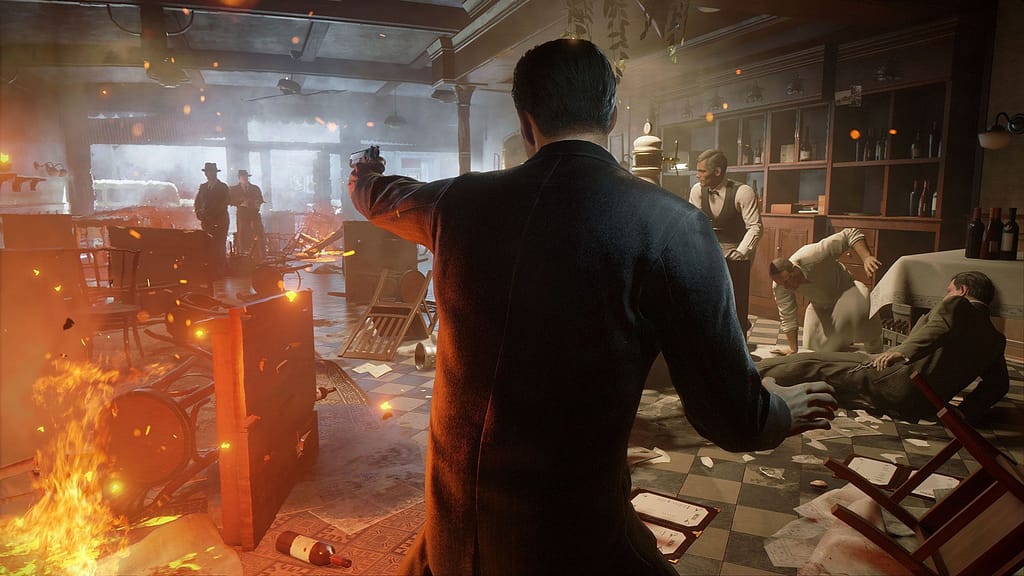 The game mostly consists of you driving around and shooting at your rival mafia gangs or even the feds themselves. However, you would never actually feel the repetitiveness take over as the game feels new every mission. This is done successfully through its compelling take on making each mission feel dynamic and fresh. Not to mention how the compelling story continously unfurls before your very eyes as you progress through the game.
That being said, the game's actual control holds up with the better and more advanced engine. This is especially apparent in one of the game's most controversial driving story missions. The feeling of the car moving and feeling like an actual real-life vehicle is a great improvement. That was clearly one of the biggest downfalls of the original 2002 classic. In addition, the snappiness of your character's movements is better than ever before. Each gunshot and kill is felt in a surprisingly fluid motion that the series has never seen before.
Graphics
The year 2020 has brought forth some of the most intensive and demanding games out there. Not to mention that the inclusion of ray-tracing has made things look breathtakingly realistic. Fortunately, the creation of a new engine for this remake paid off in stellar fashion. Mafia: Definitive Edition is a perfect example of striking into the future in terms of graphics quality.
You can expect some high-resolution gaming right out of the box. The city itself is incredibly detailed. This level of detail makes the city of Lost Heaven look both dark and dingy but also beautifully picturesque. Your current location in the game can really paint a strong picture of the kind of lifestyle people have in that particular area. This is further amplified when you take in those intense cinematic cutscene moments. The tension of some of them is just hair-raising in the best way. This is increasingly apparent the higher you crank the graphics levels on your rig. Running ultra on every setting on this game is perfect for those that want a true cinematic experience. Although, you can still run the game with a decent rig and still come out with a beautiful game regardless.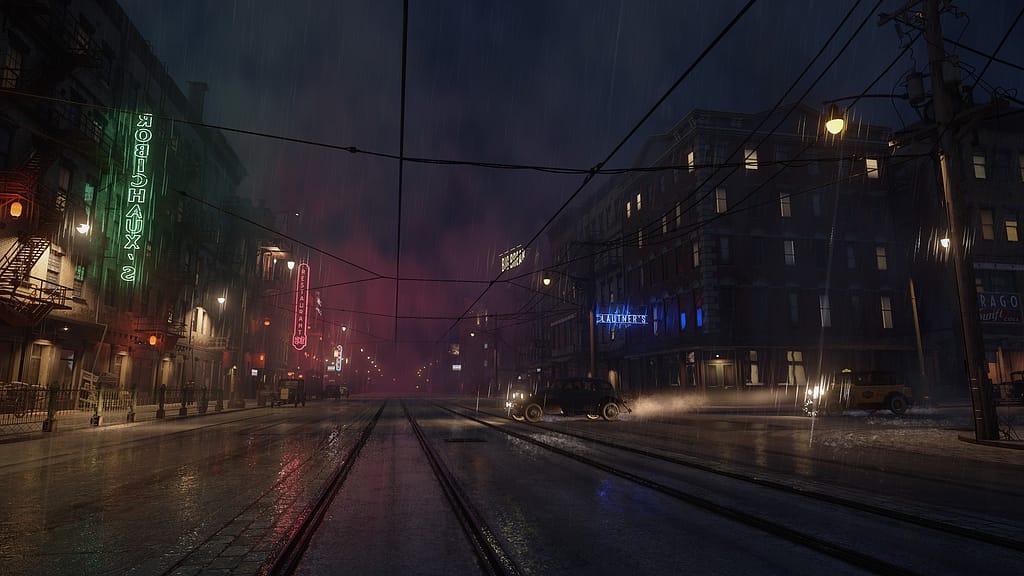 But that does not mean that this game will break new ground in terms of graphics quality. This game is still stellar to look at, do not get me wrong. However, the player and NPC models are not what you would call extremely detailed. The body models are doable, especially when you look at their clothing. But the characters' face models leave a lot to be desired. There are even brief moments when they look a bit cartoony.
Mafia Definitive Edition Remake Differences
Now, this is the main reason why most people would click on this article. One simple question has to be asked when making a remake: "is it worth it?" That is something that every gamer would think about when considering whether you should repurchase a remake. You do not want to end up paying over 60$ for a game that is essentially just a better-looking version. Instead, you need to have some substance to truly pull your customers back into something they have finished years ago.
Fortunately, you can find only a few things wrong with this remake. The overall graphics quality is great to look at. You can truly feel that the developers at Hangar 13 wanted to capture the essence of its origin game as much as possible. This is shown perfectly with its tremendous pacing and storytelling. The updated map just fleshes out the world a bit more. And the incredibly superior controls make the game just a wonder to control and explore.
But with every positive in the game, there would always be some negatives. Overall, the game is a must-buy for those that have never played the original in the first place. But the game is harder to sell for those that are looking for some intense additions to the missions. Despite the larger explorable map, there are no new missions to be had. That is, of course, offset by having some missions be extended or adjusted to fit the new map. But that is not enough to make the game feel as though it is brand new per se. The original voice actors did not come back to reprise their role as well. This can be heard quite noticeably for those that are acquainted with the original Tommy Angelo.
Specs Requirement
The game is, fortunately, easily tweakable to compliment those with a bit of a weaker system than others. Its minimum specs requirement can run on as low as an NVIDIA GeForce GTX 660. Couple this graphics card with an Intel Core i5-2550K 3.4GHz and you can play this game at the lowest settings. And you would need at least 2GB of VRAM for you to start the game up.
It is recommended that you should run the game with a system that has at least AMD Radeon RX 5700 8GB or NVIDIA GeForce GTX 1080 in order to run smoothly. In 2020 it is important to note that most triple A games would require at least 16GB of ram. And lastly, make sure that you have a Intel Core i7-3770 4-Core 3.4GHz / AMD FX-8350 for your CPU setup.
If you need to find out which computer could suit you best for this game, this 2020 gaming laptop guide will definitely help you.
Overall, Mafia: Definitive Edition is a stellar game with one of the best pacing and storytelling imaginable. However, the lack of additional content and change in voice acting might leave some series veterans to be left with conflicting thoughts.
Still have questions? Contact us at www.techsngames.com today!