How to get clash of clans scenery? Among smartphone strategy games, it's hard to beat Clash of Clans in terms of popularity. As of this writing, the game is accessible for both iOS and Android-based devices and has a worldwide fan following. Thousands of people can come together to create a virtual village, join forces with other players to establish a clan, and battle it out in unending Clan Wars.
The video game has a significant amount of content for players to discover, but it also allows them to personalize and embellish their villages with the scenery. A slew of new features, including this one, were included in the game's update this past year. New hero skins, armies, resources, sceneries, challenges, and other features are constantly added to Clash of Clans.
There were no cosmetics in the beginning, but now there is a wide variety of Heroes and the Village Map to choose from. The Scenery is one example of this kind of in-game aesthetic. The Scenery is a skin similar to others but tailored to your specific surroundings. They are only available for a short period and may be purchased with real money.
It's one of their best features to provide players a way to distinguish themselves from others, brag to friends, and make their homes and builder bases stand out.
Are you looking for how to get clash of clans scenery for your village? Read this complete guide on How to Get Clash of Clans Scenery below. In this article, I will show you how to change the Clash Of Clans Scenery.
How to get Clash of Clans Scenery?
Many players in the game don't know how to get clash of clans scenery, so here is a short and simple explanation of how to achieve it.
To begin customizing your game's environment, make sure you have previously purchased any necessary scenery from the in-game store. There is a cost associated with Clash of Clans Sceneries. Each scenery costs $6.99. So, if you're looking to explore new sceneries, be prepared to part with some cash.
As of the writing of this piece, such is the situation. On the other hand, in the not too distant future, the player population will have the ability to access Scenery by purchasing either the Gold Pass or the Regular Pass. Even though there is a Scenery that can be unlocked without costing you anything. The only catch is that you'll need a Town Hall 14 to access it.
Visit the store to get some fresh village scenery. It might be a stand-alone item or part of a bundle. The only drawback is that you won't be able to buy it whenever you want. Occasionally, they are available in the store.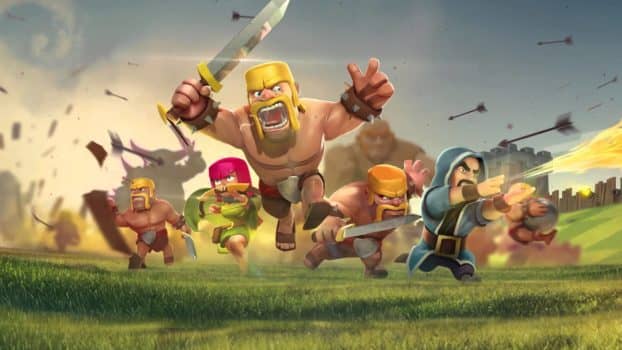 How to change the scenery in COC
After confirming that you have Scenery, you head to your major village and locate the Town Hall. Clicking on the Town Hall at that location gives you four choices: information, magic items, an upgrade, and change scenery. Your bought and owned sceneries may be accessed by clicking on the "change scenery" button. Then, pick the scenery you desire to use, and lastly, confirm it with the "Select" option to change your scenery in COC.
Available Scenery: How to buy Scenery in CoC
Below are the available sceneries in Clash of Clans you can consider buying.
Clashy Constructs Scenery
There is a pine forest around the settlement, as well as many mines and other constructions in the area. Its waterfall and dock make it unique in the area. It was released in June 2020 for USD 6.99.
Clash Of Clans Clashy Constructs
This is a great option if you're looking for something that's both conventional and timeless. To enjoy a more immersive gaming experience, get this on your devices! It goes for $6.99
It's a lush, tropical setting dominated by a majestic castle and a little seaside town. The waterfall cliff has a large skull-like cove if you take a look at this site presently. In the Lagoon, you could get a glimpse of several Hammerhead sharks.
Clash Of Clans Pirate Scenery
This scenery was introduced to the Scenery choices in November 2020 and is available for just $6.99. This purchase comes with 2 million Gold and Elixir. Isn't this an excellent deal? You should consider purchasing this item.
Epic Winter Scenery is a great way to make your default World of Warcraft scenery seem like you live in a winter wonderland. You'll see a snowy landscape with a cave carved out of the snow here.
Clash Of Clans Epic Winter Scenery
On top of the purple mist, there's a little pine forest growing throughout the rock. Two massive Barbarian King sculptures stand guard on each side of a bridge. Until recently, the waterfall had been located some distance away from the castle in the highlands. Purchasing this scenery, which includes 2 million Gold and Elixir, will cost you $6.99, the same as the previous one.
9th Clashiversary Scenery
Located amid the pine forests, this scenery represents a party atmosphere. This party atmosphere is further enhanced by the fantastic themes found in the upper corners of the scenery. You may see a skeleton on a flaming lava-themed stage at the upper left of the page.
Clash Of Clans 9th Clashiversary
There is a goblin-themed stage on the opposite side, where a Barbarian head and Party Wizards are having a good time. On the bottom left, you'll notice a carnival with P.E.K.K.A Ferris wheel with a burning effigy. It's just $6.99 and comes with 2.5 million Gold and Elixir, like the others.
Pumpkin Graveyard Scenery
This scenery, which was added in October of 2021, displays a gloomy ambiance with a creepy cemetery mood. Similar to the Clashiversary Scenery, this one has distinctive traits that set it out from the surrounding environment.
There is a large pumpkin close to the waterfall in the upper-right corner. On the right, you'll find a spooky cave with cottages and cauldrons. There are also buildings and pumpkins in a hazy effect in the bottom-right corner. You'll also notice a jack-o'-lantern-decked boat on the left. In addition to 2.5 million Gold and Elixir, this landscape costs just $6.99.
Clash Of Clans Pumpkin Graveyard
It's possible to get a similar gaming experience without spending any money, but it won't be as polished as the paid versions. The traditional, autumn, winter, and jungle settings are all free in Clash of Clans. When your Town Hall reaches level 14, you will automatically be given access to the last choice at no additional cost.
Final Thoughts
So, that's all about how to get Clash of Clans scenery. This tutorial should have made it a lot easier for you to show off your new scenery to your pals. I'd want to see some of your COC sceneries. Leave a comment below. If you want to learn more about your favorite strategy game, check back often.