Flower forests Minecraft can be created if desired, however, most players prefer to locate a flower forest in Minecraft rather than create one themselves. Finding flower forests can be done in a variety of ways, and n this article we will help you find a flower forest in Minecraft.
About Flower Forest Minecraft
One of Minecraft's most visually stunning biomes is the flower forest. Flower forests are uncommon biomes that contain hundreds of different kinds of flowers. They were introduced in the 1.7 updates. You should take advantage of the abundance of flowers in a flower forest by gathering as many as you can for dye.
The flower forest in Minecraft is an excellent biome to establish a base in because of its stunning landscape and dye-making potential. Additionally, players should be aware of a few unique aspects of the flower forests seen in the game.
There are just a handful of flower forests in Minecraft, and they can only be found in the vicinity of forest and birch forest areas.
Flower forests, like other forest biomes, have a unique landscape. In the flower forest biome, little oak trees are being replaced with huge oak trees, similar to what happens in the plains biome. Wooded hills, on the other hand, tend to have a more predictable and uniform landscape in terms of elevation and topography.
In flower forests, wolves will not spawn, but rabbits, bees, and bee nests will spawn more often than in any other forest biome.
To compensate for their lower elevation, flower forests tend to have shallower lakes than other forest biomes.
Every Minecraft flower except sunflowers, blue orchids, and wither roses may be found in the flower forests. In addition to woodland homes, allium flowers can only be found in flower forests.
Flower forests are a great place to explore if you're trying to manufacture a wide variety of colors in bulk. However, because of their rarity, finding them would be a challenge. When searching for resources, players may go along the edge of woodland and birch forest biomes, which always spawn close to one other.
In addition to searching for flower forests, beekeepers are recommended to check for bees because of the increased likelihood of discovering them.
How to find a flower forest in Minecraft?
Flower Forest Seeds
It is possible to build a world in which you always spawn in a Flower Forest biome by using a seed. Check out the following flower forest seeds in Minecraft.
Flower forest Minecraft seed by ruined nether portal and fissure
Seed Code: -3103443252117445361
This is a great seed for a flower forest in Minecraft 1.16.5. It begins with you in a flower forest on the side of a mountain surrounded by woodland, with an old nether gateway as a backdrop.
This area is filled with a diverse assortment of beautiful flowers. If you look down into the fissure, you'll see a second fissure that goes in the other direction, which might bring you all the way down to diamonds' depths. Playing Minecraft here is a great experience.
1.16.5 flower forest village seed for Minecraft by the ocean
Seed Code: 2650902192821783137
We discovered another seed for a floral forest in Minecraft. This Minecraft 1.16.5 seed doesn't put you exactly near to the village, but it's still a short distance away. The flower forests in this Minecraft 1.16.5 village seed are one of its most appealing features.
The village may be found in coordinates X20 by Z350. The center of the town has been pockmarked by an impact crater. In addition, there is a nearby body of water for those who want to sail. There are flower forests and a pillager outpost in this Minecraft seed, which makes it very attractive. Plains biome bordered by woodland and taiga trees is the setting for this story. It's a great Minecraft seed.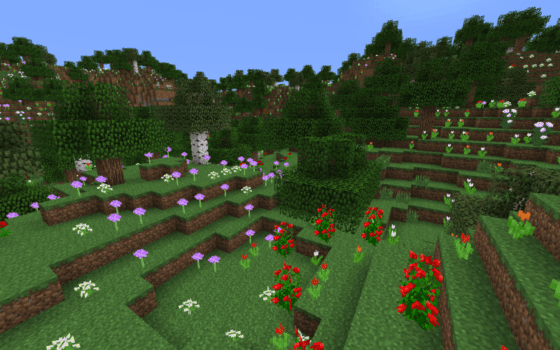 Seed Code: 103910409
Forever is a big leap, but it's not unattainable. On the other hand, this is the most populous flower forest biome. Why? Because the flower forest has many facets. The biomes don't seem to be connected. One comes to an end while a new one starts downstream and a little farther upstream. It's amazing how thick the flowers are and how unhindered they are. River? Put a dot on it. Mountain? Go around it, then cross it. A river, marsh, and birch woodland are all located nearby, but no constructions were found.
Flower Forest Seeds for Minecraft Java Edition 1.18
Seed: 9066
A Plains biome featuring sheep, horses, and bees may be found in this seed. The Sunflower Plains biome, which is dotted with dandelions and towering sunflowers, is direct to the east.
If you cross the river, you'll come upon a Flower Forest, which is home to oak and birch trees, as well as an abundance of colorful flowers.
Seed: 4009
When you use this Minecraft seed, you will spawn in a Flower Forest. There will be bees flying about the gorgeous flowers, and there will also be some pigs wandering around.
The Pillager Outpost is located in the Plains biome at coordinates (0,87,112). Once you've passed the Outpost, go to these locations to locate a vast Plains village: (90,70,300). This community is a one-of-a-kind one since it consists of both land and water. Cats may be seen in the village's mountainside area.
Seed: 400
Using this particular Minecraft seed, you will spawn in the Plains biome, which has a few oak trees here and there. There are also some sheep, pigs, cows, and chickens in this area.
Every kind of flower can be found in this Flower Forest, which can be found to the east of the country. There is a big tunnel in the heart of the Flower Forest that you may explore. A Meadow biome can be found if you go to the East.
Conclusion
Now, at long last, we have arrived at the summary. You may construct a world where you spawn in a Flower Forest biome with one of these Minecraft Flower Forest seeds.
If you're looking for a flower forest in Minecraft, this guide should be able to assist you. Please let us know in the comment space below if there are any questions, comments, or concerns that you may have.