Wind turbine blades turned as bike shelter? Hell, is this sustainability 999?!
As climate change takes its toll upon us, it's no wonder that many nations have begun exploring renewable energy sources to sustain their energy needs. These days, one of the most popular renewable alternatives is wind power. In places like Denmark, where almost half of its total power consumption comes from solar and wind power, towering turbines have dotted and become a part of the native landscape.
There are pros and cons to wind energy, though, which still make it far from perfect. The greatest challenge is finding some use out of the discarded wind turbine blades. For them to withstand the elements and function properly, these blades have to be made from foams, glass fibers, and resins which makes them very difficult to recycle.
Also, their average 20-year lifespan isn't that long enough, meaning that they'll be replaced sooner or later. Studies estimate that by the year 2050, the wind industry will have produced a whopping 40 million tons of waste material that need to be disposed of. The good news is, there are already companies and research groups seeking out ways to recycle and repurpose these decommissioned turbine blades.
Dealing With These Wind Turbine Blades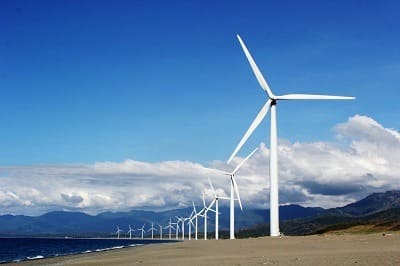 Dealing with these wind turbine blades means thinking outside the box. So that's what The Re-Wind Network did, converting discarded turbine blades into bike garages in Denmark. They aim to look for ways to convert these blades as part of infrastructures, like turning them into architectural elements for footbridges, skate parks, and noise barriers for roads and highways.
According to Lawrence (Larry) Bank of Georgia Institute of Technology, they are looking for ways to repurpose discarded turbine blades and apply them in the world of architecture and engineering. Bank believes that it's crucial for eliminating a major source of non-biodegradable waste.
Aside from these green efforts, other companies are finding ways to make a new kind of wind turbine blade. Siemens Gamesa, a major supplier of wind turbine blades, is spearheading the effort with their first-ever recyclable wind turbine blade for commercial use. Their blades are a special kind since they are made up of a type of resin that can easily be broken down for future recycling.
Recycling Wind Turbines In Ireland
Meanwhile, another project of Re-Wind is beginning to see the light of day. The Cork Institute of Technology (CIT) is currently working on recycling three discarded wind turbine blades which, if successful, could be used for skate parks, sound barriers, stadium bleachers, or electric towers.
Personal Say
Even though there will only be few companies like Re-Wind Network, its impact on the environment is slowly being recognized to add to our green efforts towards a greener future. Indeed, with these companies, the testament to the growing maturity of society will surely be measured.
Still have questions about gaming reviews? Contact us on www.techsngames.com today!