Genshin Impact Cuihua Wood can be used in the construction of various pieces of furniture. This tutorial will teach you everything you need to know about Cuihua Wood, including how to use it, where to farm it, and its locations.
With the release of Version 1.5, Genshin Impact now offers housing in the form of a teapot. However, to create some of the furnishings, you must possess Cuihua wood. Indeed, tourists from all over Teyvat turned into lumberjacks to get a dresser, and they cut down huge trees in the process. Players will face yet another hurdle while harvesting wood if they are unable to differentiate between the many species of trees. As a result of the Sunsettia fruits that dangle from the branches of Cuihua trees, these plants are among the easiest to recognize in the game.
Because we are aware of the best places to locate Genshin Impact Cuihua wood, the process of crafting the furniture you want won't take nearly as much time as it would otherwise.
Genshin Impact Cuihua Wood Locations
Genshin Impact Cuihua wood can be found rather often in both Mondstadt and Liyue; however, the Starfell Valley and the Bishua Plain are the regions where it can be found in the largest quantities. Starfell Valley is perhaps the best place to farm Cuihua wood, but you'll need to go to Bishua Plain if you want to farm every last piece.
Cuihua wood originates from Cuihua trees, which are deciduous trees that grow quite tall and bear fruit. Cuihua trees are widespread in Teyvat and may be identified by the fruits they produce: apples, Sunsettias, and lavender melons. You will find yourself smack dab in the middle of the Starfell Valley after you have made your way to the Statue of the Seven at Starfell Lake.
From this vantage point, it will be simple to make your way to any of the Cuihua sources. Bishua Plain is a good alternate spot to go to if you happen to collect all of the Cuihua in Starfell before it has a chance to respawn, but you won't find as much of it there. However, the region surrounding the new Ridge Watch domain does have five of them for you to farm. Genshin Impact's wood respawns rapidly, so if you're wanting to farm as much as possible, you may switch between the two.
Other places include Yashiori Island, Guili Plains, Dadaupa Gorge, and the Stormbearer Mountains.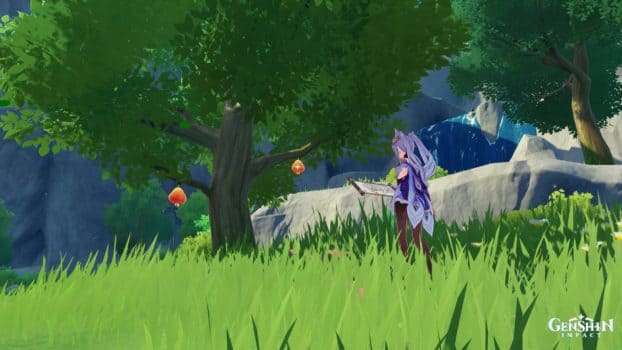 Farming Cuihua Wood
Around Starfell Lake is where you will have the most success farming Cuihua wood in Genshin Impact. In contrast to the vast majority of the other kinds of wood that can be acquired in Genshin Impact, Cuihua wood trees do not grow in big patches. When you're farming Cuihua wood, all you have to do is hit a Cuihua tree for it to give you its harvest.
You won't be cutting the tree down, but you will get three pieces of wood from each tree if you give it a few good whacks. In the game Genshin Impact, characters with broad, sweeping strikes, such as those who wield polearms or swords, are the most effective in farming wood. Always keep in mind that each tree only yields three pieces of wood, so be sure to move on to the next tree as soon as you have collected all three from the one you are focusing on at the moment.
Teleport to the Statue of the Seven at Starfell Lake, and you'll discover lots of fruit trees from which to farm Cuihua wood. The most efficient way to farm Cuihua wood would be to go a little distance north-west of the Starfell Lake teleport and then make a beeline for the shore.
(There's a tiny beach there where you may occasionally receive a daily commitment to clean it of Hilichurls.) Then follow the shoreline to the south until you reach Whispering Woods, where you will discover four additional trees. Then, when you come to the bridge leading to Mondstadt city, cross east across the road, and climb back up along the cliff ridge towards Starfell Lake again to locate another 10 or so. These are the most effective methods for getting Genshin Impact Cuihua wood.
Factors To Consider
Cuihua wood's cooldown is a significant factor while farming the resource. The cooldown on wood harvested from trees differs significantly from that of other overworld commodities, such as white iron pieces.
Respawning of wood from a tree occurs after 10 additional trees are cut down. There are more than ten Cuihua trees in the Northern Mondstadt region, enabling players to harvest the resource over and over again.
Cuihua tree's wood has not respawned in certain cases, according to reports from players You can solve this by quitting and reentering the game. Even though the bulk of the farming techniques that have been discussed in this tutorial have been in connection to Cuihua wood, the same processes may be used in the farming of other uncommon species of wood such as pine.
Uses Of Cuihua Wood
In the Housing System of Genshin Impact, Cuihua Wood is an essential material for crafting furnishings. It is one of eleven different varieties of wood that are required to construct certain pieces of furniture. Because of this, for players to earn any of the various primogem awards that are available, they will have to repeatedly farm the few spots where the trees can be found.
The following is a selection of products that make use of Cuihua wood:
Economy Cuihua Bookshelf
Sturdy Library Table
Favonius Office Table
Favonius Conference Table
Classical Lyre: Tenor Of The Wind
Clear Blue Afternoon
Two-Tier Library Bookshelf
Exquisite Cuihua Bookshelf
Cradle Of Flowers
Witch's Chorus
Conclusion
Striking a fruit tree, such as Sunsettia and Apple tree, yields Cuihua Wood. Because of their widespread nature, farming them takes the greatest amount of time. Players may discover a large number of fruit trees close to Dadaupa Gorge and Stormbearer Mountains in Genshin Impact; nonetheless, Starfell Lake is one of the best locations in which to get Cuihua Wood.