Dragon Age creative director Mike Laidlaw founded Yellow Brick Games in Québec, along with other big talents such as Jeff Skalski, Frédéric St-Laurent B., and Thomas Giroux. Each of these guys have at least 15 years of experience working in big game industries, such as Ubisoft, Electronic Arts, Bioware, among others.
This is another example of the boom in gaming studios that was fueled by the unexpected pandemic and a billion-dollar support from game venture capital funds – all in the past nine months.
The new studio is taking a "back to basics" approach in game development with a goal of creating a new gaming experience out of pleasure, in a more flexible and welcoming environment. Giroux will be the game studio's CEO, while Laidlaw, who was one of the creative pillars in the award-winning Jade Empire and Dragon Age, will act as chief creative officer. Skalski, who was senior producer at Ubisoft and EA, will be the chief operating officer and executive producer. Meanwhile, Frédéric, who was game director for Ubisoft Quebec, will serve as game director on their first, yet unannounced project.
Statements From The Co-Founders
Skalski said that all the experiences working on the world-class, with thousands of colleagues for every multi-year project, prepped them to take a different approach. Since they are a small team of talented people, it will be more flexible this time and people will come first, in order to come up with amazing worlds and experiences for others to enjoy. Since the market is moving fast, they believe that they have a role in it and lay their influences wherever it goes.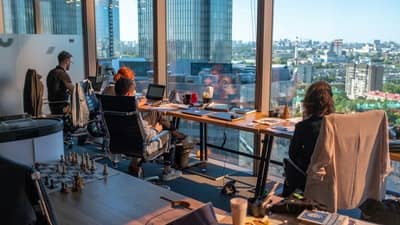 Moreover, Laidlaw said that it is a perfect time to get back to a small, but highly competitive and motivated group. He added that great care is being done back in the studio in order for their games to invite millions of potential players in wondrous journeys, and every member of his team had a part in making it possible. He believed that since technology is keeping pace with the fast market, even small, diverse teams of very talented people can now create high-quality content and experiences.
A Good Start For Yellow Brick Games
People at Yellow Brick Games is continuously seeking talent, especially those that share their vision. This newfound group prioritizes freedom and more control over its creations. Collectively, its co-founders have worked in some of the biggest titles in the gaming industry, from Tom Clancy to Assassin's Creed to Dragon Age so there's a wide range of themes and genres in the near future.
So far, the studio didn't make any statements whether it has raised money, but this company is already expected to grow well in the coming months and years.
To date, they are now made up of 15 people. If you're interested to know more about Yellow Brick Games, you can visit their official site or Twitter account.
Still have questions about the creative director who founded Yellow Brick Games, or want to know more about the latest tech news? Contact us at techsngames.com today!