An Interesting SATA SSD The Size Of A Thumb Drive Is Coming!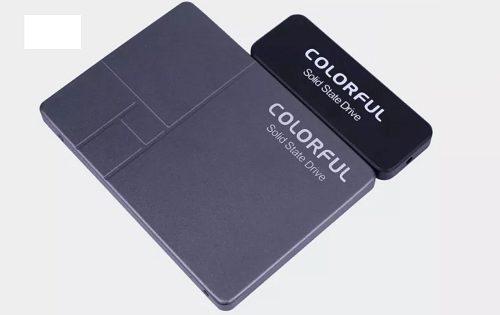 Colorful Technology Company Ltd. revealed its latest SSD solution called SL500 Mini SSD. Normally, it's not big of a deal, but there's something unique about this SSD: being tiny. The company has been shipping its standard SL500 SSDs for quite some time now – 6Gbps of 480MB/s & 500MB/s read/write, respectively – which is quite basic. But the SL500 Mini is something worth checking out because it's smaller than an M.2 drive, weighing in at just 2 grams.
Coming in two variants, the Colorful SL500 Mini is 26% the size of your typical SATA drive, with dimensions of just 26x68x7mm. This means that its printed circuit board (PCB) will be barely big enough to house actual SATA connections. The company managed to compress the SSD down into such a small form by integrating both NAND flash memory and SSD controller into a single module.
Personal Thoughts…
I've always like tiny hardware, and this tiny SSD is no exception. It's not only designed for your average PCs and laptops, but also for industrial sectors that requires some toughness to deal with outside factors like humidity and high temperature.
The 500GB SL500 Mini variant comes with 480MB/s & 500MB/s peak speeds as the chonkier version (SL500), though the 250GB variant is a tadge slower at 450MB/s write speeds.
So yeah, I'm not saying I'm ditching other SSD options in favor of this one. But if you're building a competitive rig, this SL500 Mini might be worth checking out on performance and affordability alone. What's more, the Mini series SSDs are entering retail at Q1 this year!
Meanwhile, if you're not planning to get it on the first day of release, why not check out some of our offers below?
SanDisk SSD PLUS 1TB Internal SSD – SATA III 6 Gb/s, Up to 535 MB/s – SDSSDA-1T00-G26
Having some top-notch hardware inside-out is crucial if you want to go for a super competitive gaming rig. This internal SSD contains 2 TB of storage capacity so you can save your favorite modern games with ease. Plus, it has a powerful data transfer rate, so expect your boot times to be smooth and fast. This SanDisk SSD is designed to handle anything you throw at it, whether for gaming or industrial needs.
Specs:
5 Gbps
Solid-State Drive
2 TB storage capacity
SATA 6 Gbps
For Windows
WD Black 2TB NVMe Internal SSD for Gaming – Gen4 PCIe, M.2 2280
If you really want something "god mode", well, this one's for you. This WD SSD has a data transfer rate of 7 Gbps. I can't imagine how fast your boot times will be if you decide to go for this hardware. However, its performance comes with a price, so don't expect this solid-state drive to be affordable for the average Joe!
Specs:
7Gbps
Solid State Drive
2 TB storage capacity
PCIE x 4
For PC and Mac
Interested in Checking More Of Our Techsngames Awards?
If you liked this article and love keyboards as much as we do, you might want to keep reading this as well:
TechsnGames Awards Best Keyboards 2021
Still have questions, or want to know more about the latest gaming tech? Contact us at techsngames.com today!